You know I love a good Twitter Party!! I'm so so so excited to be doing a Twitter Party tomorrow night with Mamas and Papas!!
I am just such a HUGE fan of Mamas and Papas and all that they stand for and what they have done…
Mamas & Papas is a brand built on a passion for style, quality and innovation. The business was founded in 1981 by one of the UK's first female entrepreneurs, Luisa Scacchetti, who has redefined the modern approach to parenting, whilst also inspiring a new generation of mothers to realise their own ideas and bring them to market.
Luisa's original vision is one that still underpins our business today – "Every product and collection in our range must not only look good, but also add simplicity and assurance to a parent's daily routine. We are about sophisticated, yet simple, solutions, with unprecedented attention to detail in everything we do."
I'm super excited to chat about all things that Mamas and Papas (pun intended) need and can get at Mamas and Papas! It's such a fabulous destination and we're ready for some fun conversation and chatting tomorrow night!
What are the details???
When – March 15th at 9PM EST
Where – http://tinyurl.com/6nkjvkr
Who – @AudreyMcClellan @mamasandpapas @VeraSweeney
Hash tag – #mylo
NO RSVP
PRIZES!!!
And when I say prizes… let me show what I mean…
Our grand prize is the Mylo in Dove Grey / Sandcastle. It retails for $699!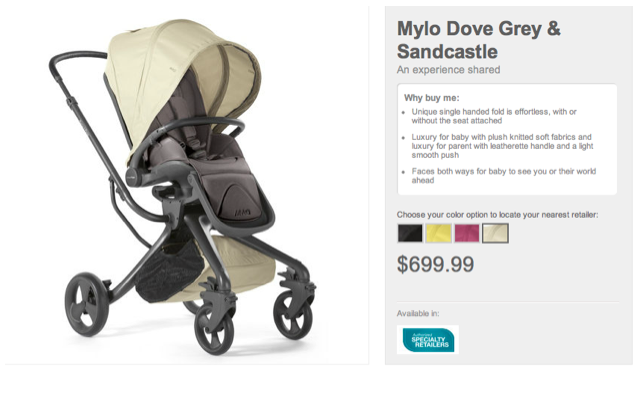 Gorgeous, right???
You do not want to miss this! Join me and Vera tomorrow night!!!!