Mom Style: What to wear in NYC (that you can fit into a little tote)
OK… OK… I'm usually that one who heads to the airport with 3 fully-packed bags for a one-night business trip because I just don't know what it is that I'll feel like wearing a day in advance. I'll admit it, that's totally me. My husband thinks it's the funniest thing when we're heading to Pittsburgh for Thanksgiving and/or Easter and I pack as if I'm going away on a world tour for a month. I've always been like this, I like (OK, freaking LOVE) options.
Well, sometimes I just don't have room for the options. I'm in NYC today, I took the train in yesterday afternoon, and I have had back-to-back meetings for 2 days straight. Point blank – I literally cannot be walking around NYC with a suitcase or with a heavy bag, I just can't. And so, well… options, yeah, they're out the window.
So my mission – what to wear in NYC for 2 days that's super-duper easy to pack and to wear.
It's all about the monochromatic, moms!
I went right into my closet and grabbed all my navy blue (because with this weather, I wanted something different than my usual all-black in the City). I grabbed my fave navy blue silk top, my fave navy cords and I was done. To amp the outfit up a notch, I grabbed some of my fave jewelry in all gold tones and I was done.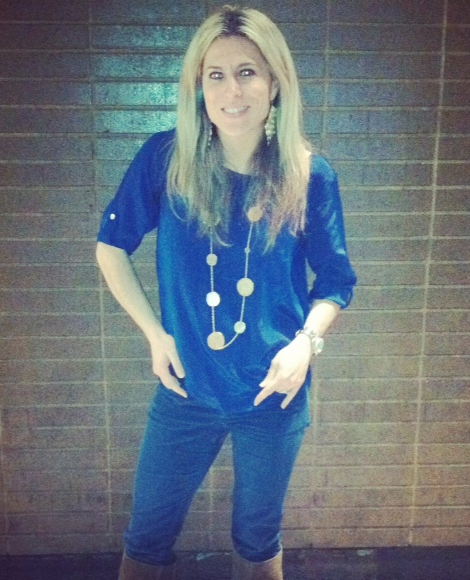 Easy and you're done in a snap!
When in doubt, go with one color.