My sons (quite literally) have over 1,000 lego pieces. I wish I could say I'm exaggerating, but I'm not. They ALL love to play with legos. It's one of the activities that will keep them all together quietly and playing. It's a cute sight to see, and I love seeing them happy!
The one thing that drives me crazy about them playing with their legos is the clean-up.
It seriously drives me crazy.
Recently I was asked if I wanted to try out a product called Lay-n-Go.
What intrigued me most about Lay-n-Go when I was checking it out online first was the tagline, "Play for hours… cleanup in seconds."
No. Way.
Really?
Done. I'm in.
Well, let me tell you… they aren't kidding (and I love!).
Lay-n-Go is a patent pending activity mat, cleanup, storage and carryall solution in one. Two sizes (5′ and 18″) offer kids and parents a great way to easily manage their toy collections at home or wherever your travels may take you!
I'm telling you — this is GENIUS!! Just absolutely GENIUS!!
As a mom, I'm always looking for products that are going to make my life easier, toy cleanup is one thing I dread. Lay-n-Go has just made it a snap.
Here's how my guys play with their legos now!!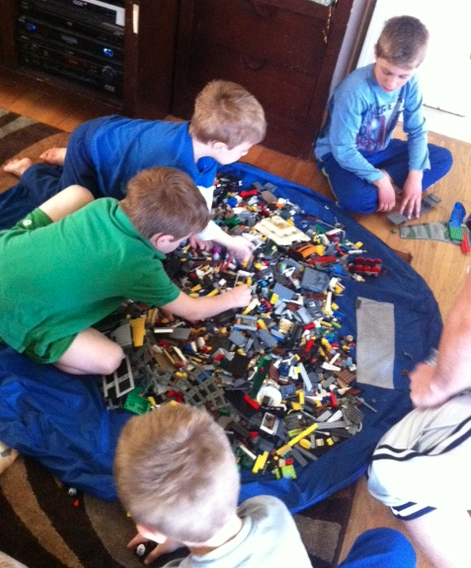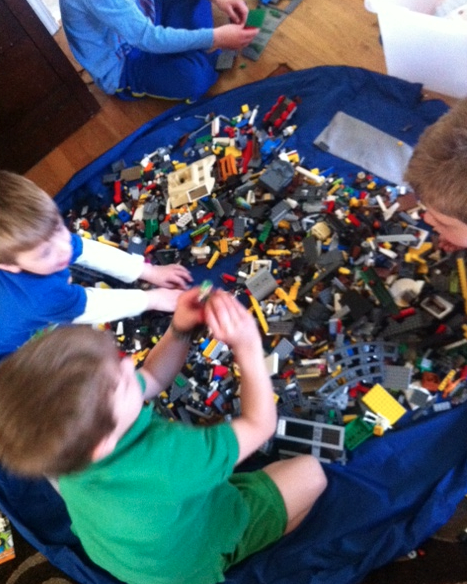 I cannot get enough of this! I just think it's amazing and was excited to share with other moms.
Here's a little bit more info:
Shell: 420 Denier Poly to last for generations
Lining: 100% Nylon which is comfortable to play on for hours yet provides a tough and water repellent wipeable surface
Available in blue, green or pink nylon
Four mesh 7"x 6" pockets on the playside surface provide a great way to stash and organize the most valued mini-figures or extra special pieces
Durable nylon cord and cord lock provide an easy opening and closing system which keeps toys securely inside
A velcroed front storage pocket provides a place to stow the drawstring when closing or carrying the bag
Wide nylon shoulder strap adds both comfort and convenience for carrying

And my sons are just thankful that they can now play with legos in the living room and not just in the basement playroom! 🙂