My Mom and Dad… and The American Dream inside the pages of the Encyclopedia Britannica –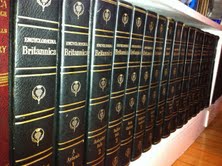 Back in 1965, my Dad had just retired from a 20-year career in the Navy and accepted a position as a salesman at a company that sold X-ray machinery.  He was still very young, having literally quit school at 16 and run away from home, a farm in Michigan, to join the Navy… but more about this later.
My Dad's "retirement" meant that my family had to move from Portsmouth, NH to Warwick, RI.  This would be the first "permanent" move that my family ever made, having cris-crossed the country to many Naval stations during my first 12 years of life.
12 is a tough time to move… but moving from a small, safe haven in New Hampshire with a dream of a school to a very large city with very large schools and lots and lots and lots of new kids made it all that less easy.
There is one memory of the first weeks of that move, though, that has never left me.  This memory remains a great gift, as great as the gift itself.  This memory, this gift and this part of my Dad's, and subsequently my, American Dream is all about a set of Encyclopedia Britannica.
And this is why I've lugged my Encyclopedia Britannica – the entire set of 23 Volumes, Index, Atlas & 2 Dictionaries – from apartment to apartment to apartment and more apartments to home to home to home to home and now to another home… knowing full well its obsolescence and cumbersomeness and all the why nots of doing so.
I'm packing them up today and will bring them to our new home.  Their new home.
But why?  Because my Mom & Dad, back in 1965, knew that having this reference set to the entire world of knowledge, at the time, was giving his children a slice of The American Dream.  I remember where I was sitting when my Dad brought home those delicious-smelling leather-bound volumes and a furniture-style bookcase to put them on.
I was sitting at the table in our tiny dining room, studying.  That's where I studied.  I liked to be near people and in the mix of things when I did my homework and/or studied.  I liked to hear my Mom making dinner and to watch for my Dad coming home from work.  The day my Dad came home with a car-load of books and knowledge made being in my new dining room in my new home with its new sounds a bit more tolerable.
I know my parents couldn't afford these encyclopedias.  I know because I heard them talking.
But I could also hear and feel the energy, the exuberance, the love that erupted in that room that evening.
My Dad, next to my husband Barry, was the most brilliant man in the world.  There is nothing he didn't know, couldn't learn or figure out, and most importantly, share. His life on the farm and his 20 years in the Navy were what had happened to him, shaped him, but he wanted his children to have more.  College, for one.  His gift to us was to share his dream, and his sharing came by way of education.
His gift that evening represented more than pages.  Words.  Information.  Knowledge at our fingertips.  It was his American Dream… his gift to us.
And those volumes would become my best friends for many, many years.  8th grade. 9th grade. 10th grade. Right into college and even graduate school.  And their pages turned all the way into my own children's lives.
1965…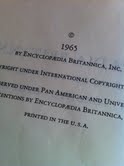 Lyndon Johnson was President of the United State of America.
Her Majesty Queen Elizabeth the Second was… well, some things don't change!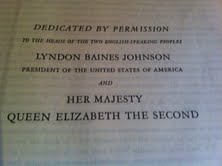 47 years ago.
Those encyclopedias would answer my questions, help me with my research, define timelines, satisfy curiosities… and keep the yearning for information and knowledge alive.  Present.  There.
My Dad's grandparents had immigrated to America from Yugoslavia and found work as miners and farmers.  My Mom's grandparents had immigrated to America from Ireland to escape the poverty of the Potato Famine and found work in factories.  Education was a dream for their children. My grandparents would become farmers and firemen.  Education was a dream for their children.
My Mom graduated from high school in Boston and worked in an office until she met my Dad, the handsome sailor from Michigan.
Yes, my Mom & Dad had a dream.  Maybe it was the hard work on the farm.  Maybe it was life at sea for so many years.  Maybe it was just time…
1965.  A set of encyclopedias.  They would be well used.  Well worn.  Pages and pages and pages of memories.
I would be the first woman on either side of my parents' families to go to college.
My girls would both go on to attend a wonderful college on the great hill in downtown Providence – Brown University.  But my Dad would not live to see my children.  He died in 1975, at age 47.
But this is the energy, the exuberance, the love symbolized in those otherwise obsolete, cumbersome volumes that arrived in my new home in 1965… digital now.  Easy.  Light as a feather.
But I see my great-grandparents each time I look at or touch these volumes.  I see them leaving their lives, their home, their families for something bigger.  I see my grandparents on their life journeys, too.  Always advancing toward something for their children.
I see my Mom and my Dad envisioning something bigger, too.  A great gift. Knowledge. Education.
A gift I will pack up and take to our new home and tell my grandchildren about… because they will have all the digital stuff, the stuff that's not tangible, the stuff that comes from time and air and space and technology that my great-grandparents, grandparents, parents and even I never, ever dreamed of.
When I move my volumes, I think I move mountains of memories.  Yes, I do.