I'm always on the lookout for a fabulous book that I can just lose myself in… especially one that has to do with motherhood and fashion! It's the perfect mix, the perfect ingredients.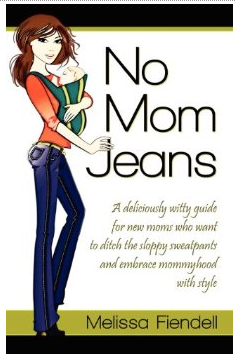 No Mom Jeans: A deliciously witty guide for new moms who want to ditch the sloppy sweatpants and embrace mommyhood with style by Melissa Fiendell is a fabulous book for moms out there to read!
I've always believed that when you become a mom, your style doesn't have to change. Not every mom feels that way. They're first question usually is, "But how do I get my style back?" I love that No Mom Jeans is the perfect resource for any mom to discover ways to keep yourself stylish and (what we all need lessons in!) balanced.
Melissa draws you in like a girlfriend… I felt like she was talking to me, like she knew me personally! It was a total girlfriend-to-girlfriend read and I loved that about it. You know, it's funny – most "new mom" books don't allow you the opportunity to "escape" and have a truly fun and interesting read, this is another reason why I loved No Mom Jeans, it was funny, relatable and interesting to read… it was nice to have a read just for "me."
I don't want to give the whole book away, but I do want to highlight some of my fave parts!!
Chapter 2 is all about the Beauty… and I absolutely LOVED to see the section called "Hot Hair (in an instant)." Melissa talks about the Messy Bun, Ponytail with a twist, Beachy waves, Pinny head, Messy Braid… and explains how to achieve each (fabulously easy) look. I love a mom who shares hair tips!!
Chapter 4 is all about Diet & Exercise… I keyed in on the section "Repeat the hot mama mantra: Nothing Tastes as Good as Being Thin." I laughed when I read it (as you will, too!), but when I read her paragraph underneath it, it made 100% perfect sense. We all have control over how we look and how we feel, when we become mothers, we need to be as healthy as can be for our kids — we're role models now and we need the energy, the health and the stamina to keep up with them!
Chapter 6 is all about Getting Out and About… and I related to this chapter immensely! When I had my first son we were living in NYC and I never left our apartment until William was about 4 months old. I felt trapped and isolated and it wasn't good. When I got "out" into the world, everything changed. I met other moms. I discovered new places in the City. I felt like "me" again. I LOVE Melissa's tips on getting out and about, I really feel like this is one of the most important things when you become a new mom.
I just LOVED the book!! If you're looking for a fun read, I STRONGLY recommend picking up a copy and it's the PERFECT gift for a new mom or for a baby shower gift (ahem… my sister-in-law will be getting one!).
Thank you Melissa for being so open and so honest and so much fun in No Mom Jeans!