Reflections on Prom…
It was in the local and national news this week.
A bit of controversy about prom attire, that is.
Then I saw this piece on prom portraits… specifically about a book, Prom, a collection of 127 portraits from 13 schools across the country, shot between 2006 and 2009 by photographer Mary Ellen Mark. Mark loves how the kids in her photos/video "speak earnestly about love, about fashion and image, about how hard they worked to get there — and what they hope for the future."
Of course, all of this got me scurrying to find my own high school prom photos, searching for that girl from so, so long ago with things on her mind… things like love, fashion, image, hard work and hopes for the future.
But would I find these things hidden in the secret places that photos capture?
Let's see…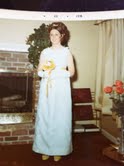 (You will see when I post the next photo that THIS was our family photo spot.  Fireplace.  Cascading potted ivy.  Dictionaries on metal bookcase. Roses in vase. Wow. I had forgotten all about that Photo Spot until looking at these prom photos.  I'm a teenager, back in my old house again.)
I see innocence in 1969.  The white dress with appliqued daisies.  I made that white prom dress… ruffled neck, empire waist, yellow ribbon and all. White gloves. The little yellow bow in my French Curl up-do.  Little yellow bouquet.  Yellow pumps.
I'm smiling because I liked the boy I was going to Prom with.  I liked him a lot.  We would break up about a month later.  I didn't know that then, though.  That's why I'm smiling.
I was filled with like.  Filled with like for the boy and like for the future… which meant that summer to come.  I was filled with fashion and the perfect accessories.  I was holding on to innocence and time, I think, as tightly as I was holding onto that little yellow bouquet.  Yes, I was filled to the brim with like.
And I had a whole other year left of high school after that night.
I had just about forever.
And then…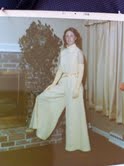 Everything had changed (except for the Photo Spot… which I am completely amazed and happy to re-discover).
I see a grand attempt at an image of sophistication.  The flowing yellow sleeveless gown… one piece, pants, with high-neck.  I made that yellow fashion myself, modifying it from a pattern.  L-O-N-G yellow gloves that I had dyed to match the gown fabric.  No ruffles, no frills.  Just a bejeweled gold belt and high, high heels.  No little yellow bow in hair, but French Curls in back.
I'm not smiling.  Not because I think I'm really all that sophisticated, but because the boy/man I was taking to Prom was an older boyfriend and he didn't want to go.  I see that clear and present on my face.  I knew this guy was not for me.  We dated 3 more years.
I was filled with the unknown .  I had been accepted to college and would be majoring in Education, with the hope of becoming an English Teacher.  I would.  I would teach for 30 years.
I would meet my future husband and the father of my children at that teaching job.
But in that photo of Prom 1970, I was letting go of so, so much.  My childhood.  My innocence.  My home.
I'm holding nothing, because there was so much to discover and my arms and hands needed room to reach, stretch, find, grasp.
Forever was just around the corner.
Yes, there are little secrets locked away in photographs, maybe especially in prom photographs, because Prom is a special night of great anticipation, preparation, image, fashion, fun, flowers, dreams, hopes… and secrets all locked away for the future.
Where are your old prom photos and their tucked-away secrets?!