I have been using Tide my whole life. It's one of those brands that has truly (and literally) grown up with me. I remember my mother always having it in our house when I was growing up. I remember having it in my dorm room and actually teaching myself how to do my own laundry (missed you mom!). I remember moving to NYC for the first time and not even owning a washing machine, but always having my Tide with me on Saturday afternoons at the laundromat. And then I became a wife and then a mother, and Tide really (really) became part of my life (I'm the laundress of the house!).
Tide's been there for me because it's always gotten the job done. Plain and simple.
You know, it's funny… you rely and depend on a brand because it works for your life and makes something in your life easier for you. Tide's always done that… I've needed clean laundry. It's not too often you can also say about a brand that you know and love that you're proud of them, that you're honored to be a user… and for me, that's how I feel about Tide. They do incredible campaigns and shine light on so many amazing things.
Right now, I'm proud to share with you Tide's "My Story. Our Flag" Project.
In celebration of the London 2012 Olympic Games, Tide is enabling people to ban together under the red, white and blue through the "My Story. Our Flag." Project. People around the country can share what the red, white and blue means to them on Tide's Facebook page by navigating to the "My Story. Our Flag" app.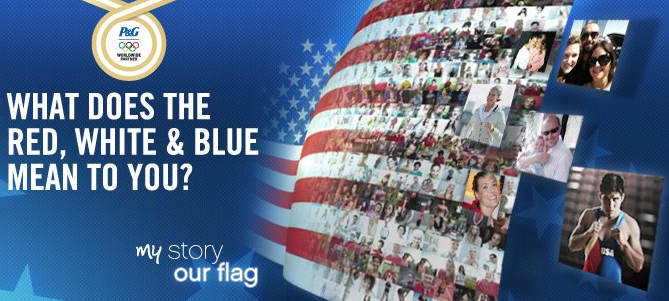 Select stories will be represented on a swatch of fabric featuring the entrants' photo, name, state and brief description of the story.
The swatches will be 'sewn' together both digitally and physically. The digital flag will live on Facebook.com/Tide; people can check in on the status, view their story and get inspired by the stories of others.
But the cornerstone of the project will be the physical flag – an awe inspiring artistic rendition of the American flag, emblazoned with the stories that give the red, white and blue so much meaning. The flag (which we anticipate will fill the grounds of the park) will be unveiled in New York City's Bryant Park on July 3rd, when patriotism hits a fever pitch.
I think this is absolutely amazing.
For me personally, the colors red, white and blue mean Dimitri Gavriel.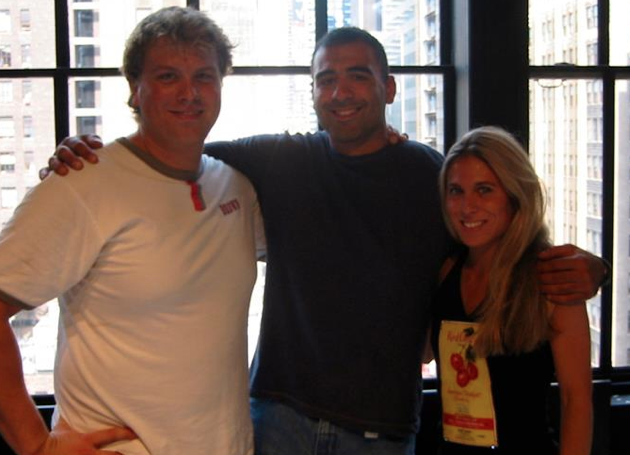 He was my husband's best friend from college and the best man at our wedding. Dimitri graduated from Brown University in 1997 and decided to head to NYC and make his way in the finance world. He lived, breathed and slept the world of finance for 3 years. He was a hard worker and just the most amazing and talented and sweetest man in the world. His parents were both Greek immigrants, so they were prouder than proud of their son.
Upon graduating from Brown myself in 2000, my boyfriend (now husband) and I decided to move to NYC because we thought it would be fun to live in the same City as Dimi (as we called him). We spent a year living 5 blocks from Dimi and it was the best year ever! He did a ton together and really, for my husband… it was a dream come true. NYC. His girl. And his best friend. What could be better?
Then 9/11 happened.
Something in Dimi's values shifted. He was so proud of his country and what it had done for his parents and he and his sister, that he wanted to give back. He felt a higher calling. He felt he needed to do something to defend the USA, the country he so loved. He quit his job on Wall Street and enlisted in the Marines at 27 years old.
To say we were proud of him? Well… there are no adequate words. We were scared for him, but he knew what he needed to do and most of all, what he wanted to do. He was ready to take on the life as a Marine. He was more ready than anyone I've ever known. I remember saying good-bye to him the night before he left for his training. He was so calm and so at peace about his decision. It made me feel good to see that and to know that… and I know it meant the world to my husband to see that.
Dimi was killed in action on November 19th, 2004. One day before my husband's 30th birthday.
It still knocks the wind out of me when I think about it.
Dimi is my hero. He always will be my hero, as well as my sons and husband.
When I think of the colors red, white and blue… I think of Dimitri Gavriel.
I think of our brave friend who risked it all for our country. I think of his patriotism and his legacy and his guts and his glory. He is red, white and blue to me.
Every single day we try to instill this into our own sons… the bravery, the courage and the fearlessness that Dimi had. A year after Dimi passed away, we had our 2nd son… our Alexander Dimitri, and I know that in many ways, there are pieces of Dimi in him.
Red, white and blue are the best 3 colors in the world. They mean so much and bring on so much passion.
I am so happy Tide is shining a spotlight on these incredible colors and shining a light on what these colors mean to everyone.
Bravo!
Disclosure: Sponsored posting