It's TUESDAY! It's time for my Best of Beauty round-up with Vera Sweeney, Whitney Wingerd, Melissa Angert and Nicole Feliciano!
Today I'm talking lotion and perfume… not just any lotion and perfume, my FAVE lotion and perfume.
I'm in NYC for a P&G Olympic Event today and it's one of those days that will be a long one, but I want to make sure I look good and (Oh, yes… I'm going to say it — smell good, too). It will be a day of running around, so I need to make sure I'm geared up and ready.
There's ONE lotion and perfume that I LOVE and wear every single day because the deliciousness stays with me all. day. long. It's almost like there's some super powers in it or something! 😉
When I first started working at Donna Karan in 2000, I couldn't get over the scent everyone had. It was the most beautiful and long-lasting scent I had ever smelled before. My co-worker (thank you, Sherri!) said to me, "You've never tried Cashmere Mist before? It's Donna's!"
OK…
And so, she spritzed and sprayed. And I was hooked. So hooked that I actually gifted all my bridesmaids for my wedding with Cashmere Mist packages… perfume, lotions, shampoos, conditioners and deodorants. It was my favorite thing gifted to them (along with a scrapbook).
But today – as we talk the "Best of Beauty," I wanted to share my most favorite and best scent…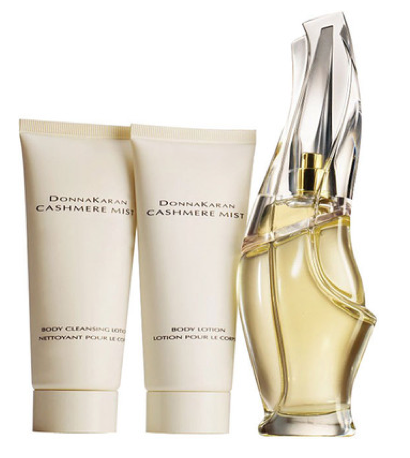 My saving graces on the "deliciousness smell" front!
The scent is light, but stays with you.
What's your favorite scent?