Like it was when I was a kid…
Our new back yard has fruit trees!
Not huge ones.  Not tiny ones.
But just-the-right-size ones for grandkids to scramble up safely.  Sit on branches.  Balance perfectly.  Feel the sun.  Feel the shade.  Think in.
To smile in…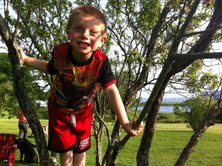 I love our new back yard… and I'm beyond elated that our grandkids get to experience this 1950's-style life with Grandpa and me!