Last September, Barry and I had zero intention to move weren't quite ready to move, to say the least.
We had in mind, sort of, a "retirement" move back to our favorite little Rhode Island town in, well… maybe 5+ years or so.
That all changed when I talked Barry into looking at a home that had been for sale for quite some time. It didn't look at all like something we'd like, with its unusual angles and additions… but it was sitting on a parcel of land overlooking a salt water pond, a harbor, the bay, a 15+ mile bike path that goes all the way to downtown Providence AND the front of the home faces the parade route of the oldest continuously running 4th of July Parade in the entire United States of America, a parade that draws some 250,000 people or so to the patriotic festivities each July.
Phew.
All of this intrigued me to the point of "what the heck"… let's take a peek. Barry reluctantly agreed.
That afternoon, we made an offer on the house.
Nearly 8 months later, after selling our existing home, packing like fiends, cleaning and carrying and organizing and packing some more and actually MOVING 10 rooms of stuff into one very large garage at our new home because the interior of our new home needs so much gentle renovation work… we are here.
Home.
I'm sitting in my new little office with the way too dark walls and bookshelves, but glorious big windows, typing away while watching the world go by on my busy little street in my charming little New England town…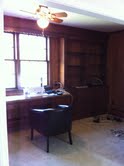 I must get to the kitchen today.  Scrubbing the insides of the cabinets.  Finding places for our dishes, utensils, cooking stuff, coffee maker and food.   Down the road a bit, we will be completely renovating the kitchen space to include the cute little 3-season sunroom and little back porch with the harbor view into one nice big space…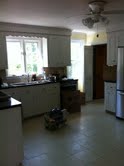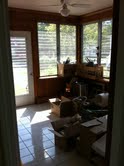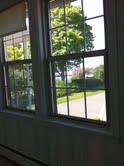 The kitchen will be all I have time for today.  And maybe even tomorrow.  The kitchen is the hub of our large family when we gather.  The rest of the house and unpacking can wait.  For now.  That's what's so good about being almost 60.  I'm more patient.
And more wise.  I know that taking a little early morning walk with Barry into town on the bike path that abuts our back yard will delight us with something, like today…  something like a daddy and mama goose with their fluffy little goslings in the pond…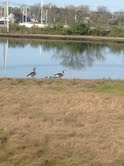 Oh, I have lots and lots of ideas about paint colors and crown mouldings and trim and knocking down walls and ripping up carpets and new storm doors and a nice big deck and all that… but that will come.  That will come.  For now, I want to see where the sun peeks in a different times of the day.  I want to feel the harbor breezes and know when to head outside.  I want to listen for the geese and gulls as they fly overhead.
I want to play with my kids and grandkids and granddogs as they run freely in our big back yard, and enjoy my Mom enjoying the lovely view… which sold us on our new home, our new beginning in the first place…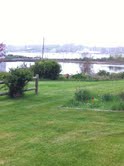 I want to chat with neighbors over the lush with lilacs and hydrangeas living fences… neighbors who have lived here for decades, their entire lives actually, and get to know our new home, the family who owned it and loved it for just about forever before the people ("out-of-towners" who used the home as an occasional summer home) from whom we bought it.  We want to discover the history of this (really, 2 small homes combined a very long time ago) home.
Barry and I are on quite a new, unexpected journey.  I hope you will come along for the ride as we bring this little home that had just sat here, so lonely for so long, back to life…