Today I'm dipping my toe into an area that's usually covered by Audrey, my fashionista sister: I'm fashion vlogging!
My college pal and fellow blogger Suz Stephenson from Well To Do, You recently opened her own online boutique, and her stuff is fabulous. She has clothes, bags, scarves, jewelry and more – and I want one (or two) of everything.

Suz recently sent me a jersey knit striped loop scarf and it is now my go-to accessory! And I love that I'm perfectly on-trend when I'm wearing it… after all, Audrey says summer scarves are totally in this season.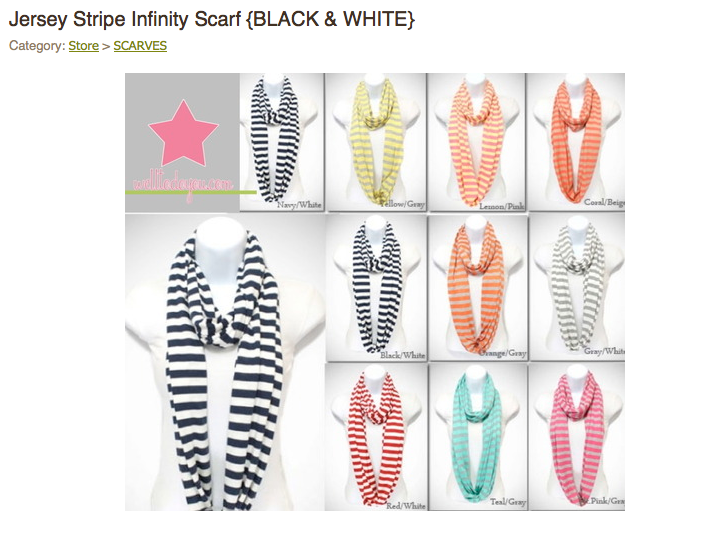 I have the lemon/pink striped scarf and I love how bold it is – and also how it allows me to accessorize so stylishly and effortlessly!
[youtube]http://www.youtube.com/watch?v=PkHTYdyiO-Q[/youtube]
P.S. Get Free Shipping in the Well To Do, You online store now through May 31st!
Win a loop scarf from Well To Do, You for yourself!
You have 4 ways to enter (the more ways you enter, the greater your chances of winning!):
1) Like the Well To Do, You Facebook page (1 entry)
2) Like the Mom Generations Facebook page (1 entry)
3) Follow @welltodoyou on Twitter (1 entry)
4) Follow me – @janehcouto – on Twitter (1 entry)
Then comment here to let us know the way(s) in which you entered. If you already like the Well To Do, You or Mom Generations Facebook pages, or if you already follow @welltodoyou or @janehcouto on Twitter, just let me know in the comments so I can include those entries!
**CONTEST HAS ENDED! CONGRATS TO THE WINNER: Amanda Kaye Grant!**