How much stuff can one Grandma stuff into one purse?
I carry a small purse for a good reason.
I am a hoarder.
Well, not really.  But it you're a woman, you know the rule about the bigger the purse, the more the stuff.
It's kind of like eating potato chips or Oreos.  You simply can't stop stuffing.  It's the rule.
My favorite go-to everyday purse is a satchel… a Louis Vuitton that Barry surprised me with several years ago.  It has the perfect strap for over-the-shoulder or across-the-chest wear.  It's big enough to carry my wallet, my prescription sunglasses, a small appointment calendar, a lip gloss, 2 pens and a couple of hair ties.  I attach my ga-zillion keys (two of which I know what they're for) to the very sturdy hardware with a big, fashionable functional key clasp…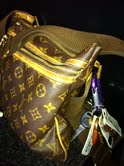 Period.
Until I'm with my grandchildren.
Take, for example, the baseball game Wednesday night, where Audrey's William and Alex were playing ball, and Ben and Henry came to spectate, with their stuff…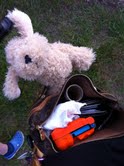 Within minutes, there was so much more to do than play with a stuffed animal, a DSi, a homemade telescope or unwrapped wet wipes (for, and I quote, "The gray bathroom." Translation: Port-a-John).
Of course, I obliged… with Ben keeping a good eye on how well Grandma was caring for his little stuffed puppy hanging on by one little stuffed leg.
But you know what?  I'd stuff the world into that little purse for my little grand-guys.
Any day.  Any time.