6 Days – Wedding Countdown 'til Jane & Brian's Wedding…
The Celebration.
Jane & Brian will enter the magnificent front door of the Bristol Yacht Club as, for the first time, Mr. & Mrs. Brian Govednik, ready to celebrate the beauty, love and joy of their Wedding Day…

Bristol Yacht Club has very special significance to Brian, as he sailed from there as a child…
It sits on the harbor where Brian took Jane on their first date…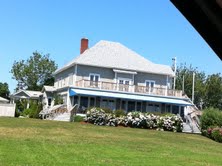 And, as fate would have it, can be seen across the harbor from the back yard of Barry's and my new home…
Bristol Yacht Club is the perfect fit for a perfect couple on their perfect day.
In 6 Days!