This morning I told my husband I wanted to do something fun with the boys.
I tossed out the idea of going to our pool club, the zoo, a local museum or a picnic.
Matt shrugged to all my ideas.
I figured we'd just spend the day at home, so I decided to head out to CVS to grab a few items.
As I was there, Matt texted me, "Want to head to the Green Market Festival?"
I wrote back, "Sure!" (I really did think it sounded different and fun.)
Matt texted back, "Wait, really?"
He couldn't believe I said yes. But you know, sometimes a girl has to give a little to her man. 😉 I knew it would make him incredibly excited and happy.
So we put all the boys in the car and off we went to the Green Market Festival in South Kingstown, RI.
I'll admit it, my husband is the "gardner" and the "farmer" of our family, I'm not. This is usually not my "thing," but I had an ABSOLUTE blast. An ABSOLUTE BLAST.
The boys did not sit still once…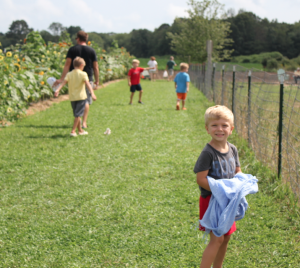 I also disconnected all afternoon.
I didn't even bring my phone and it was heavenly!
Great time had by all!