Brian and I are dog people.
Okay, that's probably the understatement of the year. Some may say we are dog-obsessed, but I prefer to say we're passionate about dogs. So, of course we celebrate the birthdays of our 4-legged kids.
On September 1 we celebrated Tansy's 4th birthday and Jethro's 1st birthday. Since both of them are rescue dogs, we can only estimate their actual birthdays based on how many months old they were when we got them. We figured they were both born around the beginning of September, so we decided on September 1.
September 1 also happens to be the anniversary of my first date with Brian, so we had a lot to celebrate that day. On that first date, Brian took me (and Tansy!) on his boat, so we wanted to recreate that a little. So, on Saturday afternoon we took the 3 dogs on the boat and went to a nearby island where they love to swim and play on the beach (well, at least Tansy and Jethro do… Ryder, who is 10, prefers to stay on the boat and sleep!).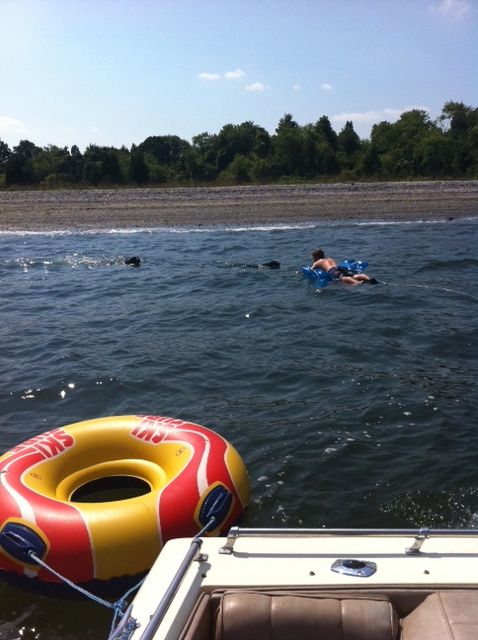 The weather was beautiful and we all had a blast. I took some pictures of the birthday girl and boy while we were on our way back home.
Then we headed to my parents' house, where we would be having the party, since they have a huge backyard that's perfect for playing and there would be a bunch of dogs and kids at the party.
The dogs, of course, had no idea what was going on, so most of the party was a normal backyard get-together with food, drinks, conversation, kids running around and dogs playing. But people did bring gifts for the birthday pups, so we all (okay, just me, Brian and the dogs) put on our birthday hats and did some gift-opening.
Jethro was so excited about everything that he didn't even care that he could only see out of one eye!
The doggies loved their new toys, treats and bones so much…
… and of course they didn't mind sharing with their big sis.
It was such a fun day, and we even got a family picture with all the pups looking at the camera!