Inviting Scrubbing Bubbles from my bathroom, into my kitchen…
I guess I could be called a clean freak cleanliness oriented.
My Mom always "kept a clean house," as she puts it.  At 87-years old, she still does!  I grew up with clean.  I was taught by my Mom (I'm her only daughter) to clean.  Oh, I did latch on to the the Women's Liberation Movement as a teenager and challenge my parents' incredulous thinking that girls do the household cleaning, but my opinions and offerings didn't get far.  I cleaned.  My brothers walked our dog.
Truth be told, I never minded cleaning and as a single woman living alone to a wife and working Mom of 4 to a Grandma-Blogger of 9, I've "kept a clean house."  But that being said, I like my cleaning to be quick and efficient and I've always concentrated on my bathrooms and my kitchens as barometers of clean.  My Mom, Rita, always told me that people may overlook the newspapers on the couch or the boots piled up at the back door, but bathrooms and kitchens get noticed for clean or not.
Scrubbing Bubbles spent a lot of time helping me clean our bathrooms when my husband and I were raising our very active 4 kids… kids who had lots of friends in and out of our home.  Toilets, sinks, showers, bathtubs, bathroom floors and fixtures got to know "Scrubby" quite well.  And even after our 4 kids headed off to college, apartments, marriages and homes and kids of their own, "Scrubby" remained my go-to cleaner.  Fast and efficient. That's the mantra.
Now, as a Grandma of 2 girls and 7 boys (all between the ages of 4 – 11)… a Grandma and Grandpa who LOVE grandkids' visits and cooking and baking up special dinners and celebrations and cookouts and treats of all sorts, and all 9 running in and out of our home and rushing to bathrooms and HELPING IN THE KITCHEN… well, thank goodness (and SC Johnson) for bringing the hardworking Scrubbing Bubbles into a new territory – the KITCHEN!
(Don't let the pristine clean of these 9 kids fool you!  This photo was taken at our daughter Jane's wedding reception before dinner and dancing began!)
Grandpa is the king of breakfast.  You know the kind… bacon, eggs, pancakes, syrup, chocolate chips, whipped cream, cherries, Malasadas (Portuguese fried dough) with powdered and granulated sugar (both, of course!), fresh fruit, milk and juice.  Translation: sticky, messy, greasy, fingerprinted table, counters, sink, tile, stainless steel, appliances, microwave,  everything!
I'm the queen of what-kids-love… lasagna and pasta of any kind.  Translation: see above!
So to get to the quick (or cut through the dirt), when I was invited to attend the 40th Birthday Celebration of Scrubbing Bubbles and introduction to Scrubbing Bubbles' new KITCHEN All Purpose Cleaners, I was thrilled.  And I was further excited because my daughter Audrey (and Mom of 4 boys) was hosting, presenting and demonstrating the new Scrubbing Bubbles products…
I'd like to think I taught my daughters well in the cleaning department, just like my Mom taught me, but I discovered at the Scrubbing Bubbles bash that Audrey outshone me in every department – microwave, baking dishes, stove top and counters – thanks to Scrubbing Bubbles!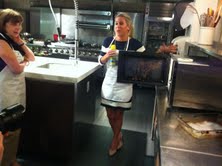 At every kitchen station, grease, stains, grime and baked-on messes disappeared.  Wiped out.  Fast and efficiently.  Just like I need it.
Audrey certainly have a new thing or 5 (5 new Scrubbing Bubbles kitchen products) to teach her Grandma Rita about "keeping a clean kitchen"!  Ah, the circle of life.
Now, how do I know that these new Scrubbing Bubbles All Purpose Cleaners work?  Guests were sent home with goodies…
I've used them.  I love them…
1. Total Kitchen Foaming All Purpose Cleaner with fantastik
2. Bleach 5-in-1 All Purpose Cleaner with fantastik
3. Heavy Duty All Purpose Cleaner with fantastik
Fresh, clean scents (I cannot use over-powering scents).  Works on the multi-surfaces of my kitchen (perfectly).  Kills bacteria (love this one).  Leaves NO residue (a must for me).
FAST & EFFICIENT.
Now I have more time to play with my grandkids rather than clean up behind them… and that's what this Grandma and Grandpa's life is all about!  (Oh, and the fact that I'm training for the Marine Corps Marathon on October 28th!)
It's the best of all worlds to me – fun, active, clean AND I make my Mom proud, too!
SCRUBBY, I LOVE YOU! HAPPY 40th BIRTHDAY and WELCOME TO MY KITCHEN!