I married a football guy. I mean, a die-hard football guy. Matt played in high school football in Western Pennsylvania, where on Friday nights, the towns shut down to watch football (and from what I hear, he was pretty darn good).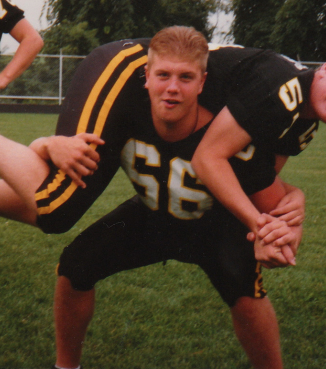 Matt also played football at Brown University, but blew his knee out before we actually met… so long story short, I've never actually seen my husband play football, I've just heard the stories. 🙂
My husband is also a Steelers lover. He's what they call "die-hard." He's a born and bred Steelers fan, and even though we live in New England… he decorates the house in black and gold, wears black and gold and has (lucky him!) 4 little boys who live and breath black and gold, too.
Yup, football is pretty big in the McClelland family.
He's the ONLY draw back.
I don't get football.
OK… that's not 100% true. I get what a "sack" is. I get what a "touchdown" is. I even get what the yardage is meant for on the football field, but I have never watched a game from start to finish. Ever.
I'm determined to change this.
For my sons… I want to learn (fully) the game of football. I don't just want to be the one dressing them in cool "football" fashions… like this photo from 2009…
I don't just want to dress the part, I want to BE the part.
I want to watch the games.
I want to tailgate.
I want to homegate.
I want to make delish foods.
I want to entertain during games.
I want football to be a full family activity.
So… I'm determined!
I can't be alone, am I, ladies!?
It's time for a Girl's Guide to Football.