Join My Football Fan-cestry Team And Enter To Win Super Bowl Tickets! #Fancestry!!
I'm working with P&G and the NFL on their Fan-cestry Teams campaign right now and I'm LOVING it!
Football runs deep in my family.
My husband played throughout high school and in college.
He's a DIE-HARD Steelers fan… even living in New England for 6 years hasn't swayed him.
He's brought up our sons LOVING football and watching it every single weekend and during the weekdays.
My son William's godfather works for the Giants.
And… ahem, my son BENJAMIN was born the same year the Steelers won the Super Bowl in 2007, so it's no coincidence that Ben is named Ben (kind of like that superstar Quarterback they have!).
FOOTBALL is a way of life for my guys.
I grew up watching my father and brothers digesting and living the FOOTBALL… Patriots fans through and through.
So… when I was asked to join in on this fun campaign, I JUMPED at the chance!
FOOTBALL FANS!? Yes… fanatics are in my own family! 🙂
The NFL has some of the best fans in the world, so to celebrate that fandom P&G has built the ultimate fan experience powered by Facebook: "Fan-cestry." Fan-cestry gives NFL fans the opportunity to celebrate their fandom, learn more about their favorite team and share with friends.
All fans have their own unique NFL season rituals, whether they watch from a bar or a couch, wear their favorite team jersey, or share a ceremonial pre-game moment with friends. Those rituals shape and form one's Fan-cestry.
Passionate fans are the force behind every NFL team.
We are asking fans to create their own Fan-cestry for the chance to win a trip for two to Super Bowl XLVII in New Orleans. You can also share your Fan-cestry on your Facebook page and encourage your fellow fans to join in learning about their fandom.
OK… I'll admit it, I don't know much about the game except how to look cute, but I'm changing all that this year. I'm DETERMINED to be a FANATICAL FAN and join in with my family!
I filled out my Fan-cestry this morning and deemed the STEELERS as my FAVE team, starting in 2012, because I've always been a Patriots fan, too. I've got 2 teams I love… the black and gold and the red, white and blue!
My husband got a kick out of my Fan-cestry report because this is the kind of fan I have been "deemed"…
… it's totally true! LOL…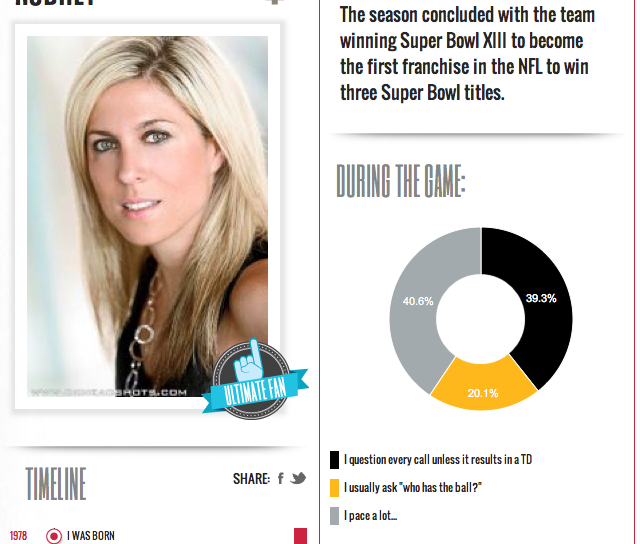 OK… so SHARE WITH ME what you've got!!
CLICK HERE to make your own FAN-CESTRY PROFILE!!
I'm "playing" against other bloggers to see how many people we can get to click and fill out these links from our own pages!!! LOVE for your support!!
By filling it out… you could win (2) TICKETS to the SUPER BOWL!!! HOLLER!!!
AGAIN, here's the LINK!!!
GO GO GO!!! 🙂