Daily Diary: The Freestyle Frenzy
Yesterday was the Freestyle Frenzy Swim Meet for my William and Alexander.
It was the first swim meet of the year for them and everyone was excited and roaring to go!
William has only had swimming on his mind since the Olympics this past summer.
And my Alexander was ready to swim his first winter swim meet ever!
I'm so proud of my guys! They both did exceptional!!
Let me start with my Alexander… I was nervous as can be for him to swim! He just learned how to consistently keep and get both arms out of the water when swimming freestyle, so I was hoping he'd be strong enough to keep his arms out while he swam the full lap(s).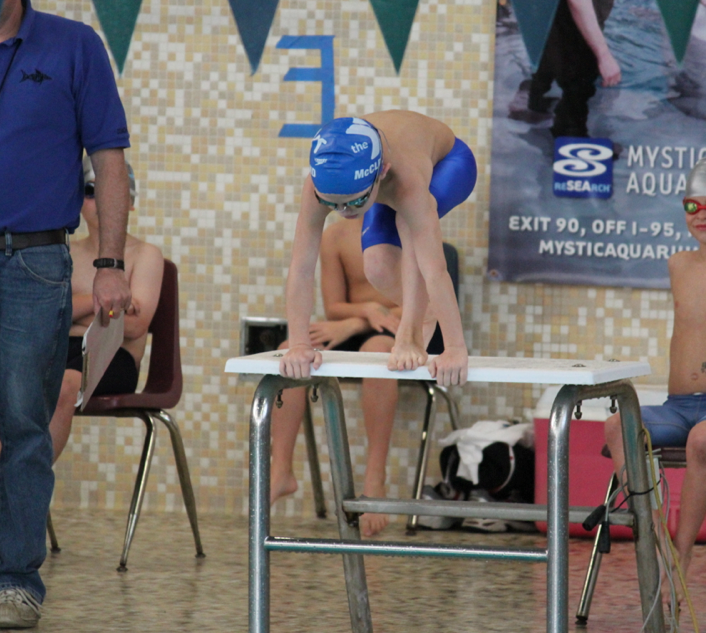 Alexander's just out to have fun and loves meeting and having fun with new friends! I caught this photo of him chatting it up and pointing to his cousin in the pool swimming.
And the best part of the day, he wanted to win a rubber duck SO BADLY!! You could only win one if you won your swim heat. He was determined as can be… and finally the 3rd race of the day, he did it! He was shocked when the girl handed it to him, priceless!
Best part of the day for me. 🙂
And now my William.
I was a very proud swim mom yesterday. He really was just determined to do the best he could, and he just really did awesome! He won all of his events for the 8 and under boys: 25 yard free, 50 yard free, 75 yard free and 100 yard free… and did his best time in every swim. I stood in the stands so proud of him because he works so hard in practice, it's nice to see the benefits of hard work.
He broke a team record in the 75 yard free and qualified for (3) YMCA New England Age Group cuts for 8 and under and (2) USS New England Age Group Cuts for 9 and under.
Here's his 25 FREE, doing a personal best of 15.13
(I love how you can hear he scream, "OMG!" at the end!)
He won the Freestyle Frenzy for the 8 and under Boys… but the best part about the day for me in watching William was that he made all new little friends from different teams. Some of my best friends when I was a kid were other girls I would swim against, and it was awesome seeing my William start to forge the same kind of new friendships.
Here's my little man accepting his award.
What a day of SWIMMING! 🙂