Caring for the Caregiver…
There's nothing quite like SOUP and HELP to feed both a Caregiver's appetite and soul.  The soup part is not my idea; it's something I quite heartily (and hungrily) borrow from Patricia Patton over at Boomerwizdom.com.
The HELP part is something I've learned, through experience, that comes with the pitter-patter of both little feet and little paws.
I am a Caregiver to my 87-year old Mom, Rita.  Rita lives independently in a senior housing complex, but the word "independently" is used loosely.  My Caregiving extends to preparing and delivering most of my Mom's meals, taking her to all of her appointments, helping with all the little daily things that creep in, and her social activities.
Over time, I've learned that mingling the HELP with the social activities – and leaning on my adult children for help in lending me their kids and pets – is the gift of reprieve that I need so very much, especially around the busy Holiday Season.
How does this work?  If I know a grandchild's swimming lesson is at 2:00 in the afternoon on a particular day, I'll schedule an appointment for Rita that coincides with Rita seeing that lesson…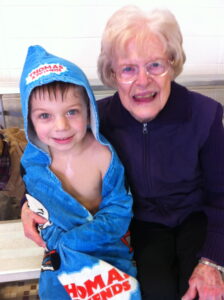 Troubles melt away for Rita. She sits taller, laughs more and forgets those nagging aches and pains as my body, mind and soul relax with this wonderful reprieve.
On cold or inclement weather days when Rita can't get out to toss her trash, I borrow a grandchild or two to help with this chore…
Chores become joys for my Mom and a joyful reprieve for me; and my grandchildren learn the great lessons of enjoying and admiring the elderly and the good feeling of helping.
After a family dinner, my Mom loves to bundle up warm along with my children, grandchildren and granddogs and head out for an evening stroll…
The pace of life itself slows, and the conversation flows with enjoyment of each moment.  A simple stroll catches us all up in my granddaughter's life – a reprieve from the angst of almost-adolescence, the responsibilities of Caregiving and the challenges older-age.
I've enlisted my grandkids to teach my Mom how to golf and bowl (her favorite former past-times) on Wii.  My grandkids sit with Rita at their computers and show her all about their world of Webkinz.  My granddogs are allowed on my couches when Grandma Rita is visiting…
My grandkids happily play the game of look how tall you've gotten, even if it's just been a week or two since the last visit…
My 10-year old grandson Andrew sat with Rita for hours after Thanksgiving dinner, creating JibJab videos, many with Great-Grandma Rita as the dancer, the feature, the star.  All I heard all afternoon, while cooking, hostessing and cleaning-up, was my Mom roaring with laughter.
A trip to get an ice cream Sundae, making my Mom's favorite dessert of strawberry shortcake, a family celebration…
… each and all a simple reprieve for me in the almost daily communications with healthcare providers/new search for assisted living possibilities/etc.
It's the my letting-go for brief moments that mean so much to my Mom, teach so much to my grandkids and give Rita back part of her Caregiving to them and so much of her lost independence…
Caregiving is a puzzle, a puzzle of a thousand pieces, with pieces often missing.  Caregivers often sit by themselves, trying to sort, to organize, to make sense of the tiny hints of colors, designs, inner pieces and edges.  I've discovered that I need helping hands to manage my puzzle; little hands and wet noses that most often throw everything into array, but that bring the most laughter, fun and reprieve to the task at hand.  I've discovered that even the missing pieces are OK, as long as that pitter-patter is heard.
My grandchildren and grandpets have become integral parts of my Caregiving puzzle.  It takes time; time to plan, time to prepare and time to execute, but the joys of the simple reprieve, of taking my hands away from the puzzle for joyful moments, is a great Caregiving gift.
Borrow/enlist/enjoy the pitter-patter of reprieve for Caregivers.
Along with SOUP, of course!
AARP has provided a wonderful checklist for holiday Caregiving.  Please check it out.
I am part of AARP's Kitchen Cabinet Blogger Advisory Group on Caregiving, a series of posts on the topic of Caregiving. This post is compensated, but all of my opinions are passionately my own.