All the "comfort food" of home with Hunt's Signature Recipe Quick Mini Meatloaves…
Cooking for your NFL home team AFC Divisional Playoff Game doesn't mean staying in the kitchen while all the action is going on in the family room.  So, last Sunday, as the New England Patriots took on the Houston Texans, I enjoyed all the comforts of home while my Hunt's Quick Mini Meatloaves were baking themselves in my oven…
I'd call this a WIN/WIN!
When Hunt's prefaced this Mini Meatloaves recipe with the word "quick", I think it's because there's no word better to describe quick.  I like quick, especially when I want to enjoy a football game with my husband and 87-year old Mom, a die-hard Patriots fan and, by the way, meatloaf maker/lover.  (I must add here that both my Mom and husband Barry are meatloaf aficionados, so this recipe was game on for me.)
Here's just how quick it was:
This is one of those home-style recipes where I already had all the ingredients on hand; I just had to buy some fresh ground chuck beef.
Note the muffin pan, for the Mini in Mini Meatloaves; another perfect idea and word from Hunt's. Oh, this is gonna be fun!
I love the addition of Hunt's Tomato Sauce and Hunt's Petite Diced Tomatoes for a beautiful consistency, color and added health value.  Hunt's uses FlashSteam® – not chemicals – to peel its diced, whole, stewed, and crushed tomatoes. I feel good about this.
Then, Mini Meatloaves into the oven…
And out…
I chose baked potatoes and green beans as good old-fashioned comfort-food side dishes to my Mini Meatloaves…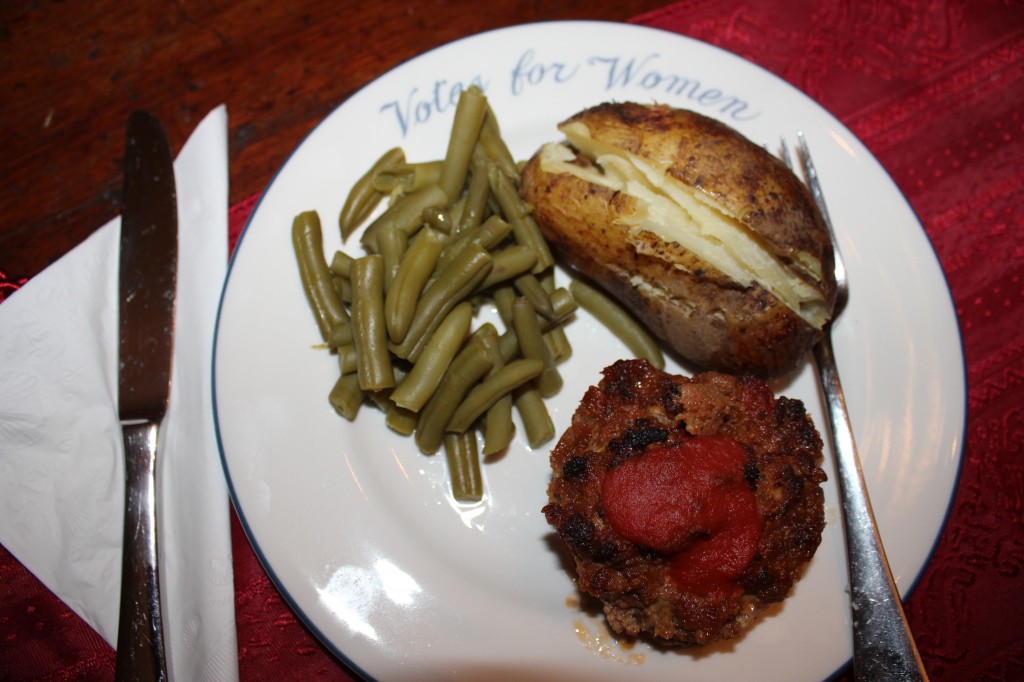 As for the taste test? My husband and Mom both agreed that Hunt's Quick Mini Meatloaves were the best – repeat, the best – meatloaf they had ever had. Ever. Now that's saying something. (Was it the brown sugar and mustard?  Maybe!)
Of course, I could have told them that when I sneaked a little taste before putting my surprise for-leftover Mini Meatloaves in the oven!
With the Mini Meatloaves, a Patriots advance to the AFC Championship Game against the Baltimore Ravens, and a relaxing day of cooking while not cooking… I'd say Hunt's helped me score a big WIN/WIN/WIN.
Have you ever used Hunt's canned tomatoes? Take this quick-and-easy survey about Hunt's to let us know! CLICK HERE to take the super-quick survey.
–
Disclosure: I am proudly working with Hunt's. Although this is sponsored content, Hunt's has always been my go-to favorite and all of my opinions are my own.