Mother's Day Gift Ideas that are FREE!
OK… this is for the man in your life.
Many time times Mother's Day gets crazy when your family tries to come up with the "perfect" gift. As much as gifts are a wonderful thing to get, there are also some incredible FREE gifts to receive, too.
You don't have to spend money to touch someone's heart, especially mom's.
Here are 62 Mother's Day Gift Ideas that are FREE!: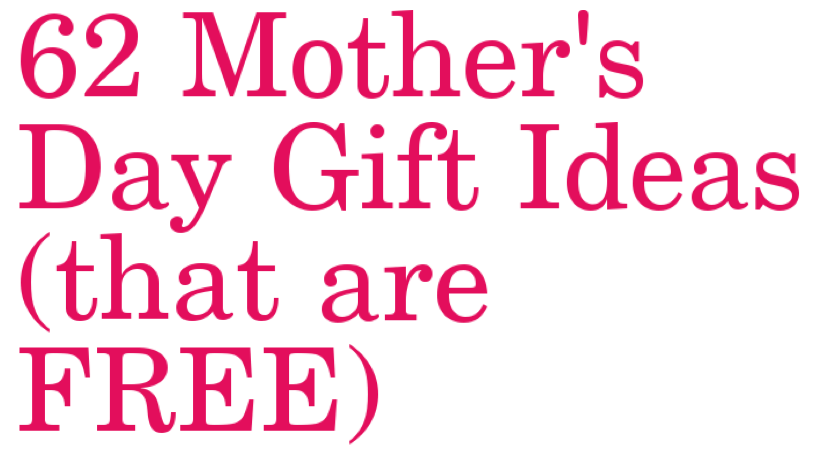 1) Handwritten letter/card from the kids.
2) Breakfast in bed.
3) Bubble bath.
4) Collage of fave photos of the kids.
5) Declare your appreciation to your mom on Facebook!
6) Watch a movie.
7) Play a game together.
8) Find old notes and cards from the kids and create a scrapbook.
9) Picnic on the beach
10) Create a scavenger hunt with the kids!
11) Clean the kitchen for her.
12) Clean the bathrooms for her.
13) Order all of her favorite foods and drinks.
14) Family walk around the neighborhood.
15) Massage.
16) Fold ALL the laundry and put it away!
17) Surprise her with changing the sheets before bedtime. It's always a treat to sink into a freshly made bed!
18) "Happy Mother's Day" tweets throughout the day. 🙂
19) If you're a blogger, create a beautiful post declaring your love and why you think she's just a great mom.
20) Do a chore around the house that you've been putting off forever! Always a bonus surprise! Paint a room. Put together that bookshelf.
21) Start a garden.
22) Give her time to just sit and read.
23) Give her time to just sit and catch up on her FAVE shows.
24) Record her FAVE TV show for the week leading up to Mother's Day and then surprise her with a marathon.
25) Do some gaming online together. 2 players games are the best!
26) If you have a pool and jacuzzi, enjoy a swim!
27) Build a fire and have s'mores!
28) Build a puzzle.
29) Play "50 Questions!"
30) Create a special movie montage of old movies and photos.
31) BINGO time!
32) Bake her fave cookies or cake.
33) Give her time to go workout.
34) Invite her closest friends over for a fun evening. Fellow MOM night!
35) Depending upon the weather, croquet!
36) If you can, surprise her by bringing her to her fave spot!
37) Always a great idea, create a message in a bottle for with messages that all of your kids have made.
38) Create a time capsule together.
39) Enjoy an evening of looking at the stars.
40) Give her time to do her nails.
41) SLEEPING LATE is always the best gift!
42) Walk on the beach
43) Time to shave her legs. ALWAYS a bonus.
44) Fresh pot of coffee brewing as soon as she comes downstairs
45) Or enjoy a nice hot shower! (As LONG as you want!)
46) Make delicious smoothies for afternoon snacks with all of mom's fave fruit.
47) Have the kids put paint on their hand and create handprint hearts with them.
48) Take a piece of chalk and declare your love for mom on the street!
49) Create a Crossword Puzzle with all clues of things and places she would only know!
50) If you aren't a big fan of Crossword Puzzles, create a Word Search Game.
51) Sticky notes around the house with little messages from the kids saying, "I love you!"
52) Put a little love note in her lunch or briefcase all week leading up to Mother's Day.
53) Pick a bouquet of flowers from your very own backyard for her.
54) Create ice cream sundaes at home! Buy all her fave flavors and add-ons! Lots of fun.
55) If you have a newborn baby, let her have a full night's sleep. Believe me, she'll cherish this one.
56) Create a coupon book of special things she can redeem.
57) Find beautiful Motherhood quotes and write them down for her!
58) Match the bucket of socks. 🙂
59) Let her hold the remote all day.
60) Let her choose the music in the car all day.
61) Have a friend come over to do her hair/makeup (that won't charge you!).
62) Invite her mother over and surprise both of them with a gorgeous lunch or dinner together.