HOLY MOLY! My Birthday Gift from My Husband and Sons… !
We have literally been looking at cars for the last year and a half.
We've test driven everything big enough to fit a family of 6… and then when we found out we were expecting a 5th baby, the car search continued, but we started looking for cars that were just that much more bigger.
I fell in LOVE with the Suburban when we test drove it in March. I mean, fell in love. I knew that this was the car. It fit us perfectly. It was safe. It was large enough to fit all of our needs. It was just perfect. But still… we knew it was an investment, so we held off.
Finally in May, I was able to talk my husband into heading to a local dealership in Rhode Island called Hurd to check them out again. We test drove a BEAUTIFUL white one and – again – just fell in love with it. I could tell my husband wasn't budging at that moment. You see, we had completely paid off our last car, so he was loving the non-payment every month. Believe me, I understood… but I also kept thinking that the car we had was a 2006 Uplander, it was falling apart and at some point soon, it was going to NEED to be replaced. I felt the time was now, but I could tell my husband thought differently. He told the guy at Hurd that we'd be in touch, but that right now it wasn't the right time for us to purchase a new car.
Or so I thought.
The guy really "played" for me a good week and a half because look what he surprised me with last night for my birthday!
I was speechless.
I've always dreamed of getting a car with that big red bow!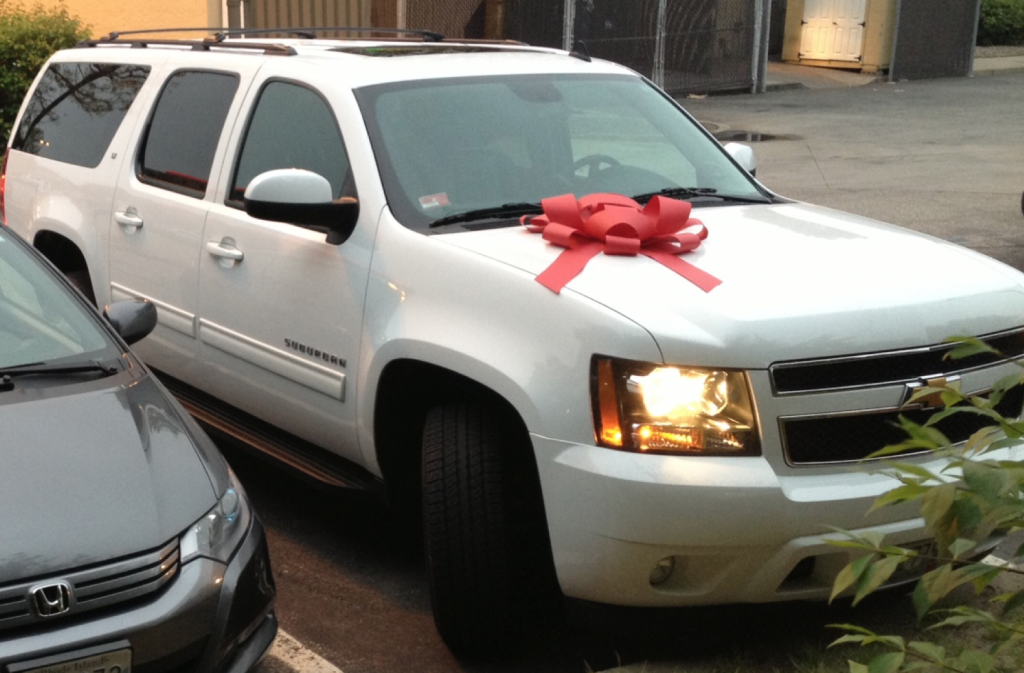 Shocked.
Grateful.
And ULTRA excited to get out there and DRIVE it!!!
Thank you to my husband!
You're the best… and you can buy as many veggies for your garden as your heart desires!