A vintage red dress discovered at Brimfield Antique Show…
Barry and I love to head to Brimfield, MA to the famous Brimfield Antique Show.  The "Show" is held three times per year, in May, July and September, each show lasting 6 days.
6 days doesn't begin to allow Barry and me to cover the entire Show, believe me.
Why?
Because Brimfield's is the largest antique show in the world, held since 1959. Thousands of dealers attend each session and thousands upon thousands more visitors descend on this little New England town as well.
Of course, Barry and I don't spend 6 days there, but we DO get to one show each year, generally the September one, when it's cool and lovely and walking around for hours (and hours and hours), covering acres and acres of ground, is just as pleasant as seeing all the stuff from all around the world and hitting it lucky with some incredible bargains.  This Show is so popular,  there's even a list of "tips" for visitors to really enjoy their experience.
Yesterday was our Show day. We left early because the grounds open early, and arrived in time for a rather good parking spot (remember, thousands of people come each day). I must admit that we weren't looking for anything in particular, but we decorate in a very eclectic way, so any and all things are possibilities; and by things, I mean that Brimfield's lacks nothing. There are priceless antiques, flea market furniture, art, lighting fixtures, garden stuff, boats, bikes, collectibles, vintage jewelry, costume jewelry, hardware, clothing, signs, FOOD of every kind – oh, I could go on and on…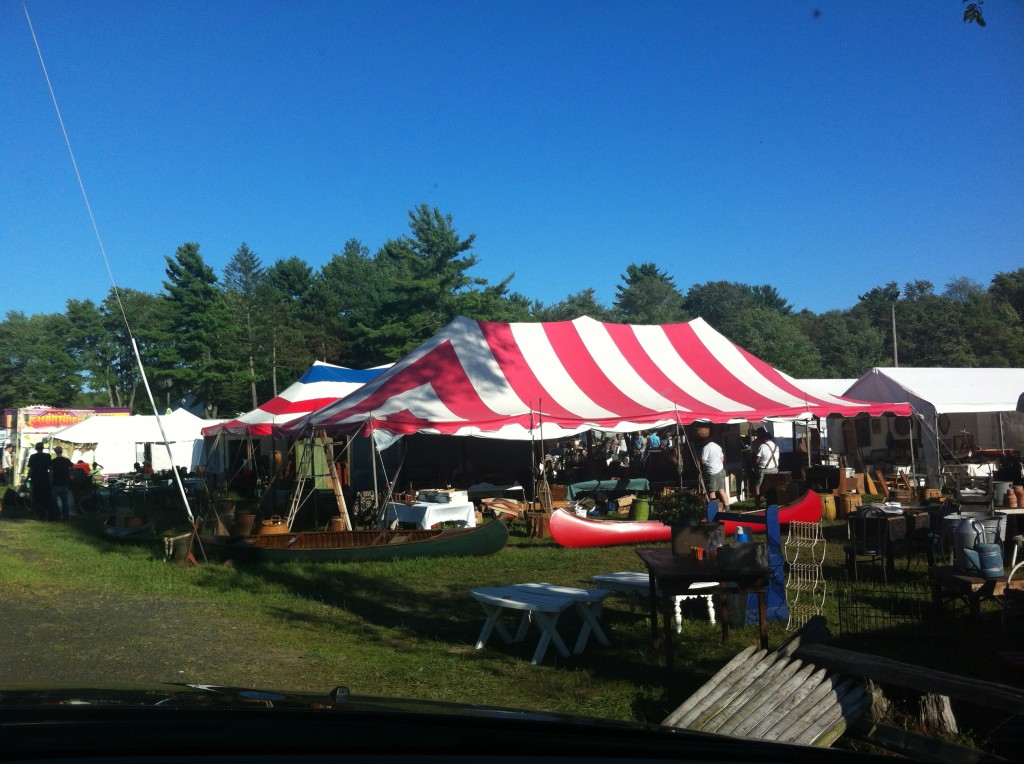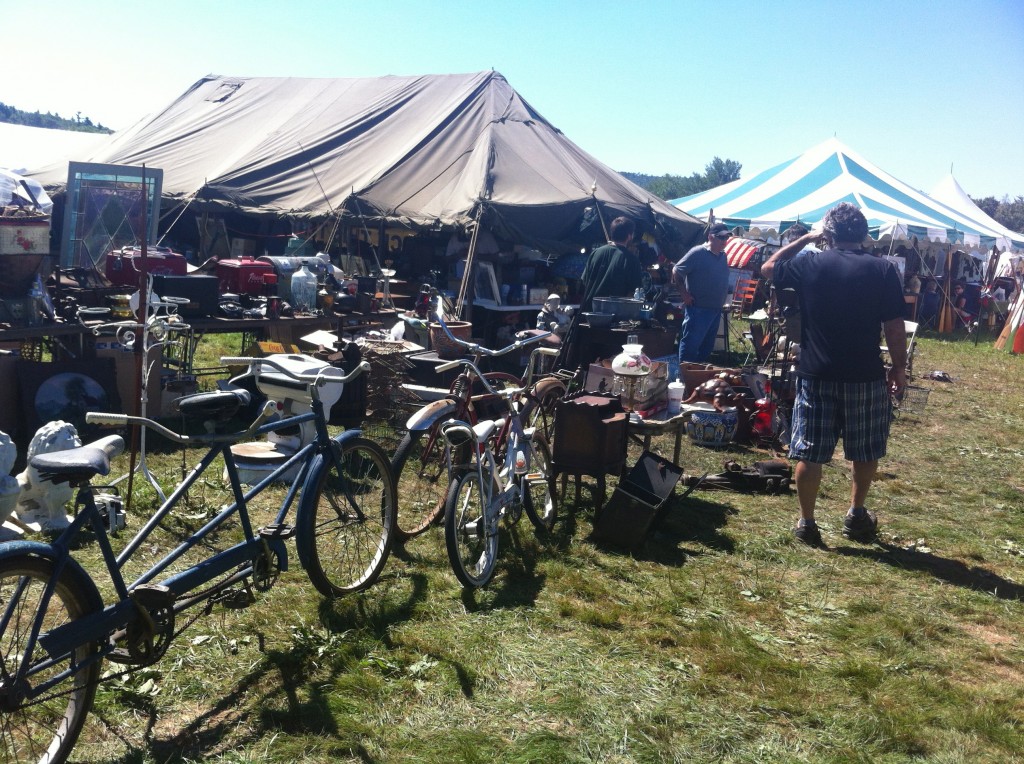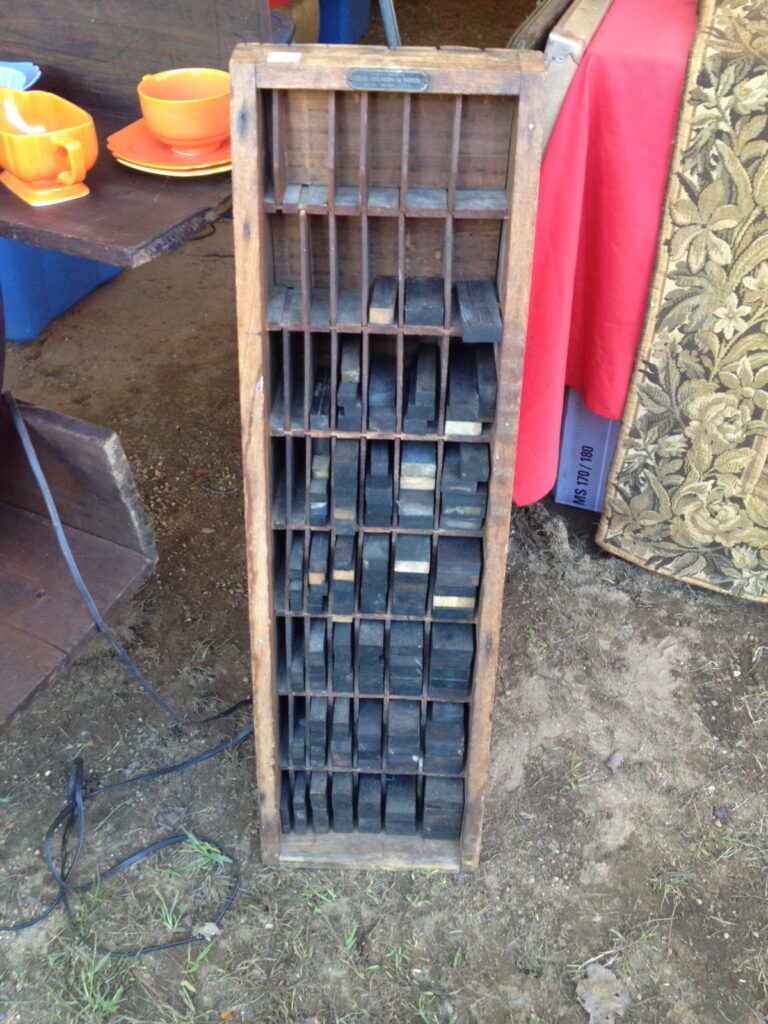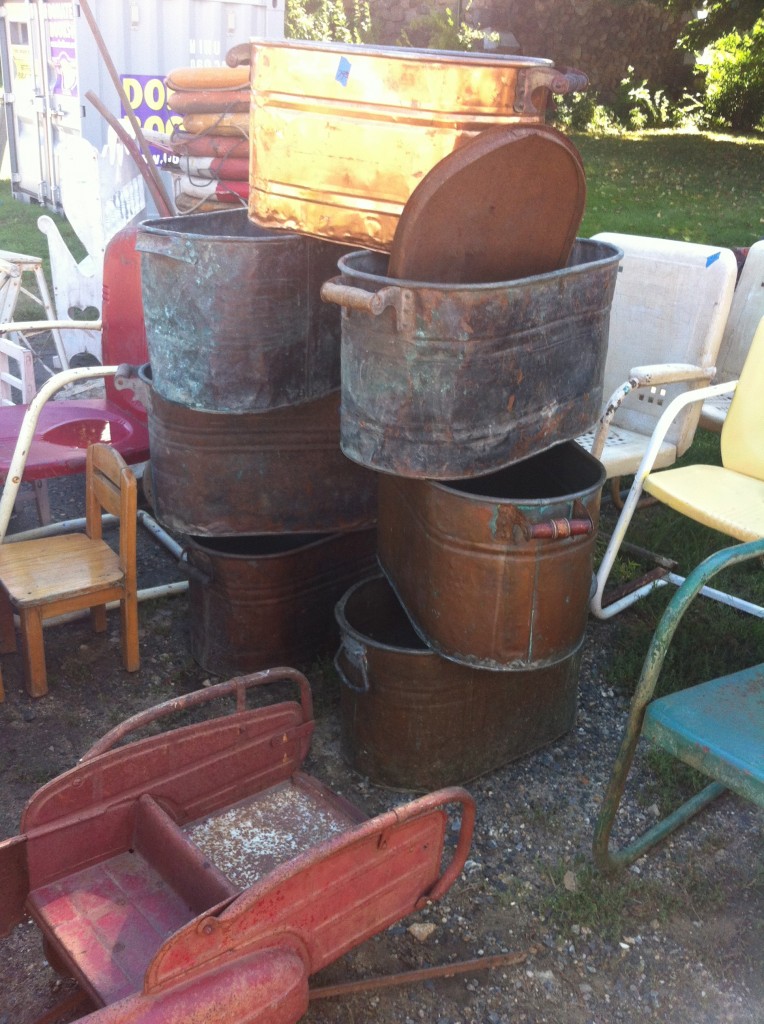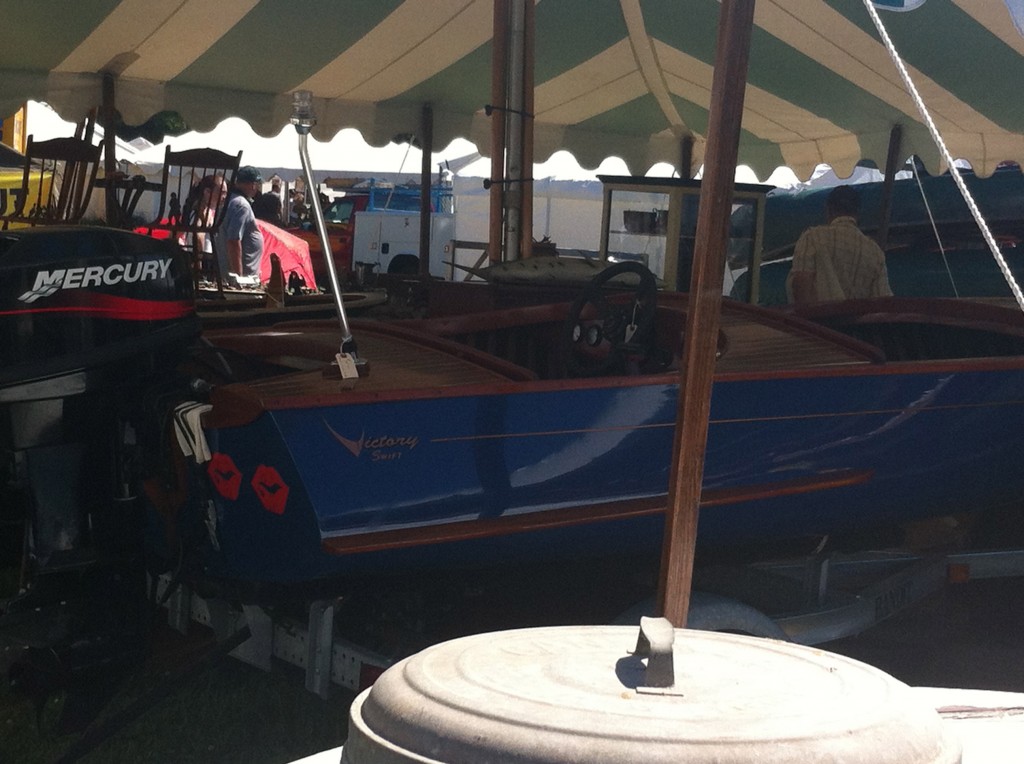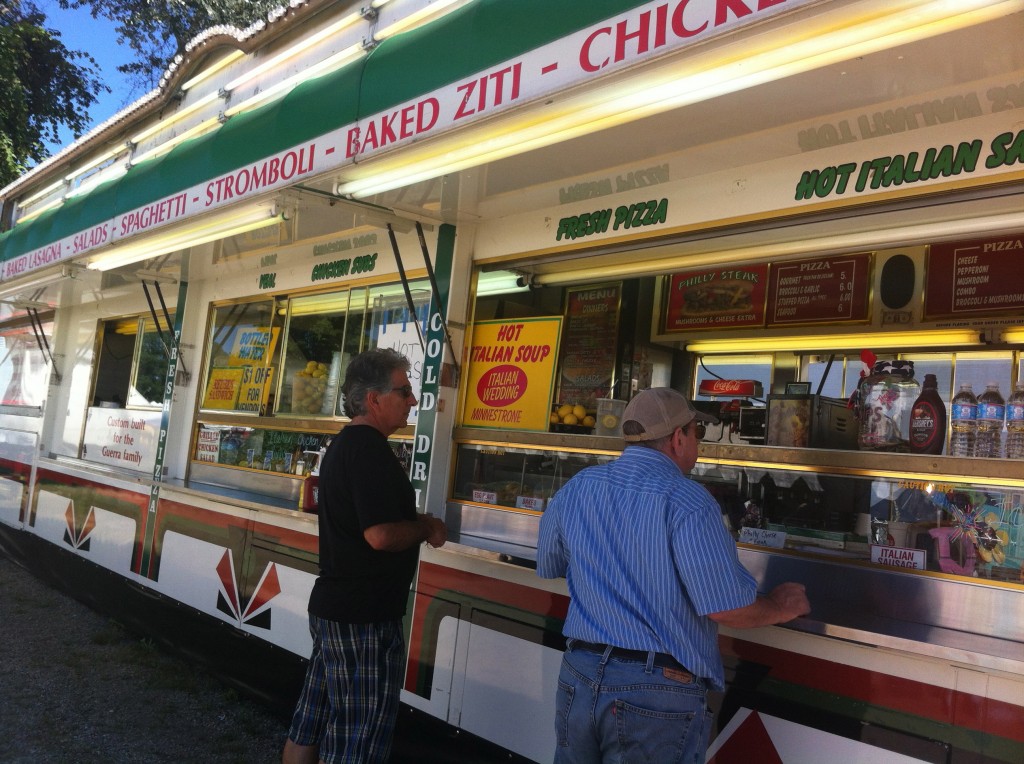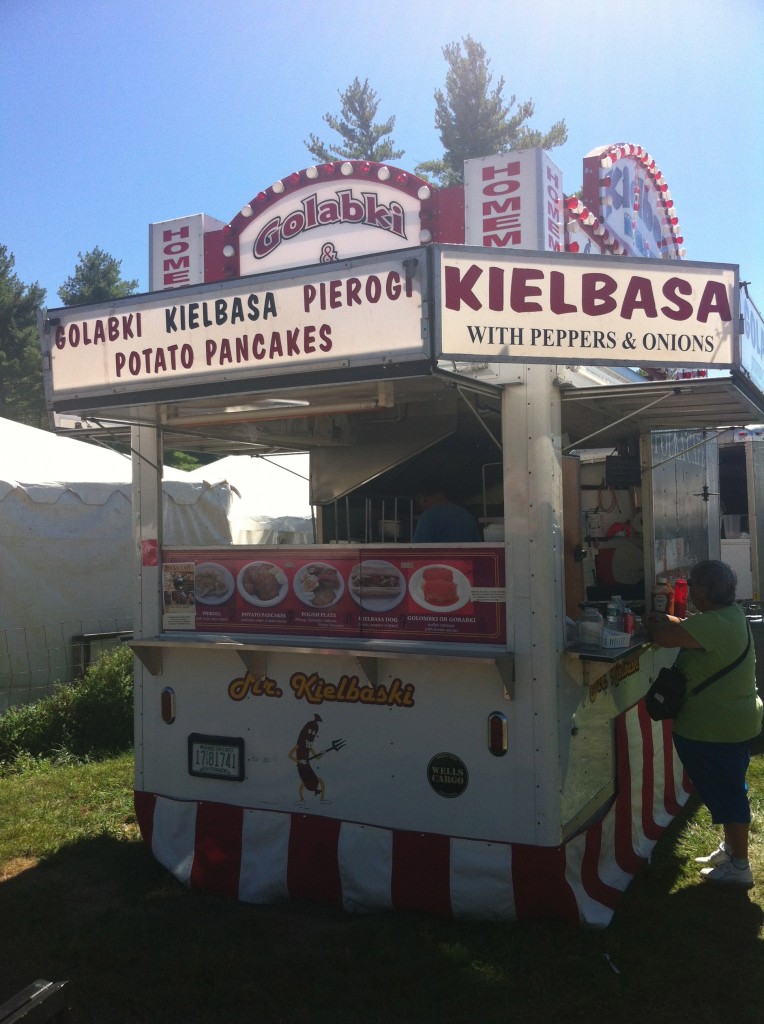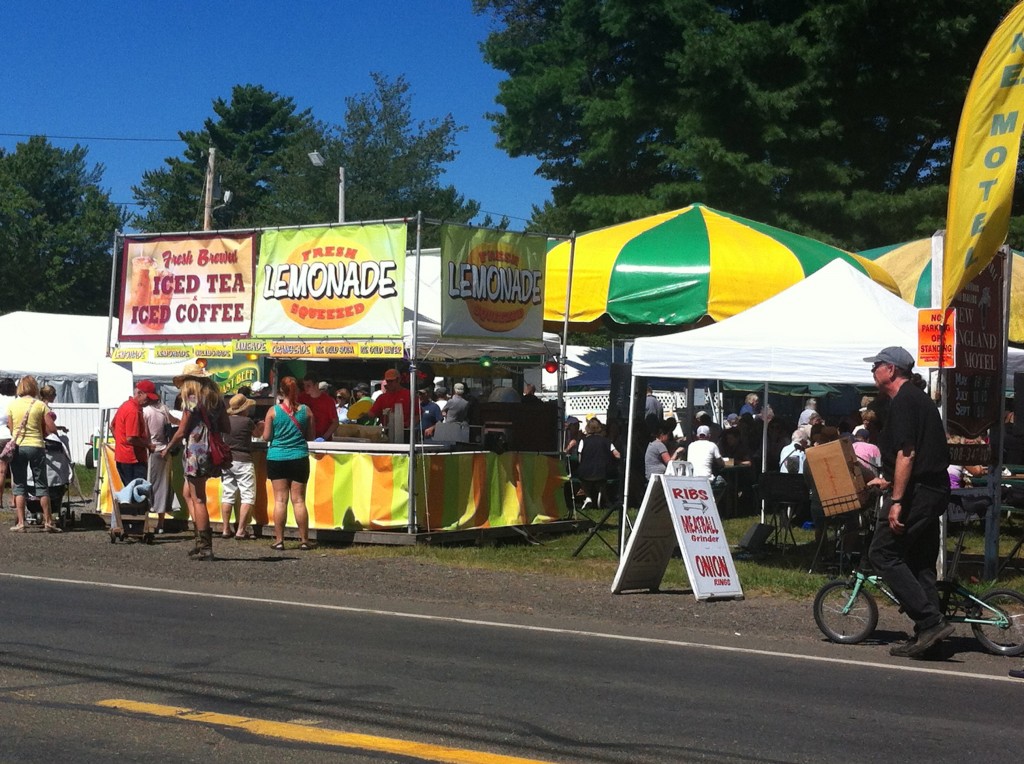 And there are always quirky little things that Barry and I bargain for… many, many things that have made our homes ours over the years. Yesterday was no exception…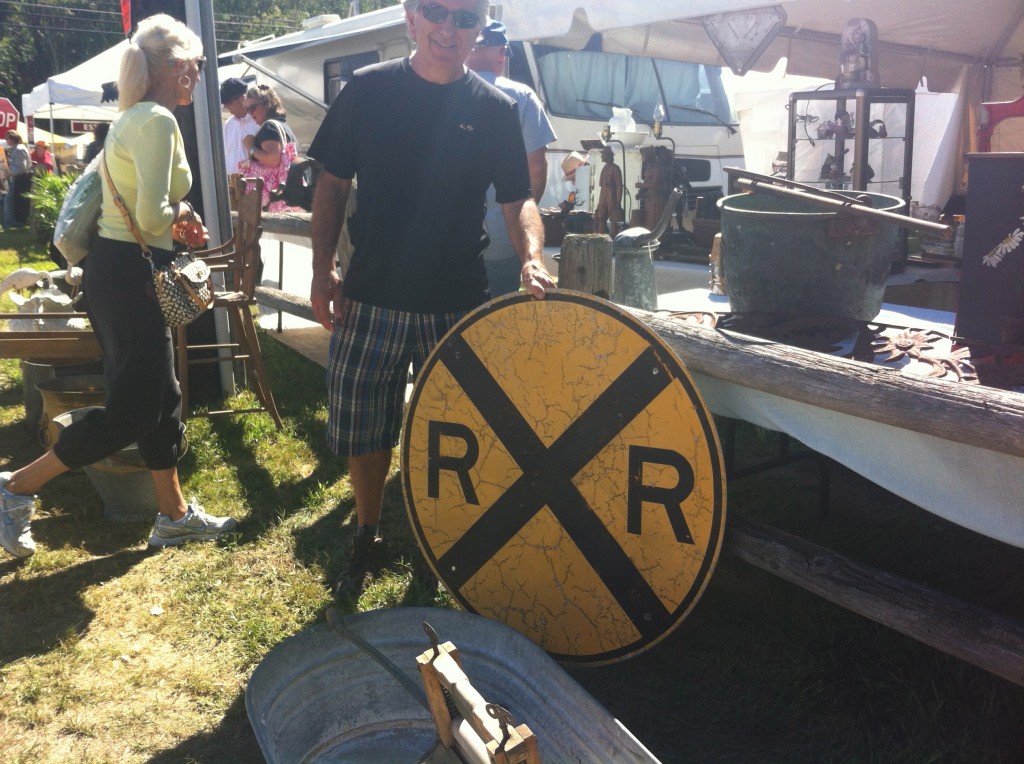 This Railroad Crossing sign will have its own post soon!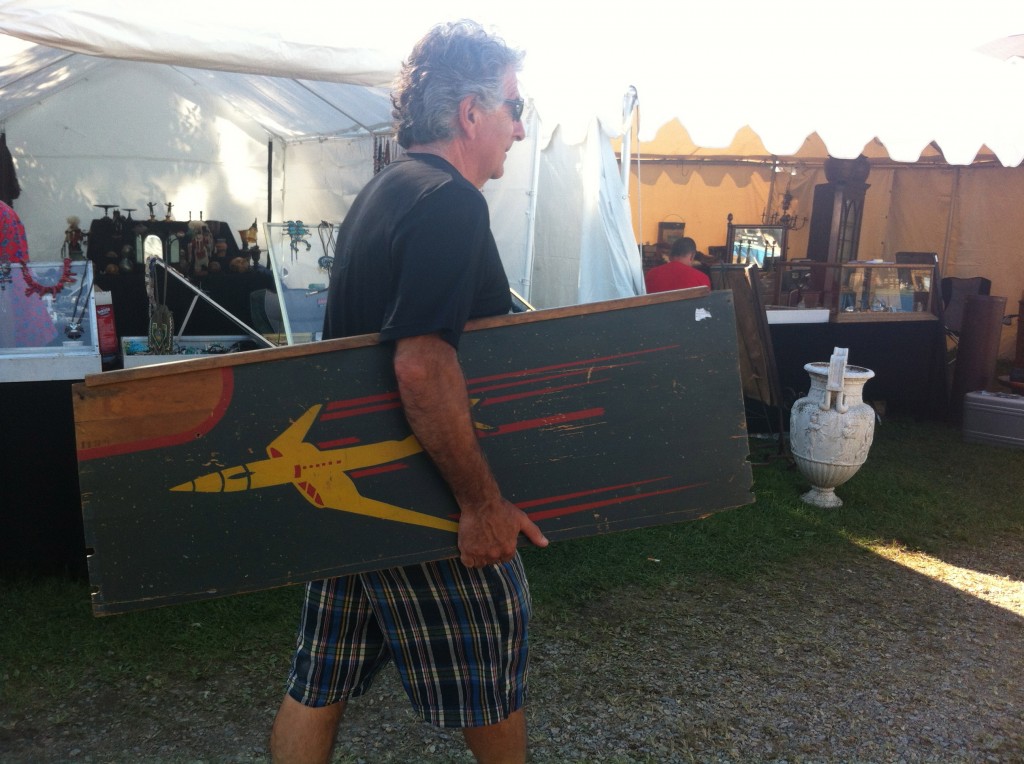 What's this, you ask? It's the wooden side of a vintage pinball machine. Barry's nickname happens to be "Rocket" and Barry's a veritable Pinball Wizard. See? Eclectic! This will hang in our family room.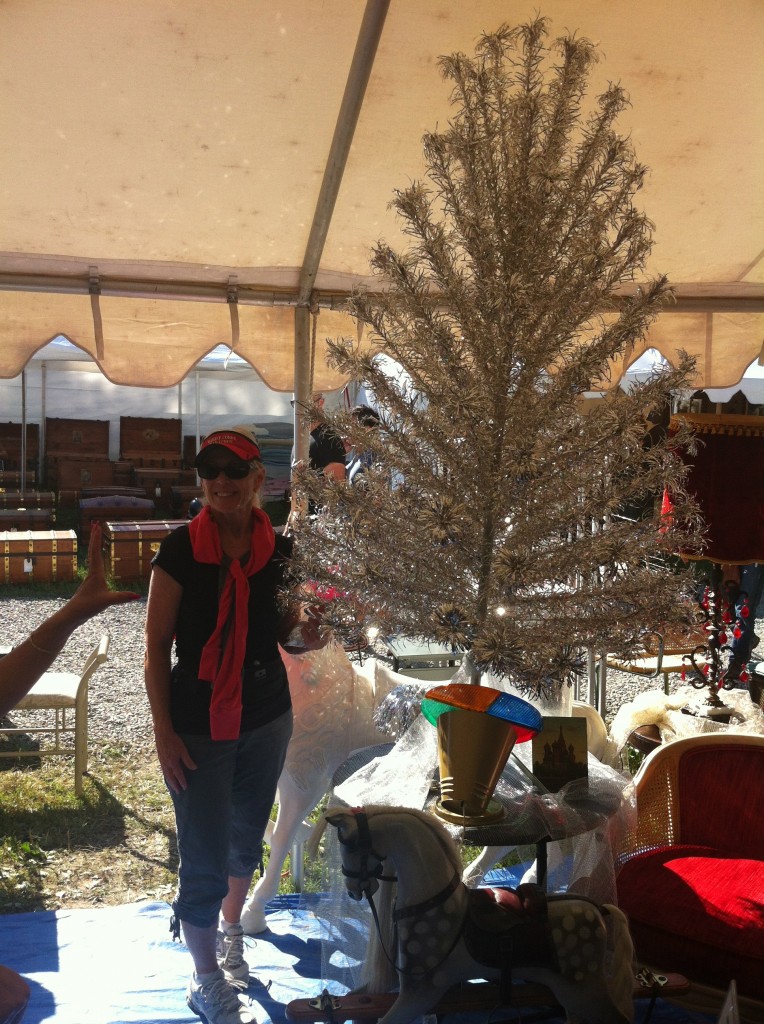 One lovely, engaging dealer had a vintage silver Pom Pom Christmas Tree, circa 1960, for sale. This tugged at my heart because my Dad lovingly put up a tree just like this one in our home each year. I may have waited too long for this bargain… but that's Brimfield's (see "Tips" above).
But the title of this post is The Red Dress.
And this dress has a story.
Barry and I were about an hour into our fabulous date when I spotted a red dress in a tent filled with all kinds of vintage things. Barry spotted the dress at the same time.  It's a dress you pay attention to, a dress that draws you in.  I touched it and pulled the sheath fabric up and out to discover a crinoline lining. As I was admiring it, the dealer came over and told me that it had come from an estate… and that the dress is 1940's vintage. It was glorious. But I wasn't in the market for a dress, vintage or otherwise.
We chatted, but Barry and I walked away.
I turned back.
We talked some more to the dealer, a lovely lady with a no pressure pitch… just conversation.
Barry asked how much.
$50.00. But she'd let it go for $35.00.
I held it up to me.  There's no trying-on spot, so I measured with my hands and eyes.
I could not get my eyes off this red dress.
I bought it.
Barry wanted to take a photo, so the dealer had me stand on a white chair for a better angle, running shoes and all…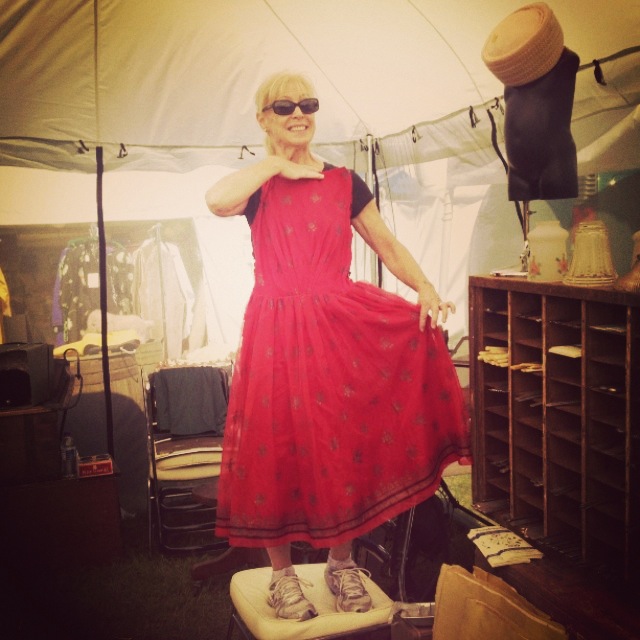 The dealer then told me that the dress had belonged to her grandmother, and she was happy that the dress was going to a good home.  We hugged. Brimfield's is like that. The bargaining, the conversing, getting to know the stories of the pieces, the collectibles, the stuff. I got the dealer's business card…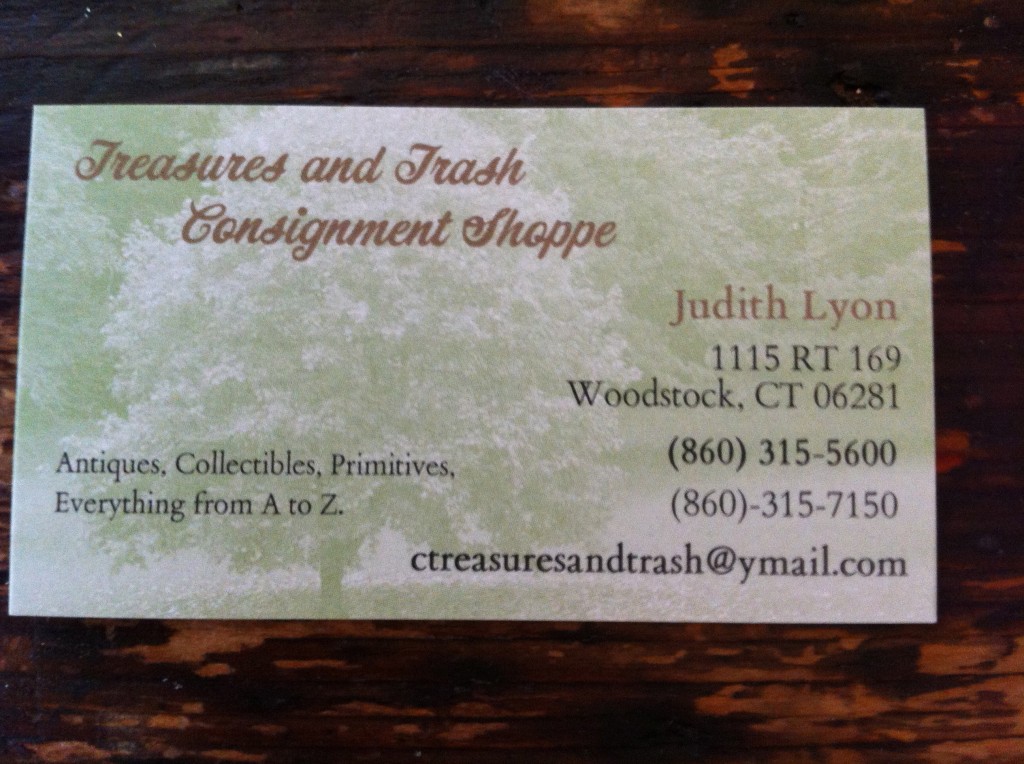 Barry and I spent the entire day at Brimfield's and saw but a fraction of what was there… but had the greatest date, the greatest, most fun day.
When we arrived home, the first thing I did was try on The Red Dress…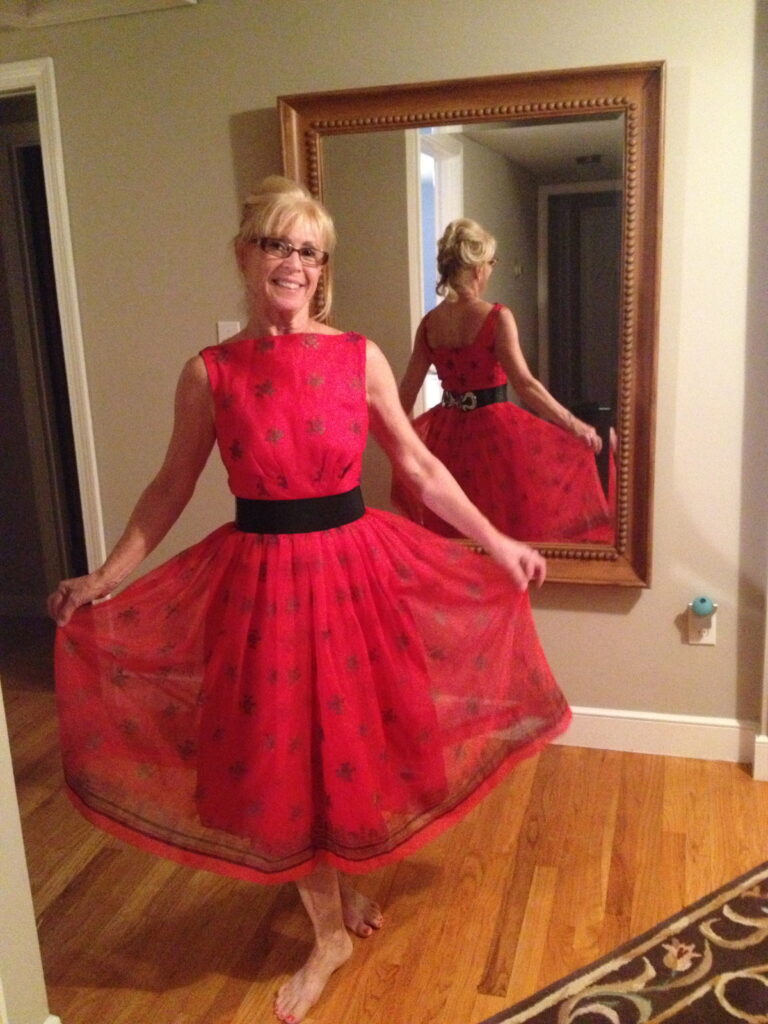 What amazed me is that it fit like it was made for me.  Maybe it was made for me.
I love it.
Yes, The Red Dress has found a good home.
I cannot wait to wear it… somewhere special, for sure.
And I already cannot wait for next year and another wonderful day of hunting at Brimfield's with Barry.