My kids just don't eat veggies or fruits plain.
Oh, know… believe me, it's a struggle.
If I try and get bananas in them, they want honey or vanilla yogurt poured on top.
If I try and get strawberries in them, they want sugar sprinkled over them.
If I try and get carrots in them, they want butter poured over the top.
I could go on and on and on. As a mom, I'm always looking for the best healthy thing for my kids. I want them strong. I want them healthy. I want them getting enough vitamins and minerals. It's important for me to make sure their bodies are full of the healthiest items possible.
Recently I tried V8's V-Fusion on the boys.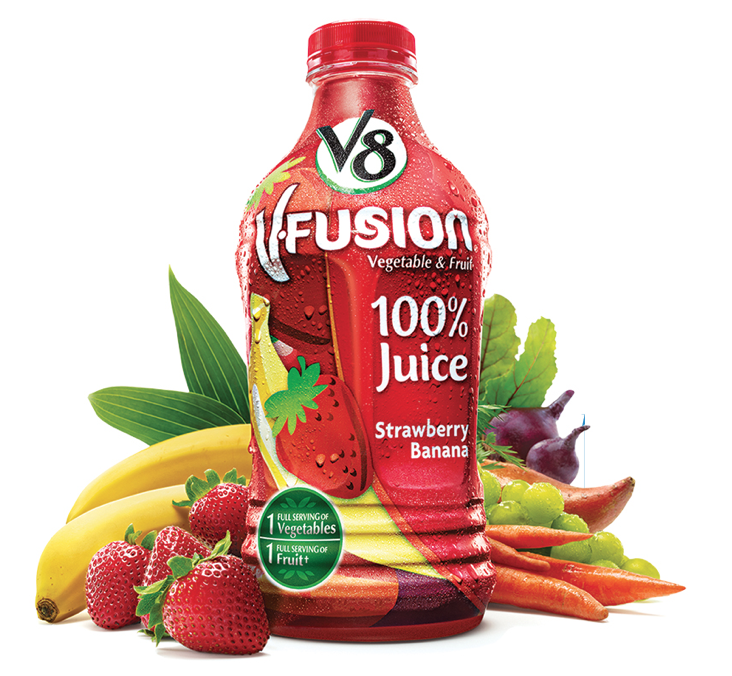 V8 V-Fusion® provides a full serving of vegetables and a full serving of fruit, so for my boys, I was excited to see if they would go for it. I have to be honest, I wasn't sure what to expect because usually my guys are apprehensive about trying anything new… but they absolutely rolled with me on this one and tried it out. I think the first thing they loved was that it was a drink, not actual food on a plate!
What did I try first?
Since they do love bananas and strawberries, I tried the Strawberry Banana V-Fusion, first.

A vibrant blend of select vegetables juices paired with fruit juices including strawberry and bananas.
So what did they love about the Strawberry Banana?
Plain and simple… the taste.
What did I love?
I LOVED how easy it was for them all to sit around the table and drink their V-Fusion. I didn't have to worry about someone not eating enough or someone "hiding" any fruit. I poured, they drank. It was effortless.
I also LOVED how it was an enjoyable way to get fruit into my sons. My son Henry asked me, "Is this a shake?" I loved that! I'm not kidding, as every mom out there can understand who has picky eaters, it's NOT always easy to get fruits and veggies into your kids. I'm going to be honest, sometimes it can be brutal. I love how V-Fusion has made it simple and easy and practical for parents.
There are so many wonderful vitamins in V8 V-Fusion and I love knowing my sons are getting all of this!
Vitamin A: Helps to keep eyes and skin healthy and helps to protect against infections (USDA MyPlate)
Vitamin C: Helps keep teeth and gums healthy. Vitamin C also aids in iron absorption (USDA MyPlate)
Vitamin E: Helps support immune function. (National Institute of Heath)
This is such an easy way to have your kids get their fruits and veggies!
Thank you, V8!
Sponsored posting for SheKnows.com