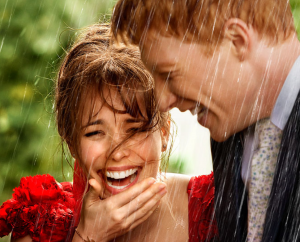 Have you ever had a moment in your life that you knew would leave a lasting impression?
Have you ever met someone in your life where you knew (deep down inside) that you just can't exist without them? That your "whole life depends" on this one true love?
Have you ever wanted to replay moments in your life to get them "just right?"
I'm telling you… if you're pondering the answers to these questions, then you will fall in love this November with the movie, "About Time" from Richard Curtis the filmmaker responsible for Love Actually, Notting Hill, and Four Weddings and a Funeral. He is returning to the theaters with his most personal and memorable film of all.
About Time tells the story of a young man, Tim Lake (Domhnall Gleeson) whose gift allows him to go back and relive any moment of his life. But instead of making every moment perfect, he learns that life and love are most extraordinary when you embrace all of their imperfections.
The night after another unsatisfactory New Year party, Tim's father (Bill Nighy) tells his son that the men in his family have always had the ability to travel through time. Tim can't change history, but he can change what happens and has happened in his own life—so he decides to make his world a better place…by getting a girlfriend. Sadly, that turns out not to be as easy as you might think.
Moving from the Cornwall coast to London to train as a lawyer, Tim finally meets the beautiful but insecure Mary (Rachel McAdams). They fall in love, then an unfortunate time-travel incident means he's never met her at all. So they meet for the first time again—and again—but finally, after a lot of cunning time traveling, he wins her heart.
Tim then uses his power to create the perfect romantic proposal, to save his wedding from the worst best-man speeches and to save his best friend from professional disaster. But as his unusual life progresses, Tim finds out that his unique gift can't save him from the sorrows and ups and downs that affect all families, everywhere.
I'm a true romantic. I believe in happily-ever-afters and love at first sight and love that lasts a lifetime and lifetimes to be. When I saw the previews for About Time, the range of emotions in just 2 minutes and 30 seconds got me. I smiled. I laughed. I cried. I got goosebumps.
When I watched this, it made me think of my husband. I'll never forget meeting him on the main green of campus back in October 28, 1998. That moment changed my life. I've often thought that if I decided not to go to class that morning, I never would've met him. My 4 sons, my daughter, our life… it wouldn't exist. I've replayed that moment in my head about a zillion times throughout the last 15 years. He's my one. I would go back in time to find him if I ever had to someday. He's my person. My true love.
This is a must-see movie starting on November 1, 2013.
It's one of those magical movies you will literally want to watch over and over and over again.
It's About Time a movie like this came out again… !
Disclosure: Sponsored post