In the last few years I've started to enjoy cooking and baking more than ever, but, admittedly, I'm usually not very creative in the kitchen. I typically need to follow a recipe step by step, not diverting at all from the instructions. I'm afraid that I go rogue on a recipe it'll turn into a disaster, so I've become accustomed to sticking to exactly what a recipe tells me to do.
So I was a little nervous when I was asked to make some Halloween Cupcakes and get creative while decorating them with Ocean Spray Craisins® and other candies and treats. But then again, Halloween is all about having fun, so I figured I'd see what I could come up with!
And you know what? I DID have fun doing my own thing with the decorating. I used the Craisins® as the body for some creepy crawlers, the smile for a funny face, the center of a spider web, and more! I have some friends stopping by my house with their kids tonight for trick-or-treating, and I can't wait to share these with them.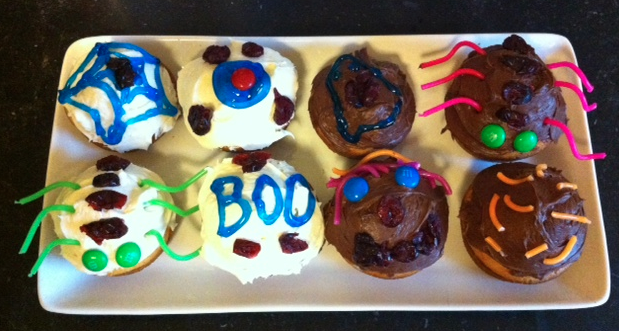 You will find the Halloween Cupcakes recipe at the end of this post… but right now I want to know if you have tried Craisins®? They are dried cranberries – and they are delicious! I've LOVED them long before I was asked to participate in this recipe review. One of my favorite ways to enjoy them is by putting some in my oatmeal for breakfast. They add just the right amount of a bold, flavorful kick. YUM.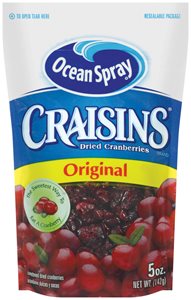 Naturally fat-free, cholesterol-free and a good source of fiber, one serving of dried cranberries (¼ cup) meets 25 percent of your daily fruit requirements and delivers the same whole-body health benefits as an 8oz glass of cranberry juice cocktail.
Ocean Spray currently has a cranberry bog at the 18th annual Epcot® International Food & Wine Festival, which runs through November 11, 2013 in Florida. Visitors can experience Ocean Spray's cranberry harvest exhibit and learn much more about the delicious cranberry!
To celebrate the cranberry bog at the Epcot® International Food & Wine Festival, Ocean Spray is giving away a 3-month supply of Craisins® via Twitter!
You can enter to win by following @OceanSprayInc and including the #ilovecraisins hashtag and @OceanSprayInc in your answer to the question @OceanSprayInc asks tomorrow, November 1, at 12pm EST.
GOOD LUCK!
—
Now, here is the Ocean Spray Halloween Cupcakes recipe:
INGREDIENTS:
1 (15.25oz) box yellow cake mix
3 eggs
1 cup Ocean Spray Cranberry Juice Cocktail
1/2 cup vegetable oil
Ocean Spray Craisins® Original Dried Cranberries, for decoration
Assorted candies for decoration, as desired
DIRECTIONS:
Heat oven to 350 degrees. Spray cupcake baking pans with baking spray or use paper liners; set aside.
Prepare cake mix as directed on box, using cranberry juice in place of water. Pour batter about 2/3 full into cupcake pans; bake until wooden pick inserted in center comes out clean (15 to 18 minutes).
Remove from oven; cool completely.
Decorate cupcakes into assorted shapes using Craisins® Dried Cranberries, candies and treats.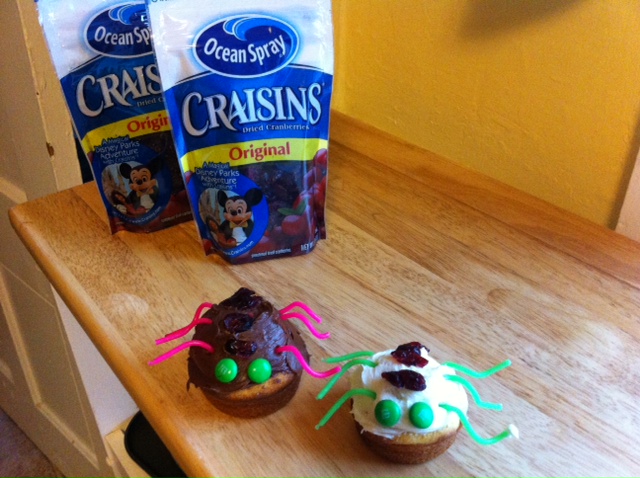 —

Disclosure: I have been compensated in exchange for my honest product review, and to promote the #ILoveCraisins Twitter giveaway. All opinions are my own.