Disclosure: I partnered with P&G as a paid sponsor for this program.
I have been obsessed (literally) with P&G's "Thank you, Mom" campaign since it first started.  I'll never forget seeing the "Thank you, Mom" commercial spot on TV during the Vancouver Olympics and just sitting there watching with tears streaming down my face.  The tears weren't sad tears, they were just mom tears.  The kind of tears that come from looking at your child(ren) and knowing that you would do anything in the world to help them achieve their goals in life. It's the connection and bond of all mothers, we're there for our kids, always… always… always.
The "Thank you, Mom" campaign hits me to my core in a very personal, beautiful and passionate way. I identify with its beautiful message as a daughter, as a former athlete and as a mom of 5.
P&G's "Thank you, Mom" campaign has continued to inspire, encourage, motivate and bring beautiful stories to light from athletes and their moms.  As a mom, I love this campaign because it's so real, it's so brilliant and it's so relatable. It's just spot-on. Truly, just spot-on.
Which brings me to today… oh, yes… today was a true pinch-me-moment for me.
I had the honor and the privilege to be part of the "Thank you, Mom" kick-off for Sochi 2014.
Today P&G released the beautiful, honest and inspiring "Raising an Olympian" videos of Lindsey Vonn, Evan Lysacek, Julie Chu and Taylor Lipsett – and their moms – which officially kicked off the "Thank You, Mom" campaign celebrating the hardest, but most rewarding job: Being Mom.  P&G's Thank You, Mom campaign, recognizes that no athlete gets to the Olympic and Paralympic Winter Games alone, and celebrates the Moms who helped get them there. Through these 4 incredible videos of "Raising an Olympian" you see first-hand the sacrifices, the love, the commitment, the dedication and the determination that went into the journey of each one of these athlete's… it truly is just magnificent. After all, it's not just about the destination, it's the journey that got them there. That journey… well, it involved their moms.
When the videos were viewed this afternoon for the first time, you could literally hear the Puffs packages being opened. There wasn't a dry eye.
After the 4 videos were viewed publicly this afternoon, I had the honor to moderate a panel with:
Lindsey Vonn (Alpine Ski Racer) and her mom Lindy Lund
Evan Lysacek (Figure Skater) and his mom Tanya Lysacek
Julie Chu (Ice Hockey) and her mom Miriam Chu
Taylor Lipsett (Sled Hockey) and her mom Cheryl Lipsett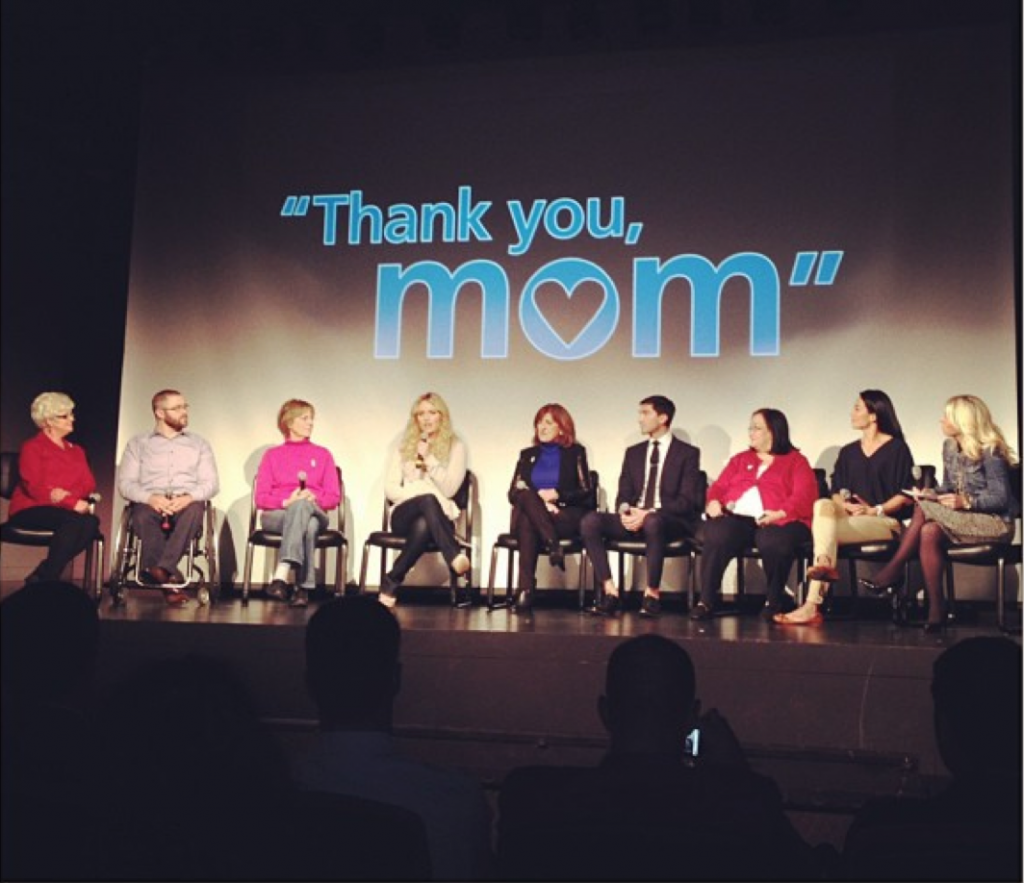 It was a pleasure to see the athletes and their moms and get their reactions to the videos. I have to say, they were all so humble and so gracious… you can tell that they truly just love what they do and that their moms are just beyond proud of them. I mean, these are world-class athletes, the best in the world… and it was just a beautiful thing to see their moms sitting there, just beaming. It was a beautiful, just beautiful.
I'd like to share below the 4 videos that were showcased today…
Lindsey Vonn
Evan Lysacek
Taylor Lipsett
Julie Chu
Pretty powerful, huh?
Simply incredible.
Thank you P&G for allowing me to be part of this special day.
On my way home from NYC, I called my own mom to say 3 simple words, "Thank you, Mom."