November is National Family Caregivers Month and AARP is sponsoring the #ThanksProject to thank an estimated 42 million Caregivers in the United States…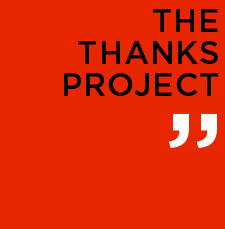 Please visit The Thanks Project to thank a Caregiver today. This is my "Thanks" story… "Out of the mouths of babes"-
I am one of these 42 million+ Caregivers as the Caregiver to my 88-year old Mom, Rita. Rita was widowed suddenly and young at age of 50 when my Dad died. I was 22. Our lives were forever changed, but through my Mom's great strength of character and will, she picked up the broken pieces of our lives, giving me the great gift of survival.
My Mom is the strongest person I know.
The wonderful thing about my Mom is that she is also the tiniest person I know, standing tall at 4'7", her bones twisted down from her former 4'11" with arthritis. But a life of activity, exercise, outdoors, travel and adventure has kept her mind grand, tall, healthy, young and strong. Three weeks after my Dad died, my Mom went out and found herself a job as a secretary, something she had done as a young, single woman. She enjoyed getting dressed up for work each day, being the fashionista she is. She loved "saving up" for a nice trip each summer, and traveled with friends and her cousin all over the world. She collected little momentos from everywhere she visited… things like tiny, intricately fragile clocks, angels, flower baskets and sparking glass knick-knacks in the shapes of working carousels and lovely swans and the like.
My Mom still has these tiny, fragile reminders from her travels. It's been up to me to wrap them and carefully transport these fragile pieces each time she's moved.
I've cursed these things as much as I've admired them.
But it's these clocks and angels and flower baskets and carousels and swans that brought me a great, great warm and wonderful gift of Thanks recently… a Thanks I will always cherish.
It was last Sunday afternoon. My husband and I had 4 of our 10 grandkids for the day, 4 brothers – ages 5, 6, 8 and 9. My Mom has been sidelined with a very serious leg wound for going-on 11 weeks and has been home but for necessary outings. This has been very difficult for my Mom. This has been very difficult for me. I've spent an average of 30-40 hours/week administering to my Mom's injury, bathing her, changing dressings and/or fielding phone calls from visiting nurses, physical therapists and the like. I've spent countless hours at emergency rooms, physicians' offices and, fortunately, a local Wound Recovery Center that has saved her way of living… I'm sure of this. I've cooked and delivered every meal, every day, for 11 weeks.
But one thing has been missing.
My Mom's greatest joy is her great-grandchildren and she is their great joy as well. Rita is a staple at every family event and the great-grandkids practically fight over who is going to hold her hand, fetch her footstool, grab her a blanket on a cold day, bring pillows for lawn chairs at outdoor functions. She loves to hold and snuggle the babies while their parents (I have 4 kids and 4 in-law kids) play games or just visit with their siblings. My grandkids have been blessed with seeing Caregiving as a way of life, the way of family.
Because of my Mom's recent difficulty with mobility and my almost full-time Caregiving, our family gatherings have been limited.
OK. Back to last Sunday.
On the way to bringing my 4 grandsons home, I decided to stop at Grandma Rita's for a little surprise visit. I prefaced this visit with the usual, "Guys, you know that Grandma Rita has lots of fragile stuff at her home." I may have used the word fragile 1,000 times.
They answered in unison, "We know, Grandma"… etc. etc. etc. Then my 6-year old grandson Ben announced to his brothers, "Guys, you don't wait 'til Grandma tells you to give hugs and kisses to Grandma Rita. You just DO it."
My heart soared.
Well, my Mom was delighted to see the boys…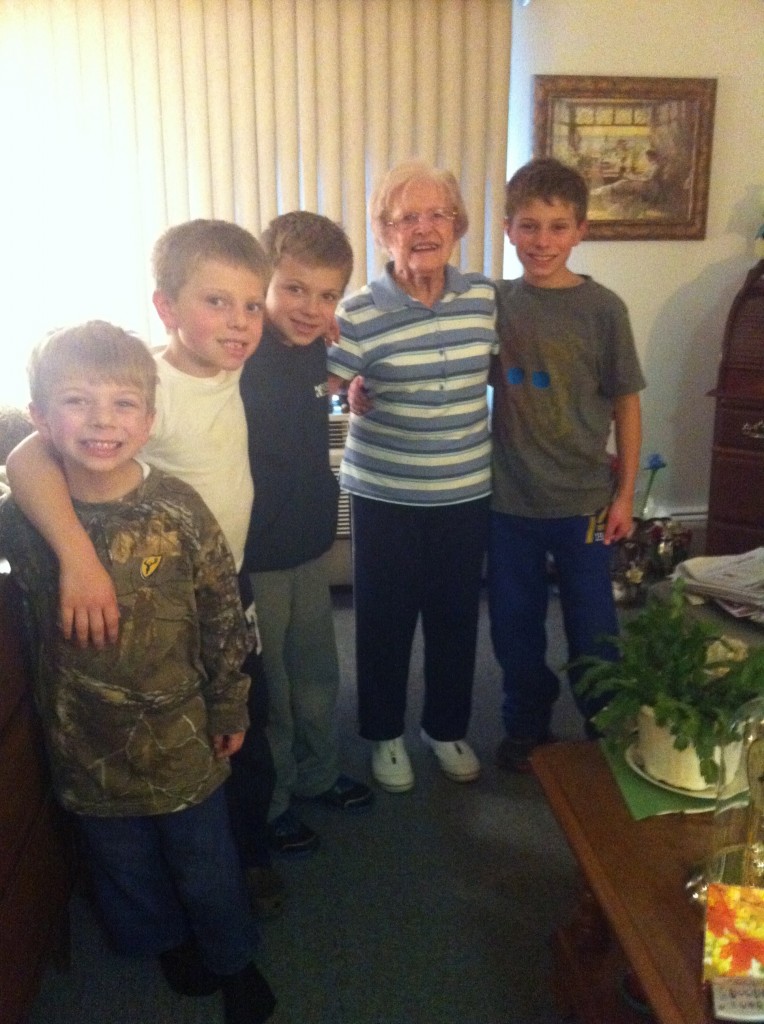 The boys were delighted to see Grandma Rita. Ben practically knocked his brothers down to give my Mom a big hug and kiss, then turned to me with a big smile and 2 thumbs up. LOL!
AND the boys were delighted to see Grandma Rita's stuff… gently picking up her tiny, fragile clocks and angels and flower baskets and knick-knacks while Grandma Rita explained the origin of each one.
I even picked up one tiny, fragile basket of flowers. I even DROPPED the tiny, fragile basket and watched a tiny flower crumble into pieces. I slow-motion watched the faces of my grandsons as their eyes widened and mouths dropped.
"Oh, don't worry about that," my Mom was saying. "I've got plenty of those."
But still!
We had a wonderful little visit and then it was time to leave. More hugs and kisses. Another 2 thumbs up from Ben! Oh, how I love that kid.
Once in my car, all hell broke loose with simultaneous, "GRANDMA, YOU BROKE GRANDMA RITA'S FLOWERS. YOU did, not US!"
We had a good laugh over me being the culprit… then 5-year old Henry said something so beautiful and so profound that I will always cherish and never forget his words. He got very serious and said, "Grandma, I know Grandma Rita is getting fragile. Thank you for making her strong again."
Behind my sunglasses, tears were streaming from my eyes. I could hardly speak.
I knew at that moment what Caregiving is. What Caregiving means – "Out of the mouths of babes and nursing infants, You have ordained strength."
Caregiving is internalized in our children.
I joke with my Mom, calling myself her Personal Assistant; but, in fact, Caregiving is like being a PA. I am my Mom's ears, eyes, wheels, fingers, hands and feet. I am her cook, cleaner, trash gal, mailman, banker, pharmacist, chambermaid and chauffeur. I could write a movie script called Driving Miss Rita if that gal Daisy hadn't beat me to the idea of it.
There are more than 42 million Caregivers in the U.S.
We need to thank them all. A simple "Thanks" means the world… and maybe even a few tears.
Please take time during the rest of November to give thanks to as many caregivers as you can. Go to thanksproject.org and post a photo, note, video or other comment thanking a Caregiver you know. A companion mural will be painted on the side of a NYC building incorporating the names of those thanked.
This is just plain wonderful and you never know who's taking it all in.
Even a 5-year old grandson.
***********************************************************
As a Caregiver, I turn to AARP.org/Caregiving for questions I have in the care of my Mom – from daily care, housing options and legal advice to medical features, a Caregiving community and the important topic of caring for the caregiver. Those of us who Caregive are not alone, even though it may sometimes seem so; and sometimes the best days turn in a heartbeat to the most challenging days. AARP has provided us with a strong, vibrant community of experts for all of our Caregiving days, as well as those of us trying our best at common sense – with lots of welcomed help and advice.
I also turn to AARP.org for myself, for its front-line advocacy, information and service.
Sharon Couto is a member of AARP's Blogger Kitchen Cabinet on #caregiving, #caresupport, #carekc issues. All opinions are her own.