I am absolutely obsessed with Lifetime's "Project Runway All Stars!" In its most competitive season ever, 11 former top-ranking Project Runway contestants will face-off in "Project Runway All Stars" season three. The show airs on Thursdays at 9 p.m. EST and as a lover of all things fashion and beauty, it's amazing to watch these incredible transformations on TV. I mean truly, to get a glimpse of a designer's vision and then to see it carried out on a model with hair and makeup, it's just insanely incredible. I always get goosebumps watching!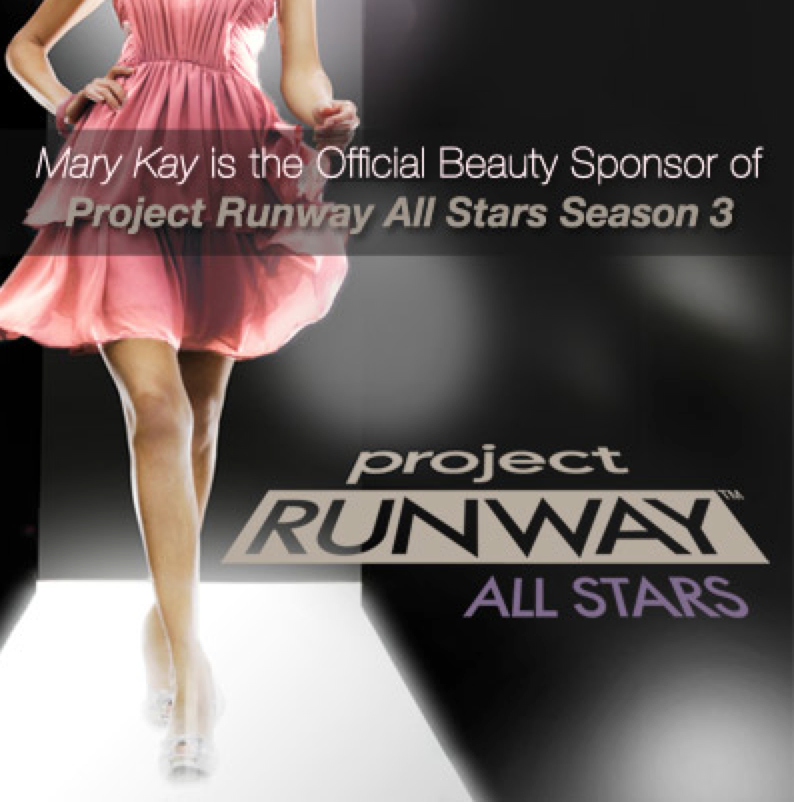 I LOVE seeing that Mary Kay is the official beauty sponsor of the third season of Lifetime's hit series "Project Runway All Stars." The iconic company has a national audience as up-and-coming designers perfect their looks on models in the Mary Kay Color Design Studio in every episode. Known for big, bold fashion, celebrity make-up artists exclusively use Mary Kay® products on the show which has been airing since October and will go through January. I love seeing what they choose for each model, they really do have such an amazing talent creating looks from head-to-toe! Actress Alyssa Milano hosts as the best of the best compete for the largest prize package in Runway history worth over three quarters of a million dollars including an entire year's worth of Mary Kay® products for the winner's fashion shows, as well as professional makeup artist services for their debut show.
A-M-A-Z-I-N-G!!!!!!
If you tuned in last night, you got to see the GORGEOUS Mary Kay Challenge Winning Look from Mary Kay Celebrity Makeup Artist Virginia Linzee.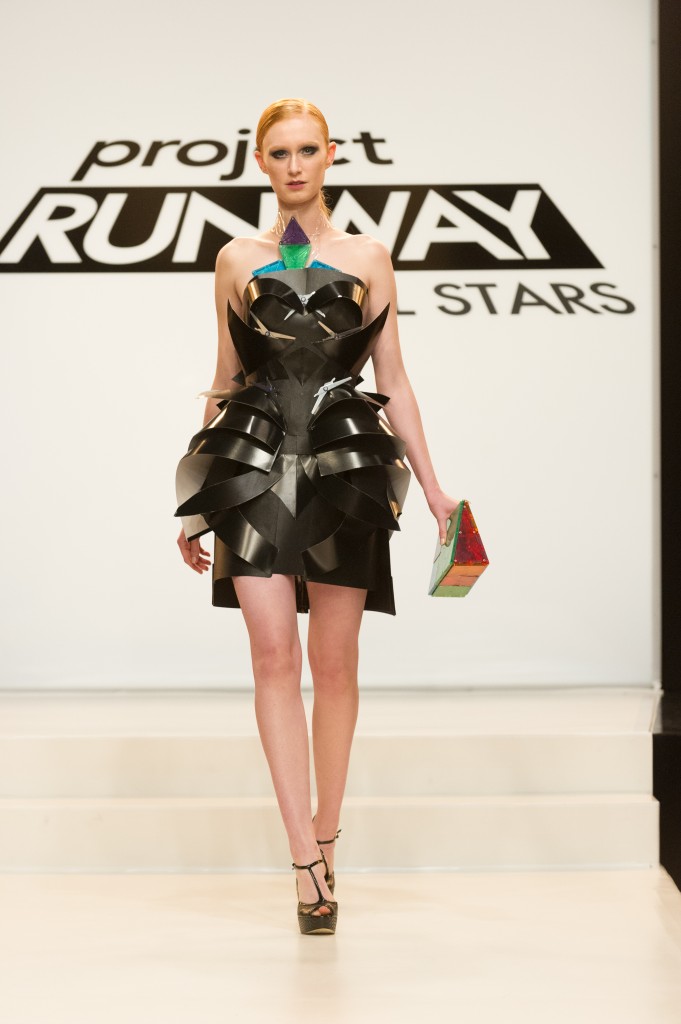 Virginia shared with me how to get this beautiful look…
1) It's important to start with a perfect canvas. Use Mary Kay® TimeWise® Age-Fighting Moisturizer Sunscreen Broad Spectrum SPF 30 to prep the skin. Massage gently for added circulation. Then, prep the lips with Mary Kay® Satin Lips® Lip Balm and apply Mary Kay® TimeWise® Eye Primer to the eyelids.
2) After applying your normal foundation or tinted moisturizer, focus on the eyes. Start with the liner before the shadow for this look, as it will keep the eyes soft without a "lined" feel. Also, for mess-free application, especially with a dark eye color shade, hold off on applying concealer to avoid having any product fall under the eye area. Use Mary Kay Eyeliner in Black to dot the eyeliner into the roots of the upper and lower lashes. The great news is that you don't have to worry about creating a perfect line because you are going to smudge it using a high-quality brush.
3) For the model's eyes' color in the episode, I chose Mary Kay At Play® Baked Eye Trio in Tuxedo. The black, gray and white trio of the palette perfectly complemented the winning fashion look and its hard architectural elements. This made the model look fierce, without looking hard. I also slightly winged the shape of the eye makeup as a nod to the shape of the dress.
4) Use an eye color brush to first apply the gray part of the palette to the eyelid and blend into the crease. Smudge a "wash" of it under the lower lash line, as well. Next, apply the black shade to the outer area of the lid, from roots of the top lashes to the outer lower lash line. Use a clean brush to apply the white in the inner corner, working into the roots of the inner lash line on the bottom lashes to make the eyes look bigger and brighter. The key with recreating this look is to blend, blend, blend so there are no distinct lines.
5) Make the eyes stand out with Mary Kay® Lash Love® Mascara in Black, applying only to top lashes.
6) I used the designer's vision for a red lip as inspiration. Instead of a perfectly lined and applied red lip, apply lip color in a painterly fashion to keep the look more modern and soft. Apply one swipe of Mary Kay Creme Lipstick in Blaze. Blot with a tissue, and tap on more color in the inner lip to give it dimension. Wine shades are fun and mysterious – plus, they're really on-trend for fall!
***Insider beauty tip: to keep looks intact for up to 16 hours, use Mary Kay® Makeup Finishing Spray by Skindinavia, spritzing two to four times in an "X" and "T" formation.***
GIVEAWAY TIME!!!!!
Get this EXACT GORGEOUS LOOK AT HOME!!!!!!
Mary Kay prize pack (retail value $171) so you can replicate the winning Mary Kay Challenge look at home.
Here's what is in the Mary Kay Prize Pack:
Mary Kay® TimeWise® Age-Fighting Moisturizer Sunscreen Broad Spectrum SPF 30
Mary Kay® Satin Lips® Lip Balm
Mary Kay® TimeWise® Eye Primer
Mary Kay® Eyeliner in Black
Mary Kay® At Play Baked Eye Trio in Tuxedo
Mary Kay® Brush Collection
Mary Kay® Lash Love® Mascara in Black
Mary Kay® Creme Lipstick in Blaze
Mary Kay® Makeup Finishing Spray by Skindinavia
How can you enter this giveaway???
Tell me why you LOVE Mary Kay products.
I will choose a winner on Wednesday, November 20th, 2013 at 5PM (EST).
*This is a sponsored posting.