Whatcha Wearing: J.Jill ULTRA Cozy, Chic and Comfy Style
I'm obsessed with wearing sweaters in the winter. I really am a true New England girl because I love to be cozy and comfy… but I also love to be chic, too!
J.Jill offers the most luxurious and gorgeous sweaters that are the absolute perfect mix of both. It's a wonderful shopping destination for women to go to where they know they will get classic, chic, comfortable and flattering clothing for their wardrobe. I personally love how they understand their customer.
They know we live a very busy life.
They know that we want inspired fashions and helpful, guiding services.
That's why I love J.Jill's mission to offer great products that are versatile, flattering and answers the (oh-so-ever) everyday question: "what do I wear?"
In 2013, J.Jill launched "uncomplicate." I personally think it's genius… J.Jill's philosophy and promise to their customer: Trust us to take care of what you wear so you can focus on the things in life that are most important to you.
I LOVE this.
The notion of "uncomplicate" is now a part of everything they do, from product design to store environments, their catalog, their website and their advertising.
J.Jill's brand philosophy, "uncomplicate," has guided the design of several new stores around the country – they're modern, simple to navigate, beautifully designed and inspired by a sense of "personal ease." Customers truly get a streamlined shopping experience.
They're also working with their Compassion Fund to support local charities in honor of the openings. J.Jill's Compassion Fund was founded in 2002 and has been committed to providing support to women in need. Such an amazing thing that they do!
So what am I wearing today?
Today is a day where I have a bunch of places to be… morning conference with my son's teacher, coffee meeting with a client, (2) segments that I need to pre-tape for our local news station, afternoon meeting with my son's swim coach, CCD for the boys, swim practice for the boys and then dinner out with my family and parents. It's a FULL DAY. I need my fashion to be able to "roll" with me all day. I need to look good, but I also need to be COMFORTABLE.
J.Jill has me covered all day. J.Jill has easily uncomplicated my wardrobe by giving me fabulous, easy pieces that work with what I have in my closet.
Today was all about my J.Jill piece…
My J.Jill's cozy mixed-stitch sweater (which is a MUST HAVE FOR EVERY WOMAN!) – Warm, textured style with ribbed trim at the neckline, cuffs and hem. Round neckline. Side vents. Long sleeves. Low-hip length. Wool and nylon. Hand wash or dry clean. Imported.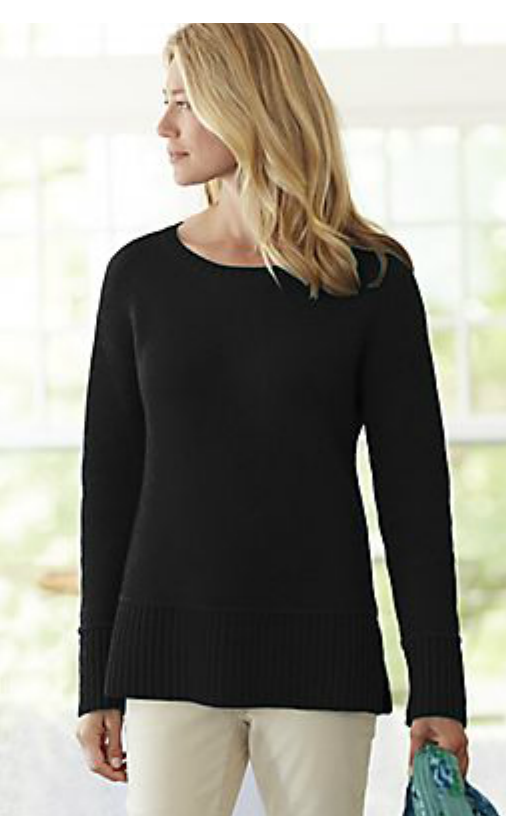 This cozy, mixed-stitch sweater is ME to a "T!" I am obsessed with it because I can wear it SO many different ways.
This is how I wore it today…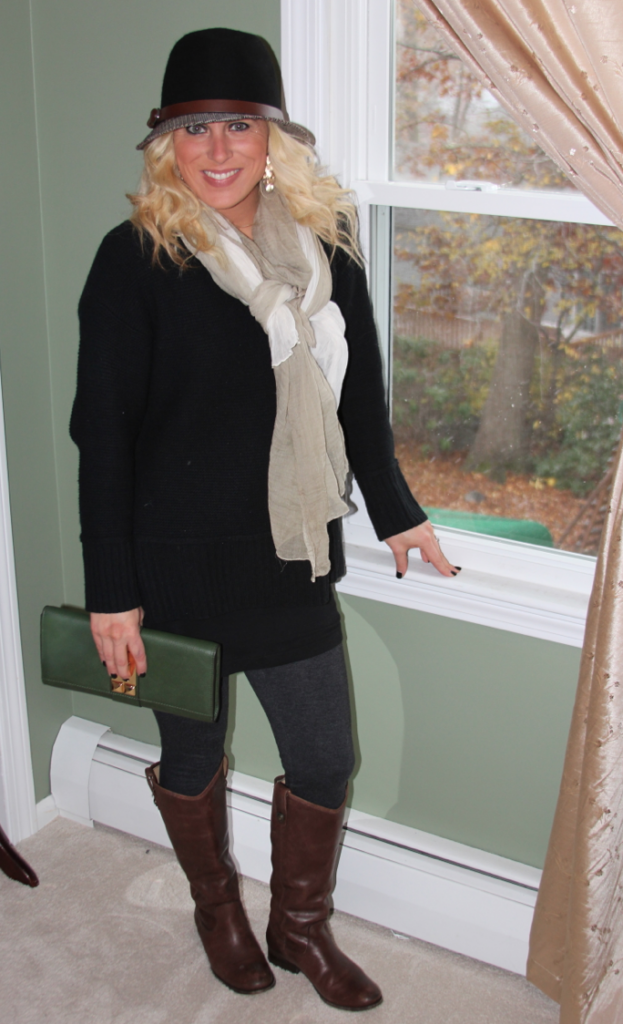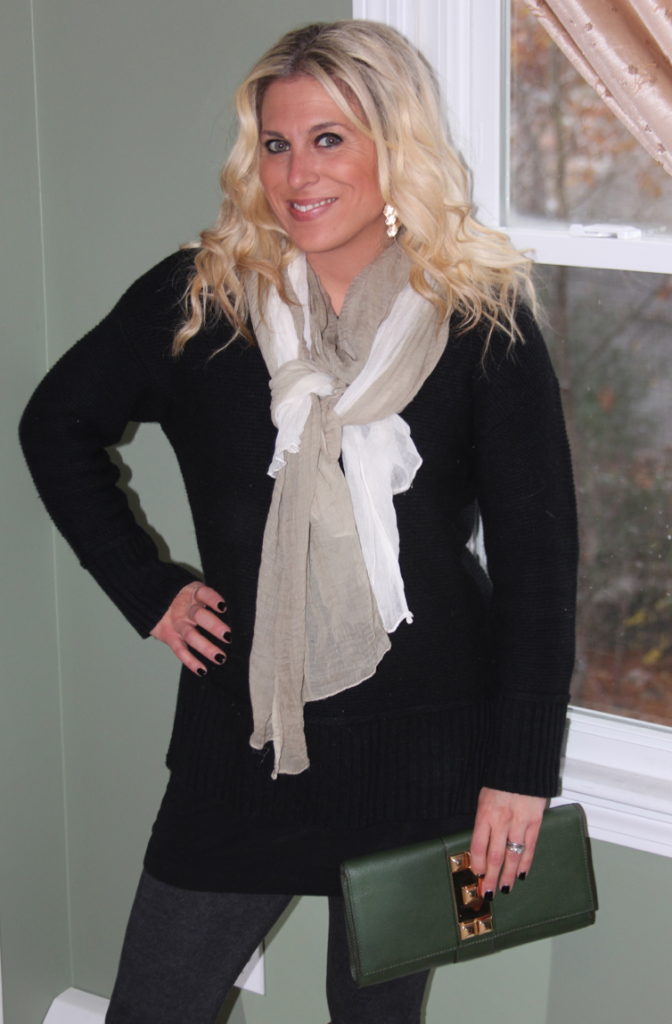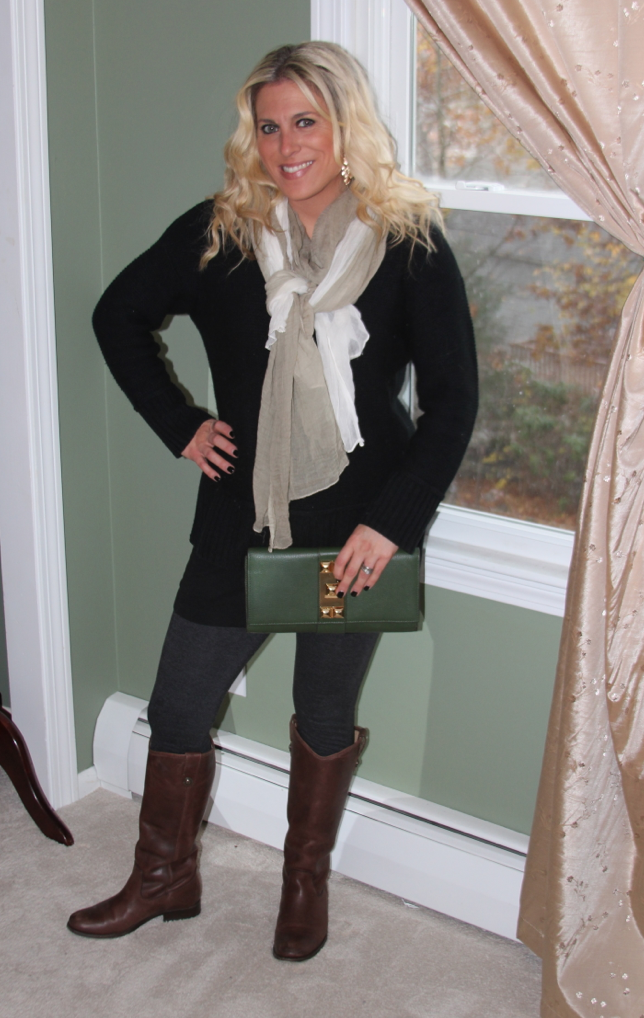 It's snowing today, so I'm layering up!!
I paired with my cozy mixed-stitch sweater leggings, riding boots, layering tank, gauzy scarf and warm hat!
I have to admit, I love this outfit! Perfect for today.
Right now, too… there's a fabulous J.Jill coupon code to share:
Offer: 30% off Single Full-Priced Item
Effective Dates: 11/5-11/24
Code: JJSTYLE (use when ordering)
*Offer valid through November 24, 2013, on a single full-priced, in-stock item, excluding markdowns. Discount taken at the time of purchase in stores (outlets excluded), at JJILL.COM or via catalog. For retail store purchases, this code must be mentioned. Limit one coupon per person for one-time use only. Full-priced UGG® brand styles excluded. Offer cannot be combined with any other offer, except the J.Jill credit card discount. Discount not valid on previous purchases or gift card purchases and is exclusive of sales tax and shipping fees. No cash value.
Disclosure: Sponsored post with J.Jill. 100% of the opinions are my own.