This Christmas Eve I got to do something REALLY fun and exciting for my family and friends… I got to host a Crocs Style Party during our holiday celebration!
I'm a big Crocs fan for me, my sons and my husband… if you read my blog regularly, you always see that my sons and husband are in Crocs DAILY! They live in them and they love them. For me, it's been incredible being a Crocs Ambassador because I get to check out and see the awesome fashion styles for women. Crocs aren't just about the Classic Crocs… there is so much more and they styles are so fashion-forward, so it was REALLY a wonderful opportunity and treat to show the most special people in my life ALL of this!
I decided to wait for an occasion when there was over 25 of us together!
Christmas Eve is always a special celebration because there's SO MANY of my family and friends together, and I thought… what could be better than adding some special Crocs Style Love to the party!!??
Let me just say… everyone was OVER THE MOON excited!!!!!
I took the time to layout everyone's Crocs near the Christmas tree… and of course, labeled everyone's Crocs for them!
It was a special moment for me to see each person enter the room and see their Crocs right there for them…
I snapped some photos of my Crocs Style Party… (sorry about how many!!!)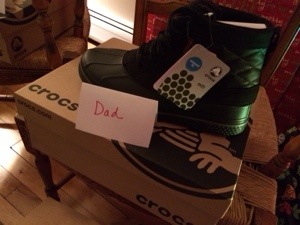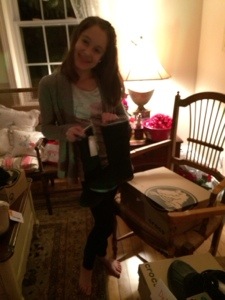 What I LOVED hearing from my brother Adam was, "I didn't know Crocs made shoes for men other than the regular Crocs that I see everywhere!"
My sister-in-law Aimee told me, "I choose these adorable ballet flats because I needed a pair so badly. I didn't know they'd be so comfortable and stylish! Love them! I can wear to work and out on the weekends."
My family friend Peggy asked, "Audrey – when did Crocs start making boots for women!?"
Or from my Uncle Rick, "Audrey… it took me an hour to pick a pair! I loved them all!"
THIS is the excitement and joy I love to see and hear… it made me so happy to see everyone so appreciative and in love with their Crocs choices for the party!!!
Thank you to Crocs for giving me the opportunity to shower my family and friends with some Crocs love.
I loved it.
They loved it.
FABULOUS PARTY!!!!!!!!!
Disclosure: I'm a Crocs Ambassador. 100% opinions are my own.