I've blogged about my daughter's hemangioma before and I so appreciated the out pouring of love and prayers for her. I was overwhelmed by the compassion from people and I thank you all so much.
I wanted to update because I've had some people ask me how Victoria is doing.
It's been a little tough over the last 2-3 weeks. Her hemangioma started to change colors around the end of October to a gray-sh color… not everywhere, just small dots in the center. This actually is a good thing, it means it's starting to "die" off. I got very nervous when I first saw the discoloration and our doctor at Boston Children's Hospital let us know that it's something that is good to see. Over the last 2 months, it's gotten more and more gray-ish… again, not a bad thing.
Recently, the gray-ish areas started to breakdown. Like they actually started to cave in a bit. I – of course – was a nervous wreck and kept applying more aquaphor (which is a great to keep on them). Last week the "caving in areas" started to look a little yucky, so I called Boston Children's Hospital and they told me to take a photo and send it to them… the nurse called us back and said it looked like there were 2 small ulcerations. This makes sense because whenever we touched it, Victoria would cry… so I felt better knowing that something was wrong and that it wasn't just that she was in random pain with no answer to it.
We took her to Boston Children's Hospital on Friday afternoon and the nurse there (bless her, she is the nicest woman in the world!), showed Matt and I (as I stood there shaking and so nervous for my little girl) how to dress and care for the ulcerations over the next 2-3 weeks. Unfortunately they take a long time to heal, so Matt and I really need to make sure we're properly caring for it — which is why she wanted to show us firsthand, which I was very appreciative of.
Here was my Victoria as we were leaving Boston Children's….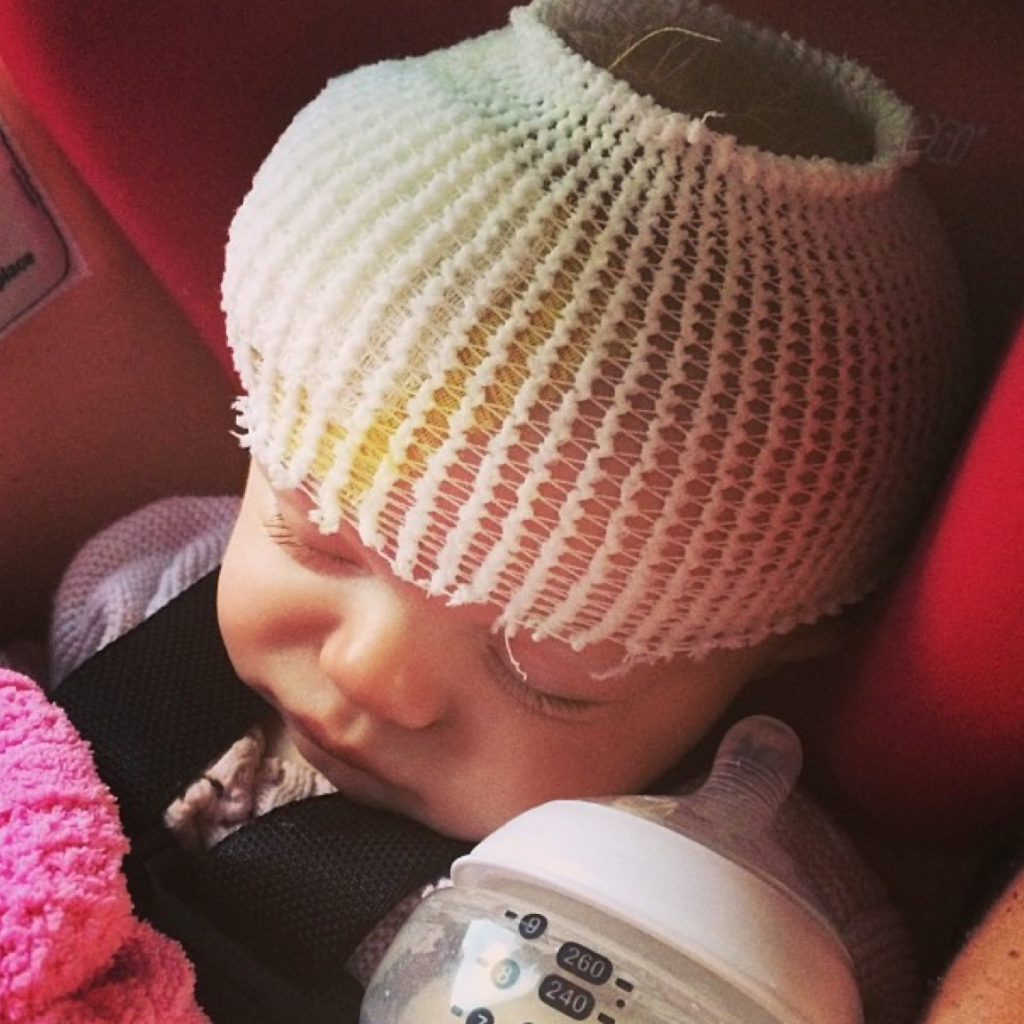 This hasn't been easy. I feel so badly for my little girl and I just want the ulcerations to heal quickly.
I ask you – if you don't mind – to say a prayer for quick healing.
I love her so much and I just will do anything and everything.
xo,
Audrey