Every year for the Christmas holiday, I put together a fun-filled-stocking for my mom, my sister and my two nieces. It's so much fun for me to find the perfect gifts for them and pack everything into a large stocking. Their faces always light up as they take out each item… and I really try hard to find items that are perfect for each of them. There's nothing more exciting than someone gifting you with a stocking filled with goodies!
This year, everyone's getting BEAUTY goodies!! My mom, my sister and my nieces are just as obsessed with beauty products as much as I am. They love trying new colors, new products and having staple items in their beauty arsenal at all times! It gives me such pleasure to gift them with some of the best beauty products and let them pamper and beautify themselves!!
I will be shopping for their beauty products at Kohl's. Kohl's now carries the great National beauty brands that women know and love and it's truly a one-stop-shop. Kohl's Beauty Department has been updated in select stores and Kohl's has even been revamped to make shopping an easier experience. I love that they even have Beauty Advisors on-hand in the updated stores. They are so helpful and really can make your shopping trip that much quicker and easier when it comes to finding beauty products for yourself.
My mom's, my sister's and my nieces' stockings will be filled to the brim with some amazing Kohl's beauty products… here's a sneak peek at 12 of the products that will be in there (to my family, don't look!)…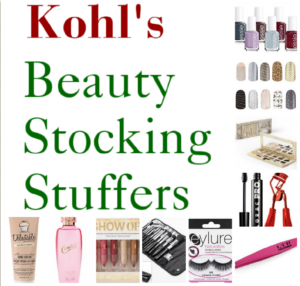 essie Shearling Darling Nail Polish – Winter Collection 2013 – I'm telling you, the colors are exceptional! Perfect for anyone to rock this holiday season. The colors are so fashion forward and just delish!
essie Sleek Stick Nail Stickers – These are so much fun for holiday parties to rock, especially in the New Year! I love how easy they are to take on and off. I know my mom will get a kick out of these and that my sister and nieces will adore!
theBalm Nude'tude Eyeshadow Palette – I think this incredible for a gift because the colors work for anyone. You can mix and match and just have a blast with this palette! I love giving options!
LORAC Rockin' Red Hot Lashes PRO Mascara Gift Set – Oh, yes… rock the lashes! I love how you get a real duo in this gift set. Just perfection!
Tweezerman Mini Slant & Point Tweezer Set – Don't laugh, everyone loves to get fabulous beauty tools! I love that Kohl's offers this for women. This is a must have for every woman!
Eylure Naturalites 202 Double Lashes False Eyelashes – Be bold this holiday season with some lashes! I love always having a pack in my bathroom, so I love gifting this to the ladies in my life for some beauty fun!
Dermatouch 13-Pc. Makeup Brush Set – Always a wonderful gift. Clean, new brushes are such a fabulous gift to give someone. I always get so excited with new brushes for my makeup!
Pur Minerals Show Off Lip Gloss & Eyeshadow Stick Gift Set – I love this gift set because it's a wonderful way to experiment and have some fun with different colors. I also love that you can match your eyes and lips perfectly!!
Candie's® Cotton Candy 2-in-1 Bubble Bath & Shower Gel Ornament – Oh, yes… a bubble bath. I love gifting this because it's a total excuse to relax and just pamper yourself!
be Delectable from Cake Beauty 4-pc. Assorted Hand Cream Gift Set – Soft, smooth hands that smell GREAT… this is the gift! I love having this in the stockings, such a great add-on and so fabulous to have on your skin!
This post was sponsored posting.