I can't believe baby Brian is almost one month old already. In some ways it seems like I had him just yesterday, while in other ways it seems like he has been a part of our family forever.
I'm still not quite ready to put his birth story in writing. It was long (32 hours) and challenging, both physically and mentally – though of course I would do it all over again because it resulted in the most beautiful little human being I could ever imagine.
So I am going to share some of my favorite photos from Brian Jr.'s birth, the hours leading up to it, and the hours after it. This is the good. The bad and the ugly? Ain't nobody got time for that. (Except my therapist. But she gets paid for it.)
The end result of labor… worth every minute!
I woke up on February 11, 2014 – the day after my due date – around 6:45 a.m. to find that my water had broken. I wasn't feeling any contractions yet, but I wanted to go to the hospital because I wasn't sure if labor would start progressing quickly (it didn't, of course, but I didn't know it at this point).
Big Brian and I headed to the hospital, with my mom following in the car behind us (they were my two support people in the labor and delivery room). On the way we made a Dunkin' Donuts stop!
It was the morning rush hour so there was a little traffic on the way to the hospital, but we made it there pretty quickly.
We parked in the lot and headed in to triage.
I got to wrap my baby bump in this stylish belly wrap for monitoring.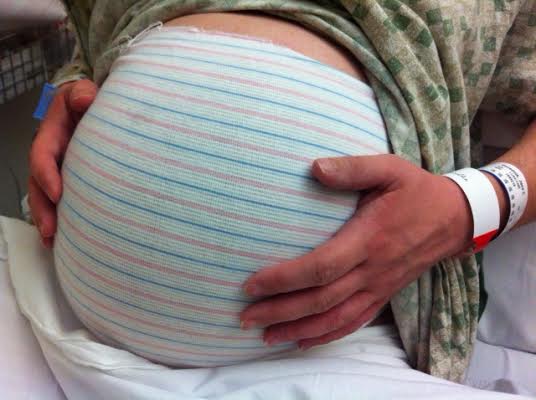 And Brian and I started to get really excited about meeting our little guy.
I was in labor but it wasn't progressing quickly, so we were stuck in triage for hours while the labor & delivery rooms were taken by other women further ahead of me in labor.
And then I still wasn't progressing quickly enough, but there still wasn't room in labor & delivery for me, so I was sent to another floor of the hospital to wait for a labor & delivery room to open. It wasn't ideal, but at least I could have multiple visitors. (Here are my dad and Audrey hanging out with me, but my mom, Brian, and my brother Keith kept me company, too).
I had to stay in that room over night, but luckily Brian and my mom got to stay with me (though they had to share an uncomfortable couch to sleep on). The next morning, February 12, my mom caught a photo of the sun rising outside of the room.
Then it was FINALLY time to head to a room on the labor & delivery floor. My support team got their new badges to prove they were legit.
I got my epidural – and some rest – while my family waited. And waited.
When it was time for me to push, I was so ready. I pushed like it was my job. And after about 20 minutes, at 3:23 p.m., Baby Brian arrived!
I was exhausted but so, so grateful that big Brian and I could finally hold our baby boy…
… and he could meet his patiently-waiting grandparents, aunts and uncles.
We love you, Baby Brian, and we're so happy you're here!