Alright, ladies……. are you ready for swimsuit season!?
I know I am!
It's been a VERY long winter and I can't wait to head to our pool club and beach with my kids and just enjoy the sun and the water! It's finally SUMMERTIME!
But, first…. I need a swimsuit. I need one that fits well, that's comfortable and that's (I'm going to say it!) stylish! Just because I'm a mom of 5 doesn't mean I can't worry about the swim fashion styles, too!
Well… fortunately Lands' End is here to help.
Lands' End and Glamour are bringing the Ultimate Swimsuit Experience to Boston this Saturday, May 24th!
I'm excited to say that I will be there! To make swimsuit shopping as enjoyable as a day at the beach, Lands' End is bringing the ultimate swimsuit experience to fans at Faneuil Hall. The event will offer complimentary professional swimsuit fittings, style tips and a chance to shop for the perfect swimsuit.
Get social with Land's End at #GetawayTour.
The first 100 attendees will receive a VIP gift bag complete with summer essentials and great summer reads from Random House!!!!!!
AMAZING, right!!!???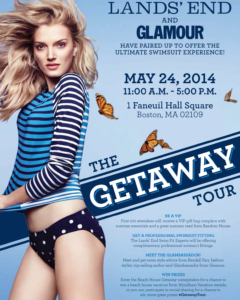 So what are the details?
WHEN: May 24, 2014 – 11:00 a.m. – 5:00 p.m.
WHERE: 1 Faneuil Hall Square – Boston, MA 02109
HAPPENING:
· Lands' End will unveil the traveling beach house – a beautiful Coastal-style beach house complete with sand dunes and an upper sun deck
· Professional Swimsuit Fittings – The Lands' End professional swim fit experts will be available to show how to measure for the perfect fitting swimsuit
· Swim Trends and Style Solutions from Glamour – Kendall Farr, fashion stylist, top-selling author and Glambassador from Glamour will be on hand for interviews about the latest swimsuit trends and style solutions.
· Book Signing – New York Times bestselling author Nancy Thayer will be on-site signing copies of her latest summer must-read Nantucket Sisters.
COME DOWN AND SHARE YOUR EXPERIENCE – After the event experience, attendees can take an event photo to be shared socially at #GetawayTour.