Getting Gorgeous with VO5 was yesterday in NYC!
WHAT A DAY! WHAT A DAY! WHAT A DAY!
Vera and I plan our Getting Gorgeous events about 6-9 months out every single year. They are truly… like planning a wedding. It's months of non-stop work and as much as it is time-consuming, we LOVE it! We just want to be able to put together an event that is successful for our sponsors, as well as for our guests. We want everyone to have a great time, enjoy themselves and leave the event feeling "gorgeous!"
This year we had VO5 as our title sponsor! We were honored to have this iconic brand as our title! VO5 offered hair touch-ups and styling to all of our guests yesterday! It was such a gorgeous treat for our guests! As soon as the booth was set-up, I popped right down to get my hair done!
I loved how my hair came out!!
But that wasn't all for our guests at Getting Gorgeous with VO5 yesterday!!
Red Carpet Kids NYC were there with their AWESOME staff making all the guests feel like celebs!
Whosevent was there with a cool photo booth letting the guests laugh and let loose in front of the camera! We had a BLAST at the booth!
Summer Infant was featuring their amazing products and everyone was in love!! The Pop 'n Play was a HUGE HIT!! People were in love!! They served delish shaved ice!!
Vanity Nails were there on-hand doing amazing mail art for our guests!
ReXist360 was there doing workouts with the guests! OMG! SO MUCH FUN and let me tell you how much FUN the workouts are… and how they WORK!! My legs were burning baby!
BALI Intimates were there doing bra fittings! What a HUGE hit for the female guests! I have been wearing the wrong bra size for the last few years and I finally got the right one yesterday! Also, my good friend Jenn Falik was on-hand, too with BALI! FAB stylist!!
Voli Spirits were serving drinks for us! We had an alcohol option for all guests over 21 and some non-alcoholic drinks for everyone, too. Let me just say… the Raspberry Cooler was amazing!
Vitabath smelled incredible! They were a very popular booth! Everyone loved going over and checking out the scents! Absolutely awesome!
Stop & Shop was there showing some summer dishes! Easy for everyone to make! Since I shop at Stop & Shop weekly, I was so excited to have them there!
Pampers was there offering hand massages and foot massages to our guests! They were pampered and just got to kick back and relax! Pampers were also showing off their Easy-ups! I can't wait for Victoria to be in them!
Calgon was there with a fabulous offering for our guests! A fortune teller!! OMG!! Poeple were so excited to get their astrology read!! They had all their amazing offerings from Calgon and from Designer Imposters and Body Fantasies!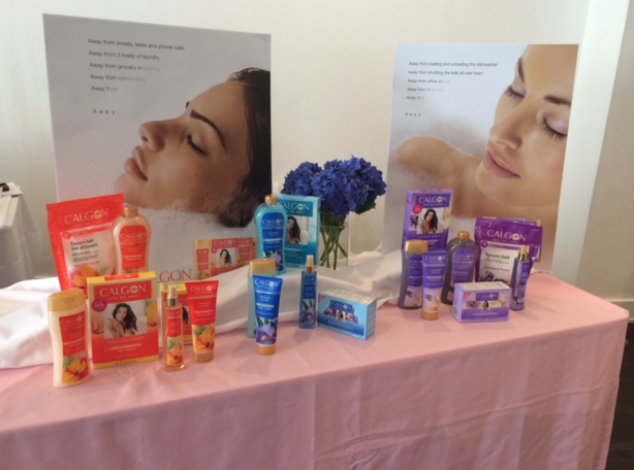 Our gift bags were full of goodies, too from our sponsors!!! Along with our gift bag sponsors of – Johnson's Baby, Passion Roses, Energems, Probelle and AVEENO!!
So much fun!! And a special thanks to our moms for coming to see us!!
And a HUGE shout out to Jen and Cynthia from Outhouse PR for making the day incredible!
AMAZING DAY!!!