You know my family loves a good Farmer's Market. It's something we love to do as a family on the weekends with each other. We have some fabulous ones near our home in Rhode Island, but it's always so much fun to venture out of state and check them out, too. There's nothing like getting fresh veggies, fresh fruits and delicious healthy treats at a local Farmer's Market. There's something so peaceful, soothing and homey about a Farmer's Market… everyone is friendly, happy and so excited to share their products with you.
This past Saturday I ventured to the Roslindale Village Main Street Farmers' Market in Boston with my youngest 2 children, Henry and Victoria.
We were excited to head there and check out all the veggies and fruits, but also sample Farmer's Pick by Welch's.
It was a glorious, gorgeous and perfect day for a Farmer's Market! The Market was filled with families and people wanting to check out all the delicious goodies! As soon as I pulled up and packed my car, I knew I was going to have a good time with my kids. It was just that kind of day.
Our first stop? We went right over to try out the Farmer's Pick by Welch's because (and I quote), Henry was "so thirsty, I'm going to fall down!"
Right away, he grabbed a delicious cup of the Mango Farmer's Pick by Welch's and LOVED it! He immediately asked if he could have another. I couldn't believe he was asking for a second! I wasn't sure if he knew he was drinking 100% juice!
Farmer's Pick is a line of 100% juices that have no preservatives or artificial ingredients and deliver a fresh-picked fruit taste. The flavors are delish — Concord Grape, Mango and Blackberry and unlike most 100% fruit juices in the juice aisle, Farmer's Pick contains unfiltered juice, which gives it a fresh-picked fruit taste.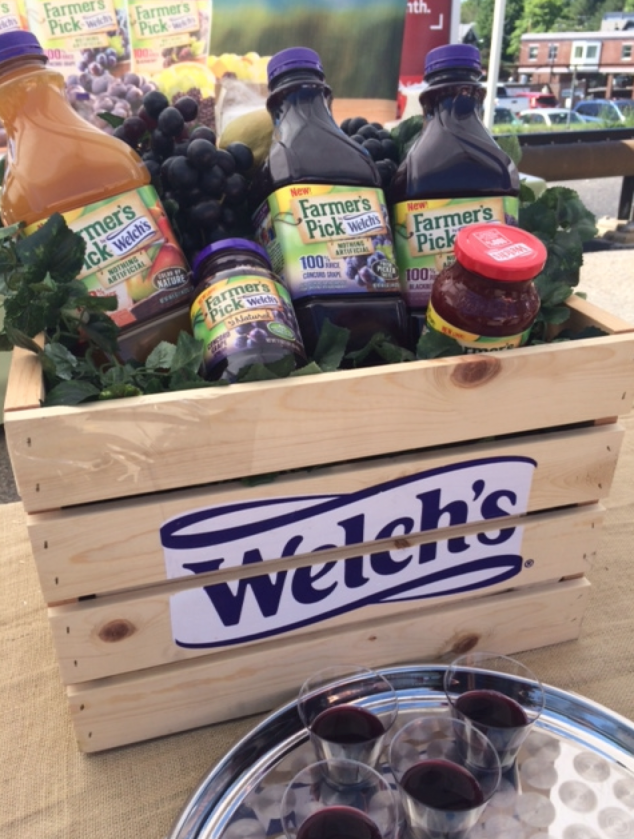 I couldn't get enough of the Concord Grape, it was my FAVE!
The Farmer's Pick by Welch's juices are great because you can really enjoy the taste of fresh-picked fruit all year!
We walked throughout the Farmer's Market and really enjoyed the sights and delish smells! Henry found a really cool kid area with music, games and balloons, so he danced a bit… making Victoria belly laugh!
It was a great morning for the 3 of us!
Follow along with the conversation about Farmer's Pick by Welch's on Twitter with the hashtag: #FarmersPick
Disclosure: This is a sponsored posting.