I'm SO in the baby mode right now because of my Victoria.
Everything is baby, baby, baby.
One thing that every new mama has is a diaper bag.  It's a total essential.
Skip Hop is excited to let you know that after 10 years, it has re-launched the bag that started it all – the Duo – with new features – the new Duo Signature ($60.00)
I love this! I remember this bag when I had my son William 10 years ago!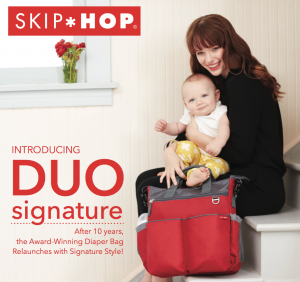 Featuring a new 'no-tip' design, the Duo Signature now includes grab handles, 10 pockets and custom hardware with a metal ring for toys. The company added a zip closure to the main compartment and, like previous Duo editions, the Duo Signature's features include patented Shuttle Clips and nonslip stroller straps, which allow easy conversion from a shoulder bag to a stroller bag.
To stay current with advances in mobile technology, the Duo Signature easily accommodates digital tablets and laptop computers up to 15", and an easy-access front "tech pocket" holds most popular smart-phones.
I'm telling you, I LOVE THIS!!!!!
WOOHOO!!!!!!