6 Simple Garden Ideas to get kids to "stop and smell the flowers"…
My husband and I have 11 grandkids (ages 5 months – 13 years) – 3 girls and 8 boys. Active kids. Kids who love to run and play.
But how do we get them to stop and smell the flowers?
Make the discovery enchanting enough to draw children in ~ with these 6 Simple Garden Ideas:

1. "Plant" Words ~
This  simple "LOVE" key ornament hanging from the Red Maple tree in the center of our back yard is a sure-fire kid stopper, every single grandkids' visit. It's a perfect invitation to climb that tree to scope out the great discoveries around them, below them, above them; and a great reminder of what that back yard is all about ~ the key to LOVE!
And the "words" hanging from a Rose of Sharon; a simple thought by a great writer that laughter is everywhere, in everything…
I find little trinkets like these at yard sales or on clearance tables just about everywhere and change them out quite frequently – to keep our grandkids searching and discovering.
2. Gazing Ball ~ "Hello, in there!"
A Gazing Ball, with its mirrored/reflected surface, draws kids' attention from just about anywhere. It's not only fun, but has a somewhat interesting history, too; traced back to 13th century Venice and originally made of hand-blown glass. Kids love the many names of the Gazing Ball ~ Yard Balls, Garden Globes, Globes of Happiness and even Good Luck Globes for their reputation of warding off misfortune.
I love that ours has a sturdy base, allowing us to safely move that Gazing Ball to any part of our yard for many magical views ~ and our Gazing Ball has its own magical story of how we got to have it.
3. Sundial ~ "What time is it?"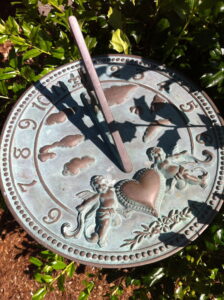 Sundials are the oldest known devices used to measure time, filled with history and science and intrigue; using movement and rotation of the sun and all kinds of good stuff like shadows, angles, gnomons and the equator (there are many excellent books and references with which to teach kids all about the Sundial). But to a child of the 21st century with access to mind-boggling technology, the Sundial still remains a stop-in-your-tracks, "Let's figure out the time, Grandma!"
Like our Gazing Ball, our Sundial is sturdy, but mobile enough, to move around our yard for sun-perfect time-telling AND for placing in different garden areas with different shrubs and flowers.
4. Take-Me-By-Surprise ~
I love placing "surprise" elements into our gardens ~ like Christmas ornaments and wintry things. These are fun reminders that the green of Summer turns, for example, to the Red Winterberries of Winter or the lovely scents of Lilacs in Spring.
Kids love knowing the names of plants, shrubs and flowers; and the anticipation of the bloomin' seasonal discoveries.
5. Garden Art ~ "I got you something you'll love for your gardens, Grandma & Grandpa!" Kids learn to love what you love.
Grandpa and I began collecting Garden Art years ago, and now our grandkids love to pick out special things for our gardens. This gives the kids a special hand in building not only garden fun, but memories, too. There is nothing more special and precious than knowing that most of our collection is now grandchild hand-and-heart selected; and they love seeing these things appear in our yard, year after year, as Spring tiptoes into view. Here are a few…
Our grandkids keep our gardens inviting.
6. Keep It Fun! ~
Gardens that are private, pristine and perfect are not for Grandpa and me. We like to keep things fun by having little things appear; little things that are always discovered when a football, frisbee, bean bag or the like takes an flying leap where it wasn't intended and where our grandkids discover anything from a tiny car to a fairy wand or traveling train to a camel in a rose bush – where we may even stop for a few moments and smell the roses!
And speaking of STOPPING, there's the signal under the grapevine for that – calling for the reprieve of filtered sun, the old bench and ice-cold lemonade from the fridge…
Most of the little things we hide in gardens are yard sale or thrift store items; cost hardly anything, but bring incalculable fun.
****************************************************************************************
Literature, legends and art bloom with FLOWERS, from lovely little nursery rhymes to sophisticated epic poetry and great myths and masterpieces.  Knowing the names of flowers, the references to flowers, the symbols of flowers, the language of flowers and a healthy respect for nature gives kids a blooming head start in understanding literature, enhancing literacy and feeling the peace of nature.

Enchant your kids into stopping to smell the flowers! 
And, oh ~ let's not forget the pets in your life. This "garden art" authentic fire hydrant was a gift from a neighbor many, many years ago, and has given our grandkids and grandpets more fun and entertainment than I can explain. Gotta keep it enchanting…