How to teach about a fun game while PLAYING it ~ Go grab a Wiffle Ball & Bat…
Each TOY or GAME has a STORY – and kids love stories.
Wiffle Ball has a great story!
WHAT is the Game of Wiffle Ball: The Game of Wiffle Ball, a variation of the game of Baseball, is played with a Wiffle Ball… where a hard ball is not particularly welcomed (back yards, driveways, lots, streets, etc.).
A Wiffle Ball is a plastic baseball-shaped ball with an 8-oblong slotted-hole design on one side of the ball.
WHO invented the Wiffle Ball and WHEN: David N. Mullany, a one-time college and semi-pro pitcher from Fairfield, CT, invented the Wiffle Ball in 1953.
WHERE and WHY was the Wiffle Ball invented: As the story goes, Mullany was watching his son, also named David, play baseball in their back yard with a plastic golf ball and a broom handle. David was trying, unsuccessfully, to throw a curve ball with the golf ball… and that's when his Dad had an idea.
The idea was a plastic ball that was the size of a baseball, but designed to curve, as in a curve ball.
Soon after, Mullany got his hands on a plastic ball gift box for Coty perfume from a friend. This was Mullany's light bulb moment and he worked on his ball design with razor blades and tape. Mullany wanted the ball designed with 2 hemispheres of unequal weight, and determined that one side of the ball needed a hole-design. The 8-oblong slotted-hole design was born.
The ball was named after what a missed ball is called – a wiff – in a game of back yard baseball. Ah, ha! The Wiffle Ball.
HOW is the Game of Wiffle Ball played: The Game of Wiffle Ball is often loosely structured, meant to be enjoyed by kids of all ages and abilities, but the official rules are there for you if needed on the Wiffle Ball website.
Let your kids and grandkids in on the wonders of the Wiffle Ball and the Game of Wiffle Ball – and the STORY, too. And maybe bring yourself back to the days you played Wiffle Ball to your heart's content!
There is nothing more awesome than a summer afternoon of Wiffle Ball to bring generations together. See for yourself!
Just don't wiff!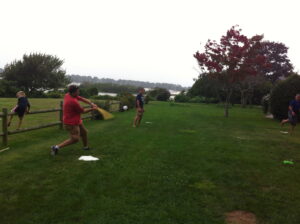 Oh, and this is me, Sharon… playing Wiffle Ball in 1965 and in 2014!
Let the fun and the learning begin.