As you know, I'm a Rhode Island girl.
As much as I love NYC and get to travel there often for work, Rhode Island is my home base.
Rhode Island is where my heart is and it will always be here.
But you know what makes Rhode Island even better? When amazing stores open right in my own "little" backyard.
I just had this happen!
L'OCCITANE has OPENED in Cranston, RI!
If you're not familiar with L'OCCITANE, you need to be! It was founded by Olivier Baussan over 35 years ago, and L'OCCITANE captures the true art de vivre of Provence, offering a sensorial immersion in the natural beauty, fragrance and lifestyle of the south of France. From the texture of L'OCCITANE products to their scent, each skincare, body care and fragrance formula promises pleasure through beauty and well-being—a moment rich in enjoyment and discovery that goes beyond tangible benefits to create a different experience of Provence. With traceable, efficacious ingredients, experiential formulations, and a commitment to social responsibility, L'OCCITANE unites nature and lifestyle to provide peaceful, earthly calm with the benefit of visible, tangible results.
I had the amazing opportunity to get a store tour with the manager Leslie, which… as Rhode Island is… turns out a knew Leslie! She was the kindest, most patient (I had 2 of my sons with me), most knowledgeable ever! I asked a ton of questions, as did my sons – and she answered every one of them with a smile. You could tell the passion and the love and the amazing loyalty that L'OCCITANE has from their employees. It was beautiful to see.
I couldn't get over the delicious smells, the exceptional products – which I loved testing out in the store! Leslie made sure that I was able to test some of the products I was interested in. I just love the whole concept and the mission behind L'OCCITANE. It's the kind of store you want to shop in!
Here are some photos from my tour!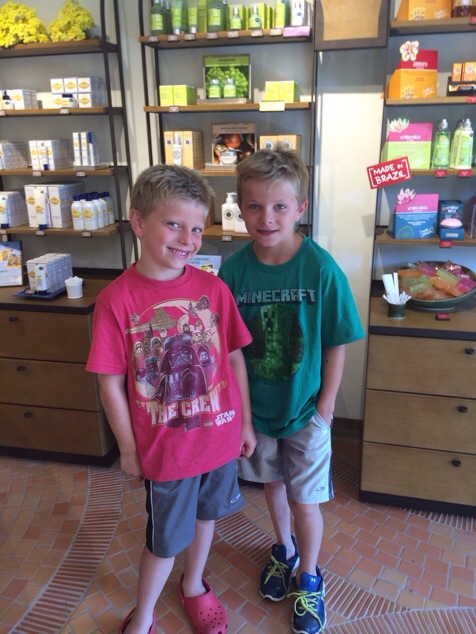 I was sent home with an adorable gift box, which I have been using and loving!
L'OCCITANE products are available at usa.loccitane.com and in 200+ boutiques throughout the U.S.