Here is everything you ever wanted to know about Hersheypark In The Dark! This super fun seasonal event is an absolute must-see for kids of all ages!
We've been excited for our Hersheypark trip for weeks and weeks! As part of being one of the Sweet Ambassador's this summer, I get to take my family on a Hersheypark summer trip! We had planned coming in early July, but due to a doctor's appointment for my husband, we had to reschedule. When I tell you that my sons asked me, "When are we going to Hersheypark?" every single day… I'm not kidding.
Every. Single. Day.
FINALLY, on August 3rd… it was the DAY to take off to Hershey!
We left our house around 10AM because we really wanted to get to the Park with enough time to experience some of the rides that night. The first thing I did while we were driving was download the Hersheypark App. If you're visiting Hersheypark, this is an app you NEED to have access to on your phone. It's amazing.
This is what you can do with the Hersheypark app:
– Customize a GPS enabled map of Hersheypark and ZooAmerica by showing and hiding attractions of interest
– Search function to help find information about attractions
– Filter/sort results by height, distance, name, etc.
– Map your way to any location with the Take Me There function
– View current ride information including closed rides and ride wait times
– View daily show and Hershey's Character appearance schedules
– Find food and beverage information
– Get detailed information about all rides, shows, games, shops, services
– View alerts with important information (weather, etc)
– View hours for area attractions (Hershey's Chocolate World, Hershey Story Museum, etc.)
– Find lodging and booking information for the Official Resorts of Hersheypark
– Watch videos of select rides
– Easily locate important services such as Ticketing Services, First Aid, Accessibility, Lost Children, Lost and Found, Barking Lot Day Kennel, etc.
– Locate restrooms, ATMs, lockers, smoking gazebos, and stroller/wheelchair rentals
Related Article: Hersheypark Kissing Tower
It was like I had a personal assistant! I loved being able to get all this information at my fingertips, even while we were driving there!! My husband kept laughing when I kept updating him on ride times! 🙂
We pulled into our hotel – Hershey Lodge – around 7PM and the FIRST THING we did was head to the Park. They have a special perk if you already have purchased your tickets for the next day. You're able to take your next day ticket to the park after 6:30PM for a "preview" and enjoy the park till closing. Since it was raining a little bit, we knew we wouldn't be there for a long time, but really wanted to get some rides in for the boys.
I wasn't sure what to expect heading to Hersheypark at night, but I'll tell you what – it was really cool. The lights. The people. The rides. The energy. It was a ton of fun for the boys! They enjoyed walking in and seeing the coasters flying by!
Hersheypark In The Dark
The first thing the "big" boys ran to was the roller coaster COMET!
I stayed back with Henry and Victoria. We thought it would be fun to go measure what "candy" they were. As you go to each ride, there's different height limitations. I love how Hershey incorporates their candy into the height fun! Matt was a Jolly Rancher. Me ad William were Twizzlers. Alex and Ben were Hershey bars. Henry was a Hershey Kiss. And our Victoria was a Mini!
Since the rain started to clear, we thought it would be fun to let the kids go on some family rides. I loved the rides where everyone could go on and enjoy together!
After the rides, we walked over to Hershey's Chocolate World Attraction. Talk about heaven for chocolate lovers! This is the official visitor's center of The Hershey Company and it's located adjacent to the Park. The best part is as you're walking in, you can smell the deliciousness! There are different things you can do at Chocolate World, you can:
– Enjoy a free tour ride: Hershey's Great American Chocolate Tour, as well as some other paid attractions.
– Hershey's Create Your Own Candy Bar
– Hershey's Great Chocolate Factory Mystery in 4D
– Hershey's Chocolate Tasting Adventure
The boys were DYING to Create their Own Hershey Bars, so it's what we did at 10PM on Sunday night. Another perk, everything is open late so you're able to get a lot in during the day!
And believe me, the kids couldn't wait to make chocolate bars!!! OK, none of us could wait!! We were all excited to take the time to create and customize our very own.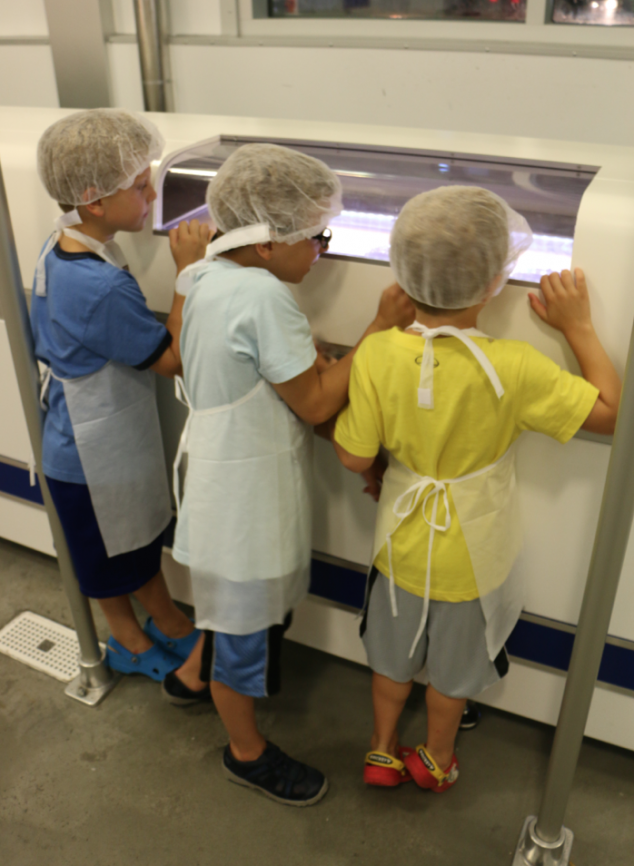 We had a BLAST!!!! Our final masterpieces were quite the sight to see!!!
(And they were DELICIOUS to DEVOUR!!!)
Our 1st night at Hershey after dark was MAGNIFICENT!!!!
More to come about out trip!!
Disclosure: As part of the Sweet Ambassadorship, my family received the trip to Hershey. All opinions are 100% me own.