Hersheypark was the perfect destination for our whole family. There was something (literally) for everyone and it was wonderful to see all of our children (even Victoria!) having a blast while we were away for our sweet vacation!
Like I mentioned in my part blog posts about our Hersheypark trip, I partnered with Hersheypark this summer and I'm one of their Sweet Ambassadors. As part of this ambassadorship, I got to take my family to Hersheypark and enjoy a wonderful family getaway. The last time we were at Hersheypark, William and Alex were 1 and 2… so as you can imagine, this trip was a LOT different than our last trip. We have 5 kids now. We have older kids who love thrill rides. And we have a little baby girl with us now! 🙂
My past post about Hersheypark was all about after dark, this one is all about the light of the day!
My sons woke us up at 6AM last Monday morning to hit the park. I'm not kidding, it was the crack of dawn, even Victoria was still sleeping! They just couldn't wait to get there and try the rides! The day was gorgeous and sunny and not too hot, so we knew we had a full day of fun ahead of us!
Since we stayed at the Hershey Lodge (post to come about this incredible resort!), we were able to take advantage of some wonderful Sweet Perks of the Hershey Park Advantage. We were able to take full advantage of the Hersheypark Sweet Start and start our day before the gates officially open with exclusive early admittance to more than 10 rides, including Skyrush! There's also complimentary local transportation to Hersheypark so you don't have to worry about parking and walking. We took advantage of this perk on Monday!
Before we headed into a day of fun… we needed to take the obligatory and oh-so-cute photos before the gates of entry!
But getting back to Skyrush… my husband went on 2 times in the morning! Talk about a Sweet Perk for him! Only William was tall enough to ride, but he wanted to sit it out (I don't blame him!). So Matt (a.k.a DAD) rode alone! 🙁
And then after the Skyrush, we ran over to the Sooper Dooper Looper. Now I remember watching my mom and brothers go on this when I was 6 years old! I was terrified and thought it was the biggest roller coaster I had ever seen. My sons went on first with Matt!
And then they dared me to go on… and I HAD to except the challenge! I was scared, but knew it would make William and Alexander's lives if I went on with them. The employees were so AWESOME!! They made me feel calm and totally relaxed, even though I was shaking inside!
BEFORE…
AFTER…
It was a BIG deal for the boys and for me! Bucket list item checked off!
After the roller coasters, we took the kids on rides that everyone could enjoy, even Victoria!
The kids had an absolute blast! What I loved is that the lines were never that long and everything clean and very family-friendly. There were just families everywhere and it was great to see so many memories being made!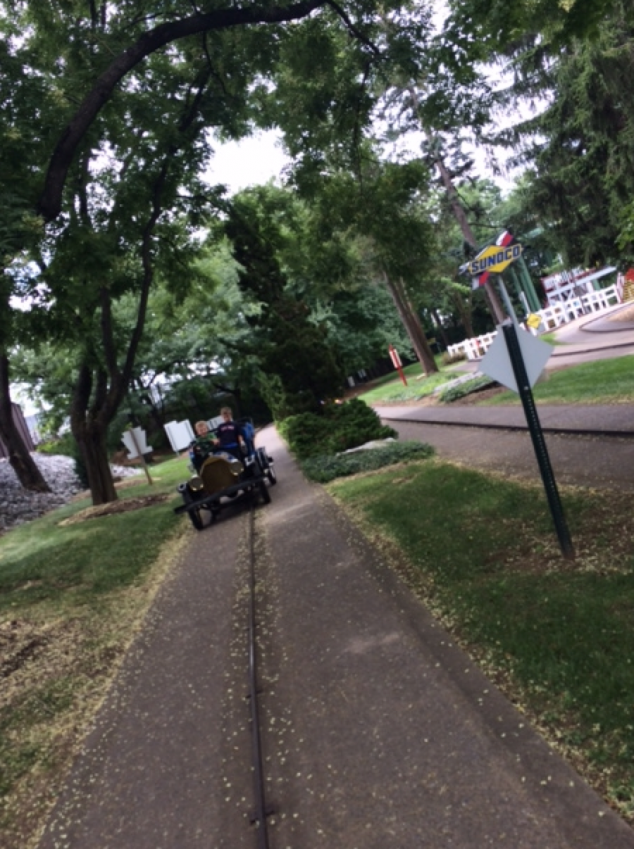 After we spent a good 5 hours on the rides, we opted not to do the water rides because the boys REALLY wanted to see ZooAmerica, which is attached to Hersheypark. ZooAmerica is a year-round, 11-acre, walk-thru zoo. You literally stroll the tree-lined pathways as you learn about more than 200 animals from five regions of North America. It was an amazing time for our whole family! We loved it!
I've had so many people message me asking me about the trip, I have to say – we LOVED Hersheypark. We got a ton done in two days. The rides. The Zoo. The food. The atmosphere. The games. The EVERYTHING. It was simply amazing.
Right before we left Hersheypark for the day, we walked over the Chocolate World, which is literally steps away from the Park and did something that ALL of us LOVED – HERSHEY'S CHOCOLATE TASTING ADVENTURE.
It was a total blast and the perfect way to end our sweet day! We joined chocolate expert, Dr. Livingston McNib, for a guided, interactive, multimedia discussion of chocolate lore. We got to taste HERSHEY'S creamy milk chocolate, robust dark chocolates, and various chocolates with unique inclusions. We got to smell. We got to listen. We got to taste all the chocolates and really discover how chcoclate is made and how the different chocolates have true different tastes. My sons LOVED this! And after completing our Chocolate Tasting Adventure, we received an official Masters Degree in Chocolate Tasting from HERSHEY'S University!
Delicious and a GREAT time! I highly recommend doing this when you head to Chocolate World!
It was a sweet, sweet day for us all!
GIVEAWAY TIME!!!
I'm giving away (4) one-day tickets to Hersheypark!! Believe me, you will have the time of your life! Please leave me a comment telling me what ride you are excited to try!!
I will choose a winner this Friday, August 15th!
Disclosure: I am a Sweet Ambassador. The lodging and tickets were covered. 100% of the opinions in this post are my own.