I love PediaSure for my sons.
PediaSure has been such a great addition into our lives. With having 2 boys that are very picky eaters, PediaSure has been wonderful in terms of knowing that my William and Alex are getting nutrients and vitamins. I love how easy it is to add into our morning breakfast routine. As much as I wish they would eat everything I put on their plate, I know the reality of my life… they won't. So I need to make sure I'm keeping them as healthy as I can with what I know needs to be in their bodies.
PediaSure is clinically proven nutrition to help kids grow. Each shake provides 7g protein and 25 vitamins and minerals. The best part is that they come in different flavors – berry, chocolate, vanilla, banana and strawberry. PediaSure is gluten-free, kosher, and halal, as well as suitable for children with lactose intolerance.
Not to mention, there's so many cool things you can make with PediaSure, too! They have a full listing of recipes on their website.
Here are some yummy recipes…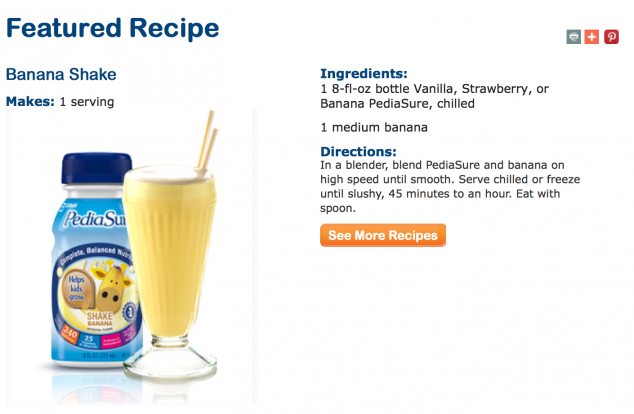 If you haven't tried PediaSure yet, I strongly recommend you try it with your kids. If you have picky eaters, you will really love knowing that they are getting the nutrients and vitamins that they need. Let me help you get started!!
GIVEAWAY TIME:
I'm giving away a branded miniature refrigerator stocked with PediaSure products!
Wonderful way to get you started!!
How to enter?
There are 2 ways and they each count as a separate entry:
1) Leave me a comment telling me who this is for!!
2) Tweet me at @AudreyMcClellan why you want to try PediaSure
I will randomly choose a winner on NOVEMBER 1st!!!
Disclosure: Sponsored posting with PediaSure. All opinions are 100% my own.