Fall is absolutely here!
School has been back in session.
After-school activities have REALLY begun.
It's that time of year where our calendars and schedules start filling up because the holidays are just weeks away!
As a mom of 5, I rely on electronics and latest-and-greatest gadgets to keep me on track, organized and moving!  It's essential to know what are the best gadget and technology products out there to truly help in your life. Our lives now revolved around the advances in technology, so it's something that we are used to, but can be using more in our life to help streamline everything that's going around in them!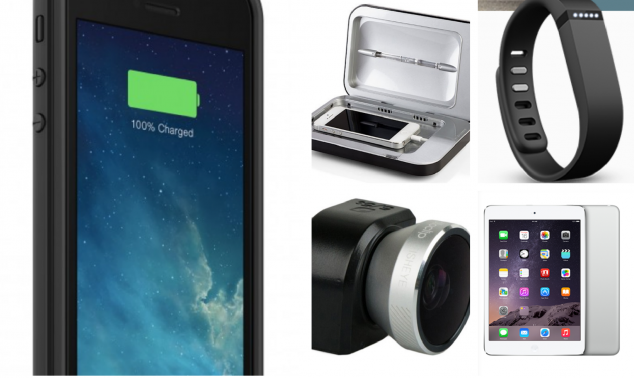 – iPad Mini: Mine is always on me. And I'm going to be totally honest with you, too – each of my sons has one, too. iPad mini is perfectly sized for everything you love to do. And web pages, photos and videos look crisp and sharp on the brilliant display with 1024×768 resolution. Shoot beautiful photos and stunning 1080p HD video with the iSight camera. Or make video calls with the FaceTime HD camera.  For me, it's all about the APPS. iPad comes with great apps for sending email, browsing the web, and making video calls. It also includes apps that let you do amazing things with your photos, movies, music, documents, presentations, and spreadsheets.
– Fitbit: I'm ALL about my Fitbit. I have mine on all the time, and since I opted for the color black – it literally just looks like a bangle that I'm wearing. I have the Fitbit Flex, it's delicate for my wrist and not too bulky. This slim, stylish device is with you all the time. During the day, it tracks steps, distance, and calories burned. At night, it tracks your sleep quality and wakes you silently in the morning. Just check out the lights to see how you stack up against your personal goal. It's the motivation you need to get out and be more active!
– PhoneSoap UV Smartphone Sanitizer – OK, how many times do your kids use your iPhone and how many times do you pop it down in random places throughout the day? Let's put it this way, mine is ALWAYS in someone else's hands and on someone else's table/desk/coat/bleacher. I'm always concerned about it being clean. Well, now I don't have to be! I am obsessed with this tech-product! Everything your hands touch is shared with everything else your hands touch, one of which is your phone. Now you can give your phone a nightly bath of UV cleanliness with this PhoneSoap UV Smartphone Sanitizer. This tanning-bed-like device is designed to fit around most Smartphones and uses two UV lights to penetrate bacteria and viruses, weakening their DNA and killing them without chemicals. Plus, it's designed so you can simultaneously charge your phone. 
– 4-in-1 Lens iPhone 5/5s – I'm ALL about taking the best photos of me and my family. Forget Babybooks in this day and age, it's all about chronicling everything publicly. To do this, I want the BEST photos possible. The 4-in-1 Photo Lens is the most versatile lens in the product family. Lightweight, crafted of premium materials and sized to fit in the palm of your hand, it's the perfect solution to capture and share what you want, when you want. A fisheye, wide-angle and two macro lenses are uniquely crafted into one compact device. They have for the 6 and 6 plus, too!
– Mophie Juice Pack Plus – You don't want to run out of battery/charge/juice when you're out and about in your life. It's almost like a paralyzing feeling! It just CANNOT happen. I'm obsessed with my Mophie. I have the Juice Pack Plus one – 2100mAh battery case with added power and protection made for iPhone 5s / 5. Equipped with up to 120% extra battery to make it through the longest flights or busiest weekends.  
All of these products are there to make a mom's life easier! 🙂
Thank goodness.