First manned balloon flight – November 21, 1783…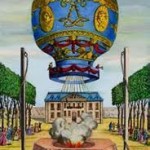 On November 21, 1783, more than a century before the Wright Brothers of Kitty Hawk, NC fame, the first manned balloon flight took place in Paris, France.
Brothers Joseph and Etienne Montgolfier of Annonay, France designed a balloon propelled by an iron furnace. Physicist Jean-Francois Pilatre de Rozier and Francois Laurent, Marquis d'Arlandes were the first human pilots of untethered flight in the Montgolfier brothers' balloon.
The flight lasted 25 minutes, reached a height of 900 meters and landed 9 or so kilometers from its take-off.
Man had conquered the skies!
To learn more about the inventive Montgolfier brothers, visit here, and visit here to learn how to create your own Paper Mache Hot Air Balloon with your kids and grandkids.
Have fun!