My goal for 2015 is to run (3) half marathons.
I'm putting it out there and to be honest, this kinda scares me.
One in February in Disney.
One in May in Providence.
One in August in Cape Cod.
This is a lofty fitness goal for me, but it's one I'm going to stick with and really try with all of my body, heart and soul.
Here's the thing, all my life I've been an athlete. I was a competitive swimmer through my late teens.  In college I worked out everything single afternoon at our college gym facility. When I moved to NYC in my early 20's, I was a fixture at the gym at 5AM before work. I've just always loved to workout and keep my body moving and fit and healthy. I've actually loved it for my mind, too. It's been a wonderful stress-reducer for me throughout my life.
When I became a mom for the first time in 2004, my life changed. All of a sudden (and for VERY good reason), I didn't have the time to train and workout anymore like I used to do.  When William was 3 months old, I found out I was pregnant again with my son Alex. And then after Alex, Ben… and after Ben, Henry.  All of a sudden working out for me became chasing my 4 young sons around for the day. By the time my head hit the pillow at night, it was as if I HAD run a marathon all day. It was really exhausting when they were young.
As the boys have gotten older, it's been getting easier to find the time to workout here and there, but nothing consistently. When we had our 5th baby in July of 2013, I really looked at my husband and said, "OK… now it's time for me to get into shape and take care of my body."
Yeah, that was 16 months ago.
I haven't been able to find the time to workout consistently… or better yet, I just haven't given myself the time to workout consistently.
All this is about to change. It's time. It's now. And I need to do this for me.
I'm excited to have partnered with TomTom to get myself focused and into 2015 with a goal and with some set-in-place strategies.
Statistics show that the single most important factor in long-term health and fitness is writing down your personal goals and sharing them with others to help keep you on track. This holiday season, the TomTom #GiveAGoal campaign is meant to encourage us all to share fitness goals and strategies with each other and, in this case, have the opportunity to win a Fitness Gift Basket that will help you achieve these goals.
I'm committing to this, I'm going to accomplish my fitness goals in 2015 with some help from my TomTom's new Cardio GPS watch.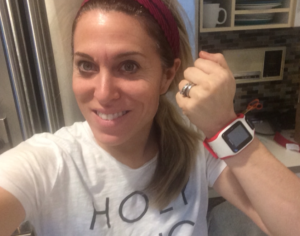 First off, the coolest feature is that it offers an accurate heart rate monitoring directly on your wrist; and of course it also tracks metrics like calories burnt, distance, pace, time, etc. It is super simple to use and also has cool features like heart rate zones, interval training (which is great for Cross Fit & HIT-like workouts) and race yourself functionality as well that users can use for running, biking, swimming and all sorts of other sports.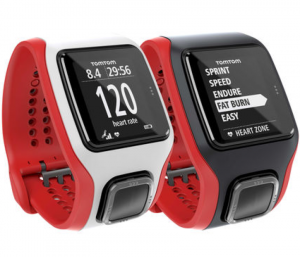 I need this monitoring to get me to my fitness goals. I know me well enough to know that I need to see how I'm doing and if I'm progressing. I can't do this alone, I do need this extra monitoring help. Whether it's a morning run, a bike ride, a cardio class, a kickboxing workout, SPIN class or a hike with the family – I'm going to get my body in peak shape to run 3 half marathons in 2015.
I'm going to start off slow because I haven't worked out consistently in years. I'm going to pace myself and really hone in on what I know I can do. Hopefully by the end of DEC I can run 3-5 miles without feeling like I'm going to pass out! Hey, we all have to start somewhere, right?
So… 2015.
I'm coming for you. I see you coming.
I'm running for you.
Try and catch me!
GIVEAWAY TIME!!
SHARE WITH ME ON TWITTER – @AUDREYMCCLELLAN – WHAT YOUR 2015 FITNESS GOALS ARE… IS IT TO RUN A 5K, COMPLETE A CARDIO CLASS, TRY YOGA, TRY PURRE BAR, HOP IN THE SWIMMING POOL, HIKE A MOUNTAIN… ??
SHARE WITH ME AND @TomTomUSA  ON TWITTER!! USE THE HASHTAG #GiveAGoal !!
WHAT CAN YOU WIN BY SHARING?
A special healthy lifestyle package to help YOU achieve YOUR goals (package includes the new TomTom Runner Cardio GPS watch a water bottle, fitness attire and coupons for healthy food)!!
I WILL RANDOMLY CHOOSE A WINNER ON WEDNESDAY, DECEMBER 17TH!!