31 December Days, 31 Books. Today, let's stop by woods to admire Christmas Trees…
Reading books around the holidays is always a special way to settle in, settle down, settle up the day. Each of 31 Days in December, I will be recommending a picture book to read to/with your kids of any age. Remember that the older kids love to settle in with you, with a book, too. It recreates memories and creates new memories.
Each book I recommend is one I've read over and over and over again with my kids and/or now with my grandkids. I guarantee the magical.
Christmas Trees ~ by Robert Frost and illustrated by Ted Rand –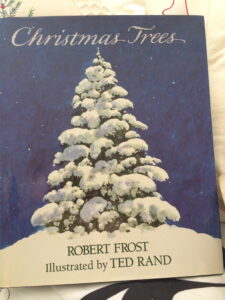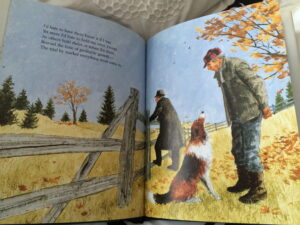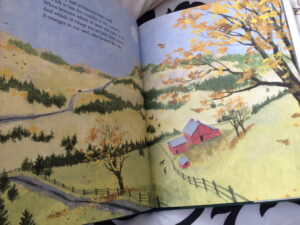 Christmas Trees is a 1916 Robert Frost poem put to picture book about a Vermont farmer who loves his trees -"My woods — the young fir balsams like a place/Where houses all are churches and have spires" – and an urban businessman who wants to buy 1,000 trees to sell as Christmas trees. The theme may be a grown-up one, but it works beautifully for children with verse and lovely illustrations. This poem, written when Christmas Trees cost $1.00, will create lots of conversation with your kids.
A wonderful December stop with your kids is your local library or bookstore… or maybe a pause to just stop by woods.
****************************************************************************
Sharon Couto graduated from Rhode Island College with a degree in Education/English and holds a Master's Degree in K-12 Reading/Education from Boston University. Sharon was a high school English Teacher & Reading Specialist for 30 years. She has 4 adult children, 4 in-law children and 11 beautiful grandchildren. Promoting Literacy is Sharon's mission.
Reading aloud to your kids & grandkids is a wonderful and proven way to improve vocabulary and increase reading comprehension and thinking skills by connecting directly with a book… its words, its story, its message, its magic. The more books in early childhood, the greater the chances of reading success. Enjoy!