One of the most relaxing vacations I've ever taken was in 2010 when we went on a family cruise. It was peaceful. It was memorable. It was beautiful. It was – exactly – what I needed. The boys at that time were 2, 3, 4 and 5. Life was crazy at home because they were all so young and I just felt like we were always in fast-forward motion, because – well, we were!
But that cruise that we took through through the caribbean, it brought a sense of self to me. It brought me happiness and laughter and family and memories.
It helped restore me… exactly what a vacation is supposed to do!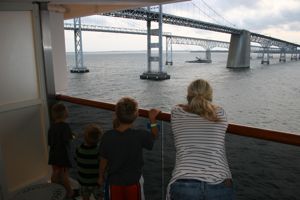 That being said, I'm a HUGE proponent of cruises. I loved our cruise because it was a vacation that was easy to plan, book and take. Everything you needed was on the ship. At every port, we had activities and excursions we could do. Everything was laid-out perfectly and I appreciated and loved that piece of my trip.
I've been dying to plan another cruise for our family. It left such an impact on me and my family. There's something about HAVING to UNPLUG from life sometimes that is such a good and healthy thing. It's important to take care of yourself and enjoy life around you.
I truly fell in love with Celebrity Cruises European Cruises that they have available now to everyone. I mean, talk about a trip of a lifetime.
Celebrity Cruises are encouraging travelers to unplug and focus on a new kind of selfie with 11 luxurious European sailings available from April through July 2015. These 7-14 night vacations allow guests to escape the stresses of technology and address the effects of technology on our body and mind through the newly launched Take Care of YourSelfie program in partnership with digital trailblazer Randi Zuckerberg.
Personally, as a digital mom, this is exactly what I need to do for me and for my family.
Escape technology for a week.
My work-life is dependent on technology… so if I can unplug for 7-14 days (believe me, it's making me a little nervous just thinking about it).
Anyone can.
The beauty is that at spas on Celebrity's ships, the new lineup of five specially designed treatments and services lets guests rejuvenate onboard and serves as the ideal complement to unique wellness experiences on land. Just what we all need!!
Celebrity Cruises' collection of "Take Care of YourSelfie in Europe" sailings feature itineraries with wellness shore excursions:
· Eastern Mediterranean Cruise: Hosted on Celebrity Reflection, guests can book calming and rejuvenating treatments in the spa and find access to authentic Turkish baths in iconic ports including Istanbul.
· Scandinavia & Russia Cruise: Serene walks and canals are readily available with stops in Copenhagen and other picturesque ports, with travel aboard Celebrity Silhouette.
· Eastern Mediterranean Cruise: Renew the mind with challenging and rewarding excursions, such as volcano hiking and swimming tours in gorgeous Santorini.
European cruise vacation packages start at $1,249.00 (based on double occupancy and excluding taxes and port fees).
Don't you think it's time for yourselfie?
I do.
I do, for sure.